On May 5-6, 2021, the BBME Student Council (pictured left) hosted the 2021 Biological and Biomedical Engineering Symposium, a bi-annual event which provides students an opportunity to showcase their work to peers, faculty, and invited guests. With a robust lineup of speakers, panelists, and presenters, the event is also an opportunity for students to learn about the different research fields under the biological and biomedical engineering umbrella.
We asked Michelle Tran, BBMESS Council President (pictured top-left), a few questions about the hard work that went into planning the symposium, and we also gathered thoughts from the student Poster and Oral Presentations winners.
---
Q: Michelle, what goals did you have in mind when planning the 2021 BBME Symposium?
Since this symposium was impacted by the COVID-19 pandemic, it meant that we had to host our two-day event virtually. This posed both disadvantages of not meeting in-person and advantages such as inviting guests on an international scale. In planning our first ever virtual symposium, we had several goals in mind.
First, our BBME Community has not been able to gather in-person like we had in the past, and we felt that the Fall 2020 and Winter 2021 incoming students had the most to lose, so to speak, as all their interactions have been virtual so far. We wanted the symposium to be a platform for all students, especially our new peers, to learn about the exciting research that is being conducted in a broad range of research groups within our vastly diverse program. Furthermore, we wanted to encourage students to showcase their work and enhance their presentation skills.
Second, after over one year into the pandemic, we all know the feeling of Zoom-fatigue all too well. That is why one of our goals was to make the symposium as engaging as possible for our attendees. To achieve this, we added interactive activities such as Kahoot, morning yoga sessions, and an interactive mental health workshop to reinforce learning, keep our bodies moving, and keep our minds engaged!

Third, while the BBMESS Council's goal is to serve the student body through our three pillars (socially, academically, and through advocacy), a personal goal of mine is to strengthen the leadership skills of the council members. The Symposium Sub-Committee (Karina Martinez Villegas, Sabrina Schaly, Michael Yitayew, and Victoria Madge) were the main players in planning the symposium, but it would not have been possible without the rest of the BBMESS Council (Molly Shen, Emily Prowse, Joshua Bierbrier, and Rosalie Martel). For a team that has only been able to meet and work virtually (due to COVID restrictions), I am beyond proud of the highly efficient and productive work that has transpired through all our social and academic events this year. I could not be more proud of my team for their planning and execution of the 2021 BBME Symposium. Everyone went above and beyond, not only in their roles, but also in volunteering to help their teammates.
Q: What research areas were covered at the Symposium? What did you learn from the presenters, panelists, and keynote speakers?
Our symposium covered six research themes that currently encapsulate the BBME Program, including: (1) Signals, Systems, and Biomedical Modelling; (2) Cell, Tissue, and Culture Engineering; (3) Microscopy, Imaging, and Neuroimaging; (4) Bioinformatics and Computational Biology; (5) Nanoengineering and Microengineering; and (6) Biomedical Sensors, Diagnostics, and Therapeutics. We also engaged researchers outside of the BBME community, including Bioresource Engineering and researchers from UBC and Stanford University!
There were many take-aways from the symposium. From the thematic speakers and the Bioresource Engineering speakers, we were exposed to interesting and admirable research conducted outside of our individual labs. From the Women in STEM panelists, we were inspired and encouraged by their persistence. From the Pivoting Research to Combat COVID-19 panelists, we gained a different perspective on the pandemic. From our keynote speaker, Dr. Michael Snyder, we learned the promising potential of using personal health data to predict disease onset and save lives with early diagnosis. This fits well within the overall theme of the symposium as well as our field, which lies at the intersection of science, engineering, and medicine.
For anyone who missed the symposium or would like a refresher, we recorded both panel discussions and the keynote presentation by Dr. Michael Snyder, which are available to watch on our website: https://bbmess.wixsite.com/bbmess/bbmess-symposium
Q: What challenges did you face in coordinating the event?
Coordinating a virtual symposium brought on a new set of challenges which the team was courageous enough to face! A direct challenge was learning, navigating, and implementing our chosen virtual platform to host the symposium. We were quite worried about the platform not working out, so we made sure to have mitigation plans (can you tell we are graduate students?) and we even dispatched our VP Socials to become the IT Crew during the event.

One main challenge was fitting all the events we wanted to include in the symposium into only two days! With six thematic presentations, twelve student oral presentations, student poster presentations, two panel discussions, one keynote, one joint presentation from Bioresource Engineering professors, morning yoga sessions, Kahoot sessions, and a mental health workshop, you can imagine that we needed to get creative! Ultimately, the schedule we ended up planning and executing worked very well, and we have no regrets as a Council.

Another big challenge we faced was making sure the symposium was not all about research. Don't get us wrong, we love discussing our research and learning from others, however networking is a crucial aspect of symposia and we wanted to provide the attendees an opportunity to engage with other attendees in a more casual setting: a virtual Gala! Our Gala took place on Gather.Town, a neat platform for virtual events that allows attendees to navigate their characters in a videogame-like environment. We received a lot of positive feedback about our virtual evening event. It was such a great way to interact with other attendees, discuss research, and play a few online games!
Q: What do you hope everyone in attendance gained from the symposium?
I hope everyone experienced a little bit of that BBME Community feeling from attending the symposium. For the Fall 2020 and Winter 2021 incoming students, I hope they felt welcomed to the program and to our intimate community. I admire their resilience in joining a graduate program amid a pandemic, and I hope they have been able to find mini communities of their own for support during their graduate journeys. As a Council, we hope we were able to bring everyone a little closer together to gain a sense of community, gain some insight of the diverse research being conducted in our unique program, and gain some inspiration from the speakers and panelists, their fellow students, and even the BBMESS Council. We are all so very capable and strong, and we can do anything we set our minds to. The days are getting brighter, so hopefully the symposium signified a light at the end of the tunnel.
---
We also asked the first place winners of the Student Oral Presentations and the Poster Presentations competitions to share thoughts on their achievements: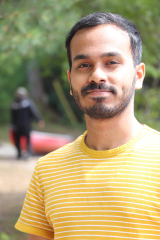 Felix Mathew, 1st place, Student Oral Presentations
Q: Please briefly summarize the topic of your oral presentation?
In a routine radiotherapy clinical workflow, mistakes can occur due to many unforeseen reasons. We must learn from these mistakes and try to prevent them from happening again. With this idea in mind, it is now common for radiotherapy centres to utilize incident learning systems (ILSes). Whenever an incident or a near-miss event occurs in a radiotherapy centre, a staff member reports it in the ILS software. An investigator then identifies the root cause of the problem so that the clinic can take preventive measures to avoid such events in future. This proactive accident prevention is very effective in keeping the radiation treatment safe for both patients and staff. However, incident learning is a resource-intensive task as it requires manual classification of incident reports using an extensive taxonomy. In my oral presentation, I described how we developed a Natural Language Processing (NLP) and Machine Learning (ML) tool to automate incident classification in order to improve the efficiency of incident learning. Our tool predicts incident labels in real-time to provide suggestions and recommendations for classification, thus reducing the burden on clinical staff.
Q: What does it mean to you to be recognized as the first-place winner?
I am really pleased to be the first-place winner and I thank BBME for the prize. It is wonderful to be recognized by the scientific community for all the hard work that went into this work. Certainly, this achievement is a confidence booster for all the presentations to come and an encouragement to keep working harder towards my goals. I am sincerely thankful to my supervisor, colleagues and family for all the support they have given me.
 
Camille Cassel de Camps, 1st place, Poster Presentations
Q: Please briefly summarize the topic of your poster presentation?
Morphogenesis is the process through which a tissue or organism takes shape. We know that the morphogenesis of different organs must involve mechanical forces acting in 3D, but we do not currently have the tools to mimic this in a tissue culture setting and actually apply forces to 3D tissues. My poster shows the work we have done on developing a platform to do this. We use a material that shrinks in response to heat, and the idea is to make devices out of this material with little pockets which can hold tissues we engineered in the lab. Then, when we put these devices in an incubator, they will shrink and the pockets will squish the tissues inside. We can use this squishing to apply forces in different ways according to the geometry of the pockets. My poster shows a few different examples of this, and what we have been working on. This project is in its early stages, but we hope to use it to explore the mechanical forces involved in morphogenesis to better understand the process, and to potentially mimic certain aspects of it in culture.
Q: What does it mean to you to be recognized as the first-place winner?
It was super exciting! I heard from some of my peers that my poster/video was easily understandable, which I think is something we all strive for as graduate students, so it was great to hear that - practice eventually pays off! On top of that, the project I presented is quite ambitious and we really cannot be sure where it will go in the end, so it was nice to see that people were interested in it and thought it was valuable work.