The Retail Thought Leader Series provides an interactive opportunity for students, faculty and industry leaders to gain valuable insights about current and upcoming trends in retail from academic and industry experts.
---
Past Events
Alfonso Troisi
President of Nespresso Canada
Friday, November 18, 2022
12:00 pm – 1:00 pm EST
The career path of Alfonso Troisi and his expertise within premium branding in global markets.
The discussion was moderated by MMR student Surpreet Kaur.
Bio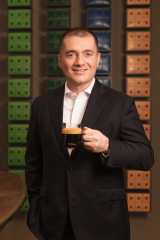 Alfonso Troisi, an Italian citizen, is the Business Executive Officer (President) of Nespresso Canada, based in Montreal, since September 2020. Prior to Nespresso Canada, Alfonso was the Business Executive Officer of Nespresso Greater China Region for 7 years, based in Shanghai. Alfonso was also the President of SwissCham Shanghai. Alfonso's previous roles include Head of Marketing for Metro Cash & Carry Asia, based in Singapore, as well as Managing Director for Marie Brizard Group Greater China and Commercial Director Diageo China/Hong Kong, both based in Shanghai.
Alfonso early career was in Europe, where he held several local and international commercial leadership and project management roles, based in countries such as Italy, France, Spain and the UK. Alfonso speaks fluently 5 languages and holds a BA Degree from Bocconi University in Milan and an MBA from IMD in Lausanne.
Aldo Bensadoun
Founder of the Bensadoun School of Retail Management
Wednesday, November 9, 2022
9:30 pm – 11:30 pm EST
An intimate student-led fireside chat with Aldo Bensadoun
The Q&A session was moderated by MMR students Vicky Constantopoulos and Sidnee Patterson.
Bio
Aldo Bensadoun, a McGill graduate (BCom'64, LLD'12) and founder of the Bensadoun School of Retail Management, is Executive Chairman and founder of the Aldo Group Inc., a privately held Montreal‐based company specializing in fashion footwear and accessories. He founded the company in 1972 and currently operates over 500 stores in Canada, the U.S. and Israel. Following primary and secondary education in France, Mr. B pursued studies at Cornell University in Ithaca, New York before attending McGill University.
Mr. B is actively involved with a number of community and charitable organizations including Mt. Sinai Hospital, the Jewish General Hospital, L'Hôpital Sainte Justine, the Canadian Association for Aids Research (Canfar) and its American counterpart, the American Association for Aids Research (Amfar).