What is SURE?
The Summer Undergraduate Research in Engineering program offers summer research traineeships valued at a minimum of $5,625.  A portion of these traineeships are available through the NSERC Undergraduate Summer Research Award (USRA) program, while the rest are funded through the Faculty of Engineering, the Trottier Institute for Sustainable Engineering and Design (TISED), and by generous donations to the Faculty.
SURE students work closely with a McGill Engineering professor on one of their research projects for 16 weeks in the summer. The program provides exposure to the research experience as well as opportunities to learn more about the graduate school experience and about careers in research.
The traineeships funded through the Faculty of Engineering are available to all eligible McGill undergraduate students irrespective of their citizenship or immigration status and to a limited number of students external to McGill, both Canadian and international. If selected, non-McGill students will be expected to obtain the appropriate visa documents and insurance found at Citizenship and Immigration Canada. They will also be required to register at McGill as an Undergraduate Research Trainee.
The SURE experience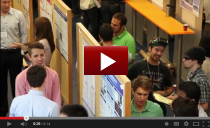 Young minds at McGill Engineering can rub shoulders with some of the world's leading thinkers through paid summer internships at McGill labs and research institutes. SURE gives Faculty of Engineering undergrads an opportunity to learn the finer points of graduate work, or eventual careers in research.
The Antje Graupe Pryor Foundation Program
The Antje Graupe Pryor Foundation has joined forces with McGill's Faculty of Engineering to provide paid summer internships in European research labs for Engineering undergrads who want to get a head start on graduate work or future research careers. Electrical and Computer Engineering Department student Tyler Manning-Dahan explains the impact that his internship in Germany had on his life.
---
Information for SURE 2014 Participants
Contact Information: MESC FDA22 or SURE-Info [dot] Engineering [at] mcgill [dot] ca (Email)
International SURE Opportunities
SURE Events
SURE Information Session
January 15, 2014 at 4:40pm in Trottier, room 0100.
SURE Orientation Reception & WHMIS Training
May 8, 2014 from 12 - 1pm in Trottier Lobby
Engineering at Work Seminar
June 5, 2014 from 11am - 12:30pm
Research Poster Design Workshop
July 8, 2014 from 2 - 4pm
Poster Presentation Fair
August 14, 2014 from 1 - 4pm, Trottier Lobby
Corn Roast for 2014 SURE Participants and Judges held from 12pm - 1pm Trottier patio. Sponsored by SHELL
Frequently Asked Questions
The Summer semester at my University is less than 16 weeks.  Can the SURE program be shortened to accommodate my schedule?
Unfortunately, to be eligible for the SURE program, students MUST be able to commit 16 weeks of full-time work.  If your summer is shorter, you may wish to explore the possibility of working in a lab independently of the SURE program.  For independent undergraduate research, the student is responsible for finding a research supervisor and registration as an Undergraduate Research Trainee
What if I don't have 3.0 CGPA?
As SURE is considered to be a scholarship/award, only students having a CGPA of 3.0 or higher will be considered. If you do not have a CGPA of 3.0, you may apply to work with your professor independent of the SURE program.  International/External to McGill students should refer to the Degree Equivalency website for North American GPA equivalencies.
How do I know if I qualify for a professors' research area?
Seek out the professor and discuss your candidacy with him/her; you don't know until you try.
Is there a formal way to contact the professors?
You can contact a professor by email to book an appointment or visit them during their office hours. Non-McGill students may contact the professor via email or telephone as an appointment would not be necessary. Please note that the SURE Administration Office cannot contact professors on behalf of students.
Where do I submit my application form?
The application must be completed online and printed. Printed application forms and your Official Transcript must be submitted directly to the professor. Deadline:  January 31, 2014. Non-McGill students may submit their application and supporting documentation by email directly to the professor.
What is length of program and how much work is involved per week?
SURE starts in May and lasts 16 weeks and you can expect to work a full work week of approximately 35 hours.
Do I get vacations/days off?
You can make arrangements with your supervisor to take time off and make up the hours at another time. ie. Working an extra hour a day or coming in on a Saturday.
If I decline the Offer of Award, will I be eligible for another research project?
Applicants will only be selected for one award (therefore, please ensure that you would be equally willing to work on any of the projects you apply to).  If you decline your Offer of Award, it is because you no longer wish to participate in the SURE Program and you will not be selected for further opportunities.
Can I submit additional paperwork, ie CV?
The only required documents are the printed application form and transcript. Note, however, that you may be required to submit other documents to the professor along with your application
I graduate in May, am I still eligible?
Yes, you can apply up to a year after graduation.
How will I be notified that I have received a SURE?
The first round of acceptance emails will be sent by mid-February.
Can graduate students apply?
SURE is available to undergraduate students only. 
Are we taxed?
This is a scholarship, therefore, you are not.
How do I know how much my supervisor is paying me?
The SURE award is valued at $5,625.00 however, you may discuss directly with your supervisor.
What kind of visa is required for non-McGill students?
International students are required to research the visa requirements at: http://www.international.gc.ca/experience/ or http://www.cic.gc.ca/english/index-can.asp. Students without the appropriate visas will not be paid.  Please note: The University is unable to provide a Human Resources Development Canada authorization (i.e. Labour Market Opinion) to support visa applications.
My University's semester ends after May 1. Can I apply for SURE?
Students are encouraged to discuss slight changes to the start and end date of their SURE project with their supervisors. As long as you are available for the full 16 week period, slight changes may be accommodated for external students.
Is the SURE Program available year-round?
The SURE Program is offered in the summer (May-August) only. If you wish to work in a lab throughout the rest of the year, you must arrange to do so directly with your intended supervisor. International students should review the requirements for McGill Undergraduate Research Trainees at www.mcgill.ca/students/records/trainees. 
---
SURE 2013 Poster Winners
Faculty Category: Advanced Materials and Nanotechnology (1)
David Arto Laleyan
Thermal Management of GaN-Based Nanowire Light-Emitting Diodes
Department of Electrical and Computer Engineering
Supervisor: Professor Zetian Mi
 
Faculty Category: Advanced Materials and Nanotechnology (2)
Xin Gao
Fabrication of GaN High Electron Mobility Transistors
Department of Electrical and Computer Engineering
Supervisor: Ishiang Shih
Faculty Category: Aerospace
Francois Hogan
Dynamic Modelling and Stability Analysis of a Martian Tumbleweed Rover
Department of Mechanical Engineering
Supervisor: James Forbes
Faculty Category: Bioengineering
Ayvi Islam
Cost-Effective Detection of Biomarkers Using a Paper-Based Electrochemical ELISA Device
Department of Mechanical Engineering
Supervisor: Xinyu Liu
Faculty Category: Information and Communication Technologies
Warren Robinson
Characterizing Photonic Integrated Circuits with Grating Coupler Setup
Department of Electrical and Computer Engineering
Supervisor: Andrew Kirk
Faculty Category: Other
Xuan Hu
Osteon Inspired Material with Superior Compressive Strength
Department of Mechanical Engineering
Supervisor: Francois Barthelat
TISED Prizes 2013
TISED Category: Energy and Carbon Footprints
Cyrille Goldstein
Swift Shift Transmission with One Way Clutch
Department of Mechanical Engineering
Supervisor: Jorge Angeles
TISED Category: Sustainable design and construction of the built environment
Farbod Pakpour
Extended Shear Tab Connections
Department of Civil Engineering and Applied Mechanics
Supervisor: Dimitrios Lignos and Colin Rogers
TISED Category: Sustainable mineral extraction, processing and advanced manufacturing
Richard Church
Thermodynamic Optimization of the Cr-B Binary System
Department of Mining and Materials Engineering
Supervisor: In-Ho Jung
TISED Category: Water and Environment
Alexander Grant
Development of photo-electrodes for the treatment of organic wastewaters
Department of Chemical Engineering
Supervisor: Sasha Omanovic 

Faculty Category: Transportation
Frederic Reynaud
Link criticality evaluation: an application to Montreal's road network
Department of Civil Engineering and Applied Mechanics
Supervisor: Marianne Hatzopoulou