McGill is entering a new and exciting chapter of sustainability on campus. From research to operations, sustainable solutions for local and global challenges are being innovated at all levels of our University. At the centre of these initiatives, guiding the way, is the McGill University Climate & Sustainability Strategy 2020-2025.
This Strategy commits McGill to three ambitious, yet realistic long-term targets; attaining a Platinum sustainability rating by 2030, becoming zero-waste by 2035, and achieving carbon neutrality by 2040. It is our responsibility as members of the global community that we do what we can to achieve these goals to reduce our impact on climate change and contribute positively to the sustainability of the planet.
To support the achievement of these three long-term targets, the content of the Strategy examines the University's activities across eight categories: Research & Education, Buildings & Utilities, Waste Management, Travel & Commuting, Food Systems, Procurement, Landscapes & Ecosystems, and Community Building. Each category is headlined by one flagship action, with another 54 complimentary actions distributed throughout the Strategy. Additionally, each category highlights ways students, staff, and faculty can get involved and contribute to a sustainable McGill.
Everyone at McGill has a role to play. From changing a personal habit to leading a large-scale project, we can all take part in addressing the urgency of climate change and contributing to a more sustainable future.
---
Long-Term Targets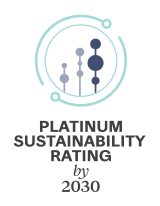 Using the sustainability rating system provided by the Association for the Advancement of Sustainability in Higher Education, McGill aims to attain the highest level: Platinum. 
McGill's zero-waste target is a diversion rate of 90%. This percentage is based off the internationally recognized standard that zero-waste means achieving a diversion rate of 90% or higher. 
Carbon neutrality is achieved when the amount of greenhouse gases released is equivalent to the amount sequestered or offset. McGill aims to achieve this target by 2040.
---

Strategy Categories
The McGill University Climate & Sustainability Strategy 2020-2025 is divided into eight categories, supported by a total of 62 actions that will guide us to achieving the long-term targets. Each category is headlined by a category objective and flagship action, which you can find summarized below:
The mission of McGill University is the advancement of learning, and the creation and dissemination of knowledge. McGill is a student-centered institution and one in which the learning of faculty, staff, and community partners is also actively supported. It is the University's role, as a research and educational institution, to produce learning outcomes that create aware and engaged citizens while taking responsibility for the environmental, economic, and social implications of research.
Category objective: identify strategies to increase learning and research opportunities in sustainability.
Flagship action: implement a sustainability online module available to all students, staff, and faculty members.
+ Nine additional complementary actions. 
McGill operates over 200 buildings across its campuses. With that in mind, it is essential to ensure that the University is built and managed efficiently, and that sustainability is embedded throughout its operations. While electricity in Quebec is nearly entirely renewable, the University still relies on natural gas for heating. Converting energy systems to electricity and investing in energy efficiency upgrades are at the heart of the University's strategy to reduce the greenhouse gas emissions associated with buildings and utilities.
Category objective: increase the environmental performance of buildings while reducing their carbon footprint.
Flagship action: all new construction and major renovation projects to be, at minimum, LEED Gold certified.
+ Four additional complementary actions.
From research labs to classrooms and cafeterias, waste comes from multiple sources. The University aims to rethink and reduce its consumption, and to divert waste from landfill through recycling and composting programs. Moving towards a zero-waste campus benefits land, water, and air quality while having a direct impact on the well-being of our global community. It involves rethinking our individual consumer habits, and supporting the University's efforts on waste reduction, collection, and sorting.
Category objective: expand reuse, recycling, and composting efforts to increase the University's diversion rate.
Flagship action: implement a zero-waste zone on campus.
+ Six additional complementary actions.
Travel and commuting activities at McGill are responsible for nearly one-third of the University's greenhouse gas emissions. The approach proposed in this Strategy aims to reduce business-related transportation emissions without compromising the University's mandate as a leading research institution. Reducing emissions from travel—especially air travel–and commuting is essential towards achieving the University's long-term target of reaching carbon neutrality by 2040.
Category objective: develop initiatives to reduce the carbon footprint of commuting activities, directly-funded air travel, and McGill's fleet of vehicles.
Flagship action: develop a carbon offsetting program to mitigate the environmental impacts of traveling.
+ Six additional complementary actions.
Building sustainability food systems entails selecting vendors that source sustainably-produced food and support fair wages for their workers. It also means supporting regenerative agricultural practices through purchasing standards and progressively eliminating food packaging. Urban agriculture also plays an important role in promoting healthy choices, building community, and, at a smaller scale, reducing the carbon footprint of food production.
Category objective: enrich sustainable food offering by promoting local, third-party certified, and plant-based options.
Flagship action: explore the use of green roofs to grow food.
+ Eight additional complementary actions.
Sustainable procurement involves leveraging the University's supply chain to support environmental, social, and economic sustainability. McGill strives to have a deep understanding of the full life cycle of the goods and services it purchases. This involves food, office supplies, travel, IT equipment, furniture, vehicles, and more. Throughout this process, McGill aims to establish a culture of sustainable procurement practices internally as well as in the wider community.
Category objective: raise awareness on sustainable procurement and contribute to the development of a circular economy.
Flagship action: increase the amount of goods and services purchased from social economy businesses and Indigenous businesses.
+ Eight additional complementary actions.
Between the lower field, the Morgan Arboretum, and the Gault Nature Reserve, members of the McGill community have always had access to outdoor space. Through the McGill Master Plan, the University aspires to enhance the quality of the on-campus experience for students, staff, and faculty, while adhering to principles of sustainable growth and responsible stewardship. From community gardens that emphasize urban agriculture, to the preservation of agricultural land on the Macdonald Campus Farm, and tree planting at the Morgan Arboretum, green spaces that elevate the McGill living and learning experience flourish across the University's campuses.
Category objective: develop landscaping projects that reduce the heat island effect, increase biodiversity, and foster well-being.
Flagship action: ensure that vegetation initiatives increase canopy coverage and maximize local carbon sequestration.
+ Six additional complementary actions.
Several programs have been developed to address how the University builds connection amongst its community members and integrates social sustainability throughout its campuses. McGill aims to create a diverse, vibrant, and rich community where all feel a sense of belonging. The Provost's Task Force on Indigenous Studies and Indigenous Education, established in 2016, brought forward a set of specific calls to action for McGill. A number of these calls to action are addressed in the Equity, Diversity & Inclusion Strategic Plan 2020-2025 as well as the McGill Master Plan. They are reinforced in this Strategy.
Category objective: enhance opportunities for sustainability and well-being initiatives while increasing the representation of past and present communities on the campuses' physical spaces.
Flagship action: implement a Bicentennial Student Sustainability Challenge.
+ Seven additional complementary actions.

Frequently Asked Questions
The McGill University Climate & Sustainability Strategy 2020-2025 covers many topics and highlights a vast array of actions. Below you can find some answers to commonly asked questions about the Strategy. If you have additional questions, please feel free to email the sustainability [at] mcgill.ca (Office of Sustainability).
The eight categories in the McGill University Climate & Sustainability Strategy (Research & Education, Buildings & Utilities, Waste Management, Travel & Commuting, Food Systems, Procurement, Landscapes & Ecosystems, Community Building) were developed based on the results of a sustainability survey, benchmarking with peer universities, and meetings with the McGill community. The categories aim to be inclusive of all the University's operations, academics, and communities and were formulated to touch on all sustainability aspects of the University.   
Transversal themes are the foundational principles in which this Strategy is anchored.
The first transversal theme is climate change mitigation & adaptation. This theme was chosen due to the inextricable link between sustainability and climate change. Because climate change will impact all areas of McGill's operations and the well-being of its community, it was important to proactively include climate considerations in all categories of the Strategy.  
Equity, diversity, and inclusion (EDI) is the second transversal theme. EDI was included as a transversal theme because environmental problems are rooted in—and accelerate—social inequities. Vulnerable communities are disproportionately affected by the negative impacts of sustainability issues, including climate change. Through mindfully incorporating the social dimension of sustainability, the University can strive towards a holistic and intersectional understanding of our environment. 
At McGill, we define sustainability in a three-pillar model that integrates social, economic, and environmental dimensions. While some actions are more explicitly social in nature, e.g., represent Black and Indigenous presence throughout the campuses physical space, lead units are expected to integrate social sustainability and the transversal theme of equity, diversity, and inclusion in the implementation of every action. This means that accessibility, health and wellbeing, diversity, and equity are integrated during project design, stakeholder engagement, project management, and monitoring and reporting phases. 
A key takeaway from the development of the long-term carbon neutrality target was that the McGill community values emissions reductions on our own campuses and in our own activities first and foremost. For this reason, McGill's approach to carbon neutrality⁠ is to prioritize emissions reductions first, followed by increasing carbon sequestration, and then incorporating carbon offsets. 
The Sustainability Tracking, Assessment & Rating System™ (STARS®) is a transparent, self-reporting framework for colleges and universities to measure sustainability performance. Over 1,000 higher education institutions have registered to use the STARS® Reporting Tool, of which 671 have earned a STARS rating. STARS® provides a standardized framework and best practices for institutions and continuously evolves their rating systems as knowledge in the sustainability field develops.
By using a standard rating system, McGill can comprehensively measure the institution's current sustainability performance and assess progress against both the University's own score and against peer institutions.
A zero-waste zone is an invitation to the community to take part in McGill's sustainable future and make it a reality. In these clearly delineated zero-waste zones, there will be no trash bins to take waste to landfill. The zones will also aim to educate, inspire, and motivate the community with regards to practicing zero-waste habits. These spaces will create a shared vision for what a zero-waste McGill will look like.
---
Contact us by email at sustainability [at] mcgill.ca or fill in our suggestion form here.