Status: COMPLETED February 2012 - April 2012
To this day, McGill researchers continue to use mercury thermometers in their laboratories. Mercury is volatile at room temperature with vapours that are odourless, tasteless and toxic. 0.5 grams of mercury from one broken thermometer alone can detectably pollute 19 million litres of water.
A reduction/elimination of the use of mercury thermometers would reduce the number of spills that could be hazardous to staff and students as well as the environment and will eventually reduce the cost of mercury disposal.
Not only do mercury thermometers present a hazard to staff, students and the environment, but if broken, require a tedious regiment to clean up the spill by McGill's Waste Management team.
This project oversaw the purchase of replacement thermometers and the pick-up and disposal of the old mercury thermometers.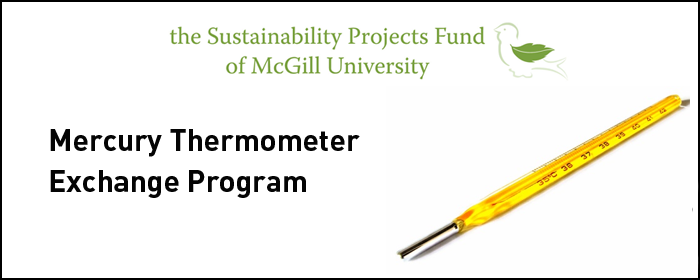 For further information conerning this project, or to get in touch with its members, please contact the krista.houser [at] mcgill.ca (SPF Administration Team).