Status: COMPLETED March 2016 - November 2016
The Kohlrabi Collective is a cross-campus collaboration among the McGill Farmers' Market, the Macdonald Student-Run Ecological gardens (MSEG) and Organic Campus, to establish self-reinforcing partnerships and overcome individual/group challenges. While in the short-term these groups working together will see an increase in the supply and distribution channels of student-grown food on both campuses, in the long-term they aim to raise awareness of local food, and change the habits of consumers. 
Read the full project description
At McGill, there are three independent, ongoing student-run food projects: The McGill Farmer's Market (MFM), the Macdonald Student-Run Ecological Gardens (MSEG), and Organic Campus (OC), that produce, promote and distribute local food on both campuses. To date, there has been little attempt to realize and act upon the potential to form collaborations, and as a result, the community of student food groups is broken, and the groups are acting in isolation despite sharing similar mandates and mantras.
In 2015, an Applied Student Research project was conducted to identify challenges faced by these organizations, and the solution proposed was to unite the groups in an official business partnership under the guise of a student-run local food collective to be known as the Kohlrabi Collective.
In this collective system, the three groups meet twice a term to discuss ways to overcome longer-term barriers to project stability and collaborate on events and outreach activities.
Collaboration between the groups is already well underway, with the MFM now selling baskets of produce on behalf of MSEG and OC, with the goal of future partnerships to open in the retail space of SSMU. In Fall 2016, student produce from the ecological garden will be more accessible to the downtown community through produce basket shares at the market and over the counter sales three days a week in SSMU.
Resources from the SPF will be used to cover the costs of putting the collaboration into action.  In order to meet an increase in demand from the downtown campus, SPF resources will be invested in increasing the efficiency of MSEG's vegetable production and harvest.
It is the hope of the collective that through cooperation, short-term challenges can be alleviated and the deep connections can be made which will help improve the longevity of each of these endeavours. By working together, these groups can transform the broken student food system into a network that shares its resources to achieve wider campus impact. 
View photos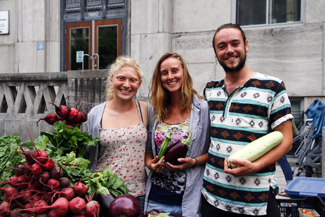 All photos credit: Monica Allaby
Connect with this project
Contact

matthew.lewis.mccor

[at]

gmail.com

(Matthew McCormick)