Event
Trauma Sensitive Yoga
Wednesday,
March
9,
2022
18:00
to
19:00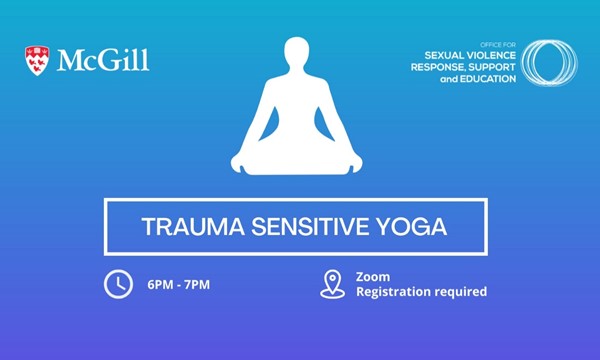 Trauma Sensitive Yoga is an alternative yoga practice, which centers on safety, choice, and autonomy.  It is a gentle, body-based movement practice, which integrates mindfulness and breathing exercises.  Participants are encouraged to move at their own rhythm and make the practice their own through optional modifications.
Jodi Proctor, a certified yoga and meditation teacher who specializes in mindfulness-based, trauma sensitive approaches, will lead the classes.  Designed to teach breathing exercises, centering movement, and mindful grounding as tools for self-regulation, each class provides a space for students to move, breathe, connect, focus, and relax.  All experience levels are welcome.  Wednesdays from 6-7 pm.
Online Event Instructions
Please note that sessions will be held on zoom.  The link will be sent to registered participants the morning of each class.  For any questions or additional information about the sessions,  contact us at osvrse [at] mcgill.ca.