On this page:
Associate Fellows
O'Brien Fellows in Residence
O'Brien Graduate Fellows
Steinberg Post-doctoral Fellows
Visiting Fellows
Visiting Researchers
Rathlyn Program Coordinators
Interns
Associate Fellows
Edin Hodžić
Edin Hodžić (DCL 2014) is co-founder, Director and Head of Public Law Program at Analitika – Center for Social Research from Sarajevo, a leading think-tank in Bosnia and Herzegovina. He holds a DCL from McGill University, LLM from the University of Oxford and BA in Law from the University of Sarajevo. Previously, among his several professional engagements, Edin worked on war crimes cases at the Prosecutor's Office of Bosnia and Herzegovina, and was Editor-in-Chief of The Pulse of Democracy (Puls demokratije), an online publication on legal and policy issues in BiH published by Open Society Fund Bosnia and Herzegovina. He worked on a number of research projects and published several books, papers and research reports in the broad field of public law, including a co-edited volume on media and minorities in South-East Europe, and a book on constitutional reform in Bosnia and Herzegovina. He acted as a consultant on numerous occasions, advising the government and international organizations alike. Recently, Edin advised UNDP and the BiH Council of Ministers in the course of drafting a comprehensive transitional justice strategy for Bosnia and Herzegovina.
Edin's research interests mostly lie in the fields of constitutional law and international human rights law, but he also remains committed to combining insights from political science and political theory. He is particularly focused on exploring the theory and practice of collective and minority rights and complexities of transitional justice.
---
O'Brien Fellows in Residence
Fatemeh Sadeghi Givi - September 2018 - February 2019
Fatemeh Sadeghi is a researcher and lecturer of Political Science and Gender Studies in Iran. She is specialized in Political Thought, Gender Studies, Islamic Political Thoughts, and Iranian Politics. She obtained her PhD in Political Thought in 2004 from Tarbiat Modarres University in Tehran. From 2003 until 2008, she taught as assistant lecturer at the Faculty of Political Science of the Islamic Azad University of Karaj. She was also a co-editor of Goftogu, the Iranian journal of culture and society from 2003 and 2010, and a member of International Center for Dialogue among Civilizations in 2000-2001.
In 2007, she was granted a post-doc fellowship by SEPHIS and became an ISIM research fellow in Leiden. From 2009 to 2010, she worked as a research member of the Faculty of Social and Political Science at the University of Amsterdam. Currently she is working as independent scholar, researcher, translator and lecturer in Iran.
She has published several books and academic articles in both English and Persian. Her book in English, The Sin of the Woman: The Interrelations of Religious Judgments in Zoroastrianism and Islam (2018) was published by Claus-Schwartz Verlag in Berlin. Her books in Persian include Gender in Ethical Doctrines: From 3 to 9th Century Iran (2013), The Unveiling of the First Pahlavi: Rereading of a Modern Intervention (2013), Women, Power and Resistance in Post-revolutionary Iran (2012), Gender, Nationalism, and Modernity in the First Pahlavi (2006). Her translations from English into Persian include Leila Ahmad's Women and Gender in Islam: The Historical Roots of a Modern Debate, Agnes Heller's A Theory of Modernity, Asef Bayat's Life and Politics, Reza Aslan's Zealot, and Betty Friedan's Feminine Mystique.
---
O'Brien Graduate Fellows
See our page on Current Graduate Students to see which students currently hold O'Brien Fellowships.
---
Steinberg Post-doctoral Fellows
Edit Frenyó (See her bio on Grad Students & Postdocs)
Rodziana Mohamed Razali (See her bio on Grad Students & Postdocs)
---
Visiting Fellows
Rouba Al-Salem - 2018-2019
Rouba holds a PhD in Law from Montreal University's Faculty of Law (2016), where she researched the role of judicial review in a situation of prolonged occupation. She also obtained a Master of Arts in Middle East Politics from Exeter University and a Master of Law in Public International Law from the London School of Economics and Political Science.
In the past, Rouba Al-Salem has worked in and on human rights issues as they relate to the Middle East region, including for the UN Office of the High Commissioner for Human Rights; the International Organization for Migration, the Ford Foundation as well as for local and regional human rights organizations. She has also conducted research and evaluation based consultancies for the UNDP-Bahrain and the International Center for Transitional Justice (New York) amongst others. From 2017-2018, she was a postdoctoral Steinberg Fellow in International Migration Law and Policy at the Faculty of Law, McGill university.
Reza Eslami - June 2019 - May 2020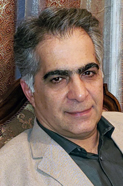 Reza Eslami Somea (LLD'01, UdeM; LLM'94, McGill) ] is an Associate Professor of Human Rights and Director of the Human Rights Dept. at the Faculty of Law of Shahid Beheshti University (Tehran, Iran) since 2003. He has taught courses in other universities such as Queen's University (Kingston) and UN University for Peace (Costa Rica). He worked with UN agencies such as UNDP in Kabul for human rights treaty reporting workshops and human rights education seminars. He was a post-doctoral fellow at McGill under the supervision of late the Prof. H. Patrick Glenn in 2002-2004.
His area of research and teaching include civil and political rights, public liberties, rights of women and minorities, citizenship and democracy education, peace-building, and development. Reza has written and published extensively on human rights topics both in English and Persian. His books in English includes Human Rights Activism in Theory and Practice and Social and Economic Rights of Migrant Workers. His books in Persian includes Textbook on Civil and Political Rights for the Empowerment of Civil Society; Human Rights Education; Freedom of Assembly; and Privatization and the Development of Human Rights.
Reza has also published many articles in books and academic journals. His latest English articles include "Protecting the Rights of Minorities and National Security" in 2018 in India and "Peace Education in Iran: Challenges and Prospects" in 2014 in the Journal of Peacebuilding & Development. He has written more than 60 articles in Persian. His new books, namely, the Rights of Women in Rural Areas; the Right to the City; and International Development Law will be published in the Fall 2019 and 2020. Reza also organizes workshops on human rights topics for professionals such as journalists, lawyers and judges and travels often to attend conferences in the US, Europe, and the Middle east. He is also active in social media. His Telegram channel (dr_rezaeslami) for human rights advocacy is well known in Iranian academia.
Hanna Haile - September 2018 - August 2019
Hanna Haile is a visiting fellow at the Center for Human Rights and Legal Pluralism. Her research and writing interests lie in the fields of international human rights, migration, sustainability and intellectual property rights. She is also interested in the question of how cultural phenomena shape and are shaped by law. She was a Steinberg Postdoctoral Fellow at the McGill Center for Human Rights and Legal Pluralism in the academic year 2017-2018. Her current project explores the experiences of Eritrean asylum seekers and refugees in Canada, with a particular focus on their interactions with the Canadian Legal System to understand the role of law in aggravating or mitigating the precariousness of their situation.
She is also involved in a UNRISD project on the human rights implications of the financialization of transnational business on rights and livelihoods, using the local impacts of the activities of copper mining companies on communities living on the Copperbelt of Zambia as a field study. Prior to joining the McGill Center for Human Rights and Legal Pluralism, she worked for the United Nations Research Institute for Social Development, Cornell University, the University of Asmara and the High Court of Asmara. She holds a J.S.D. and an LL.M. from Cornell University and an LL.B. from the University of Asmara.
Marie-Eve Loiselle - 2018-2019
Marie-Eve Loiselle is an ARC Research Fellow at UNSW Law School for the Discovery project Leveraging power and influence on the United Nations Security Council. Concurrently, she is a PhD scholar at the Australian National University, where she explores the relationship between law and border walls through the framework of legal materiality.
Previously, Marie-Eve worked on issues related to the UN Security Council as a Research Officer on the ARC linkage project Strengthening the rule of law through the United Nations Security Council, a collaborative research project between the Australian National University (ANU) and the Australian Civil-Military Centre. In 2014, she was an Australian Endeavour Executive Fellow with the New York-based NGO Security Council Report. Marie-Eve has also worked at international organisations (ILO, NATO) on issues related to international law and human rights.
She is an affiliate of the ANU Centre for Law, Arts & the Humanities, an executive member of the Association for Canadian Studies in Australia and New Zealand (ACSANZ), and a member of the Quebec Bar.
---
Visiting Researchers
Carlos Vasconcelos - 2019
Contact: carlos.vasconcelos2 [at] mail.mcgill.ca
A former Deputy Federal Prosecutor-General of Brazil and Professor of Criminal Sciences, Carlos Vasconcelos served for thirty years in the Prosecution Service, which included the investigation and prosecution of high-profile organised crime, corruption and similar federal crimes, and the judicial protection of indigenous populations. Before being a prosecutor, he acted as Public Defender, which included legal counseling to prisoners and defenses before the Jury.
His international experience includes a mission in East-Timor with the UN Administration, where he participated in the first investigations of atrocities and drafted resolutions to replace inadequate Indonesian legislation. Before the operation of the International Criminal Court (ICC), he co-drafted the first resolutions for the functioning of the Office of the Prosecutor (OTP). In Brazil, he participated in the committee set up by the Ministry of Human Rights to draft the bill of law to adapt the national legislation to the Rome Statute that created the ICC.
Mr. Vasconcelos has a master's degree in Public Law from the University of Brasília and a specialization course in Civil Procedure from the Brazilian Institute of Procedural Law. He was a visiting researcher at the University of Rome II and the Institut für Friedenssicherungsrecht und Humanitäres Völkerrecht (IFHV) of the Ruhr-University of Bochum School of Law. At the University of Frankfurt, he developed studies of Criminal Law, Criminal Procedure and Criminology.
As a university lecturer, Carlos Vasconcelos has mainly taught Criminal Procedure, Criminology, International Criminal Law, Organised Crime, Terrorism, Financial Crimes, Corruption and Human Rights Law. His publications include the chapter on "Crimes Against the Public Peace" in a Handbook of Brazilian Criminal Law (3rd ed.), translations from German into Portuguese of several articles written by Professor Winfried Hassemer, chapter 46 of volume 5 of "Historical Origins of International Criminal Law", edited by Morten Bergsmo and others, and the organization of the book "Terrorism and Other Emergencies: Theory and Practice of Prevention and Control", with articles in Portuguese, English, French and Spanish, three of which of his authorship.
At present, as a researcher and consultant, Carlos Vasconcelos is interested in the following: International Criminal Law, Terrorism, Transitional Justice, the Future of Democracy in Times of Widespread Social Media, Assessment and Reform of Justice Systems, Independence and Accountability of Prosecution Services, Corruption, Rights of Indigenous Peoples, Brazilian Studies.
Complete academic and professional profile on linkedin.com/in/carlosvasconcelos-montreal
---
Rathlyn Disability & the Law Program Coordinators
Samanta García Fialdini - 2018-2019 Coordinator 
Samanta is a second-year law student at the McGill Faculty of Law. She holds a Master of Arts in Latin American Studies from Georgetown University's School of Foreign Service, where she focused on Migration and Development.
Before joining the Faculty of Law, Samanta worked for over seven years towards programs and policies that respect the rights of refugees and other vulnerable migrants in Canada and around the world, including through policy reform and awareness-raising. For most of that time, she particularly specialized on measures to improve access to services and strengthen the legislative protection of trafficked persons and migrants in situations of exploitation across Canada.
---
Interns
Chiara Montalbano - winter 2019
Chiara Montalbano holds a law degree from Trento Faculty of Law with thesis " Relationship between legal pluralism and human rights". During her studies, she studied International law, in particular International human rights law. Moreover, she spent one year at the Faculté de droit de Lorraine to deepen her knowledge of French Law and contrast it with Italian law.
During her stay at McGill's Faculty of Law, she did a research thesis under the supervision of Prof. Kirsten Anker. She keeps in touch with the Centre for Human Rights and Legal Pluralism. She is also an Elsa member and UNICEF Volunteer.