---
The Richard H. Tomlinson Fellowship aims to attract high-caliber doctoral students in any discipline at McGill. The Tomlinson Doctoral Fellowships are worth $35,000/year for up to 3 years, making this one of the most prestigious fellowships programs in Canada and a significant contribution to recruiting and supporting exceptional graduate students at McGill. Read more on what it means to be a Tomlinson Scholar. More information about the fellowships are available here.
2022-2023 Scholars
Anne Imouza, Political Science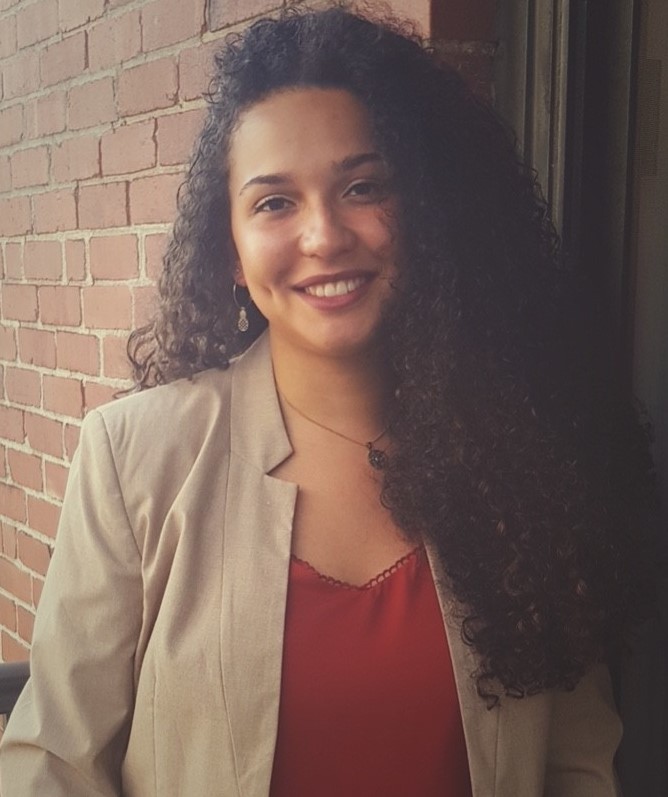 Anne Imouza is a first-year Ph.D. student in the Department of Political Science at McGill University. Her research interests are at the intersection between political behavior and computational social science studies. Specifically, she will build an online index measure to assess political skepticism compared to traditional methods in political science. Political cynicism is a crucial indicator of citizens' trust in government, institutions, and democratic systems. Only a handful of studies attempt to explain the rise in skepticism through the rise of new information and communication technologies. The general research question proposed is: to what extent do social media such as Facebook, Twitter, and Instagram impact political cynicism?
To address this question, she will proceed to a systematic literature review of poll data about users' social media consumption on political cynicism. Then, a longitudinal and textual analysis will be led through a quasi-experimental design to present the extent of political news consumption on various social media that may impact users' political cynicism. Lastly, a longitudinal network analysis will be conducted to depict whether the variation in political skepticism of a user is similar to his network of friends over time. The Richard H. Tomlinson Doctoral Fellowship will significantly contribute to this goal and help her bring new evidence to the burgeoning body of research that explains how social media may foster political cynicism with network and textual data.
---
Anthony Bozzo, Experimental Surgery
Anthony is excited to begin a PhD in Experimental Surgery at McGill University under the supervision of Dr Sahir Bhatnager, Dr John Healey and Dr Ahmed Aoude.
After graduating from McGill's medical school in 2014, Anthony completed a residency in Orthopedic Surgery and a thesis-based MSc with a focus on sarcoma at McMaster University under the supervision of international sarcoma trial pioneer Dr Michelle Ghert. Anthony completed a clinical fellowship in Orthopedic Oncology at Memorial Sloan Kettering Cancer Center in New York City last year. During this fellowship, he became familiar with the role of radiation therapy in the treatment of patients with high-grade soft tissue sarcomas. His research focus is on developing and validating a multi-input neural network model to predict overall survival, risk of local recurrence, and risk of complications from radiation therapy for sarcoma patients. Anthony and his collaborators seek to improve current prognostic systems by incorporating neural network analysis of a pre-operative MRI of the tumor, as well as the clinical variables. The goal is that better prediction of the benefits and complications of radiation therapy for soft tissue sarcoma patients will lead to more personalized treatment decisions. Once developed and validated for this project, the team hopes to apply similar machine learning methods to other clinical research questions.
Anthony is very grateful and honored by the support of the Tomlinson Doctoral Fellowship.
---
Chuta Sano, Computer Science
"I am honored to receive the 2022-23 Tomlinson Doctoral Fellowship. I am a first year PhD student in the computer science department, but honestly, I think that is almost as descriptive as me introducing myself as a human being. Although I expect this can be repeated for almost everything considered an academic "field," computer science has broadened its scope and applicability over the years and will continue to do so. This is great; it speaks to the strength and utility of what might initially seem like abstract nonsense. One change to observe is that due to said broadness, "computer scientists" are quite diverse in interest, experience, and overall approaches to their respective areas of interest.
To descend one step below the giant entity that is computer science, I work in programming language theory… and to go even further, type theory: a particular intersection of mathematical logic, philosophy, and computer science. Historically, this field manifested out of a desire to define the notion of "good" computation in the 20th century and may perhaps be one of the oldest areas of research in what we loosely identify as computer science. Yet, there is so much more to be done! The very early pioneers of computer science graciously left many interesting problems for us to continue to ponder about and develop for time to come, partly due to the fact that we constantly find new interesting problems to consider as our assumptions about computers, such as hardware, demands, etc. shift. One important topic is in concurrency; how do we reason about multiple programs that work together to achieve some goal? How do we take properties of interest, such as "concurrent programs never get stuck," and express it precisely in the language of mathematics? How do we enforce those properties? These are small samplers of broad questions that many people are trying to take a poke at using various interesting techniques and tools, and I too hope to take a small yet important step in our collective search for these answers using tools from proof theory and logic… just give me a few years to take that step though!"
---
Kit Chokly, Art History and Communication Studies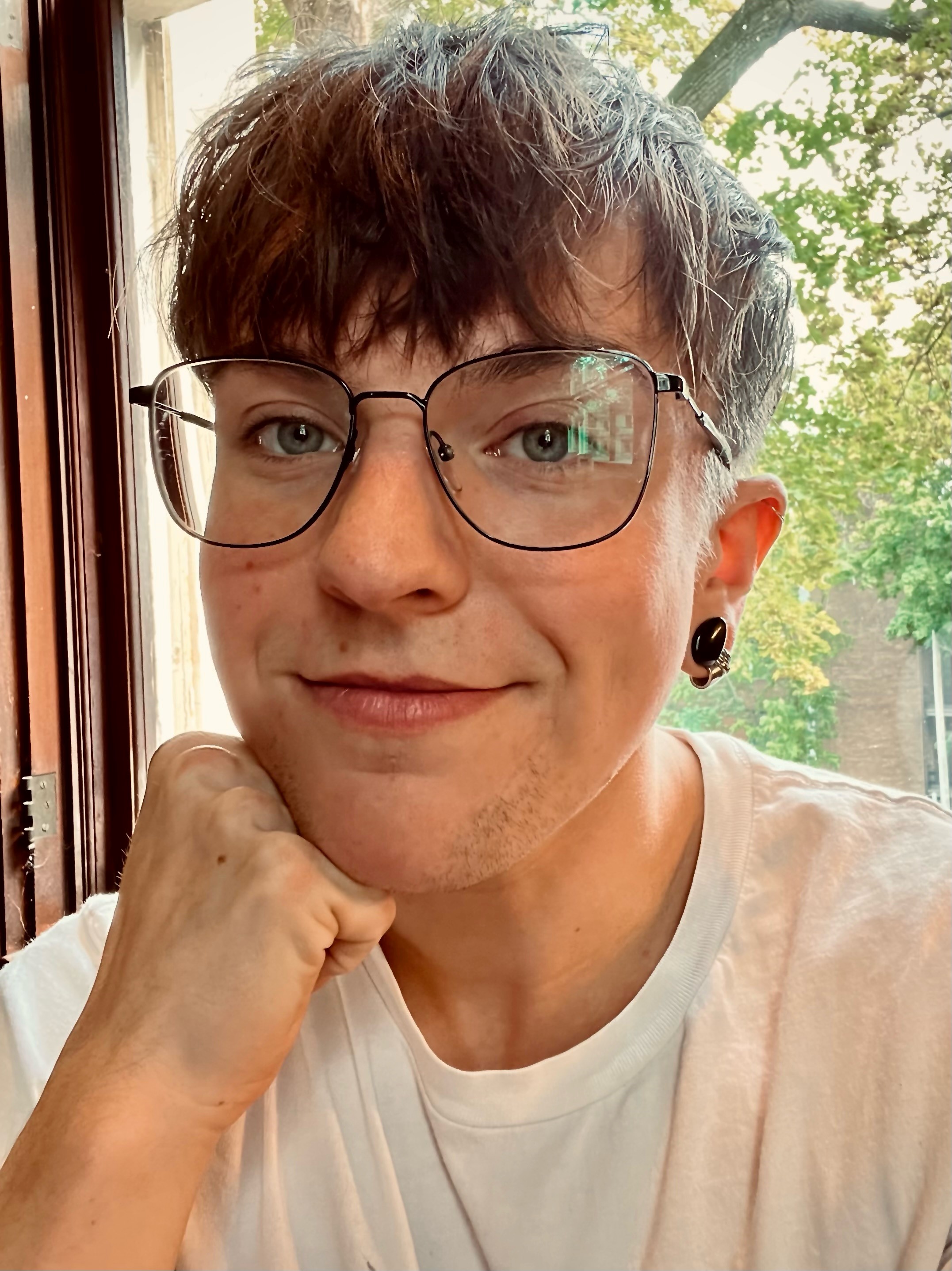 Kit Chokly is a white nonbinary trans student who began their PhD in Communication Studies at McGill University in 2022. Their research looks at the pleasures and affordances of media, especially as they intersect with trans experiences. His dissertation project, tentatively titled Feeling weird: An affective analysis of digital trans media practices, proposes using digital curation to explore an emerging niche of digital media practices which utilize "weirdness" to express trans sentiments. These media explore gender in its embodied, social, and subjective forms; are situated in the affective mode of the weird; and are largely made by and for trans people. Their work aims to consider how such media work to circumvent problems of trans media representation and potentially contribute to novel ways of imagining or becoming a gender in mediated and often collaborative spaces.
Feeling weird will examine how these weird trans media practices can be an important part in the development of trans subjectivities, communities, and spaces. Through this research, he intends to contribute to the growing field of transgender media studies and communication studies more broadly by showing that weird trans media and their surrounding community are worth taking seriously—not in spite of, but because of their weirdness. Kit is grateful for the significant opportunity that The Richard H. Tomlinson Fellowship presents to these research pursuits.
---
Mahdi Mahdavi, Physiology
Mahdi is a first-year PhD in the Cerebral Systems Lab (CSL) within the Department of Physiology. After completing his MD degree, Mahdi decided to continue his passion for systems neuroscience through a research-centered PhD program at McGill. CSL's research focuses on sensory and multisensory information processing in the brain. Our brains rely upon multisensory data from the environment to gather information about the external world. For these data to be processed, a crucial intermediate step is required where sensory object inputs are encoded into neural representations in the form of dynamic neural population activity patterns. Although population neural activity might seem complex and high-dimensional at first glance, studies have revealed that population neural activity is often restricted into a low-dimensional manifold spanned by a few independent components called modes. Mahdi's research will focus on understanding the hierarchical neural representations of multisensory objects and how these representations might be decomposed into linear or non-linear manifolds.
"It is an honor to be a recipient of the Tomlinson Fellowship, which has enabled me to deepen my focus on my research by providing support and financial stability. I am thrilled to pursue my research as a part of the McGill community."
---
Mingyu Wan, Integrated Program in Neuroscience
"I am a first year Ph.D. student in Integrated Program in Neuroscience at McGill University. As my MSc. in Dr. Tiffany Schmidt's lab at Northwestern University was winding down, I looked for other leading visual neuroscience labs, as I wanted to continue in this field for my PhD. McGill University is widely known as a leading neuroscience university, and I became fascinated by Dr. Stuart Trenholm's research program, which combines various scales of research (from cellular, to synaptic, to circuits, to full brain and behavior), and various experimental models (mice, marmosets, humans, in silico) to address problems in visual neuroscience in a holistic manner. By having access to a wide range of cutting-edge experimental tools, I felt that with my strong analytical and statistics background, I could make a significant impact while performing exciting and important experiments. In Dr. Trenholm's lab at the Montreal Neurological Institute, I propose to use state-of-the-art RNA sequencing and tracing methods to gain unprecedented insights into how the visual brain is wired, and how vision loss results in changes in brain connectivity. Therefore, I hope that I can embark on this proposed program in the hope of realizing my dream to be a future professor in visual neuroscience at a research university and making my contributions to serving the blind people better in the future.
The Tomlinson Doctoral Fellowship has made it possible for me to pursue my research at McGill University. It is my honor to be one of Tomlinson Scholars."
---
Rachael Morgan, Educational and Counselling Psychology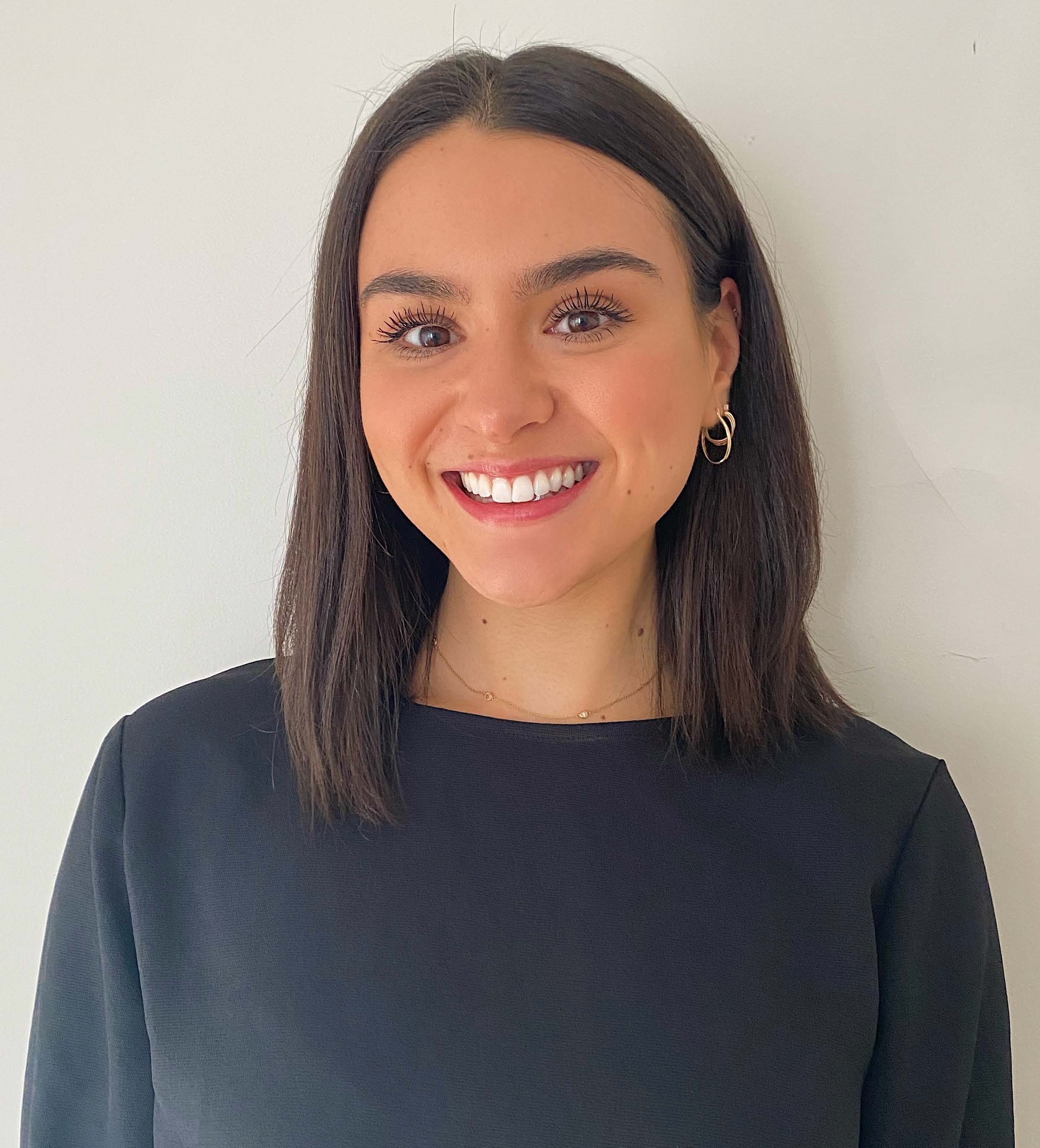 Rachael Morgan is a first year Ph.D. student in Counselling Psychology, working under the co-supervision of Dr. Caroline Temcheff and Dr. Alexa Martin-Storey in the Healthy Development Lab. She is also a Registered Psychotherapist (Qualifying) with the College of Registered Psychotherapists of Ontario. Rachael obtained her Master's degree in Counselling Psychology at the University of Ottawa in 2022, under the supervision of Dr. Tracy Vaillancourt in the Brain and Behaviour Laboratory.
Rachael's research interests broadly focus on examining the links between bullying and child and youth mental health. She is particularily interested in understanding the risk factors that increase students' vulnerability for being bullied, as well as the protective factors that can help prevent adverse outcomes.
Rachael's Doctoral research will examine the associations between gender-based discrimination (i.e., sexist and homophobic discrimination) and adolescent depression and substance use, focusing on the moderating role of conduct problems. The goal of Rachael's research is to inform the development of school-based mental health intervention and prevention efforts that prioritize and meet the needs of gender and sexual minority students, who are particularly vulnerable for experiencing adverse outcomes as a result of being bullied, both in adolescence and over time.
Rachael is honoured represent the Department of Educational and Counselling Psychology as the recipient of the 2022-23 Tomlinson Doctoral Fellowship. This generous funding has allowed her to continue to pursue her research in bullying, stigma, and adolescent mental health at McGill University as a Ph.D. student. Rachael looks forward to continuing to her Doctoral research as part of the McGill community.
---
Sainico Ningthoujam, English
Sainico is a first-year doctoral student in the English Department at McGill University. Her project focuses on literary narratives from South Asia to interrogate the imagination and representation of the environment, and how they map multiple lived experiences of the Anthropocene. The Anthropocene is a proposed geological epoch to recognise the significant impact of humans on the environment. But it is also a cultural concept that has wide-ranging ramifications on how we think about nature, human and non-human relations. Her research excavates how different aesthetic forms and genres of indigenous and non-indigenous literary texts confront homogenising convictions of modernity and development to decolonize the Anthropocene. By focusing on local, national and transnational entanglements in relation to the Eastern Himalayas, her thesis reflects on how postcolonial and indigenous narratives navigate multiple identities to retain and reclaim their history, traditions and culture.
She is honoured to receive the Tomlinson Fellowship, which facilitates and supports her research. Through her project, she foregrounds the role of literary and other modes of cultural imagination in how the environment is articulated, represented and communicated in popular discourses and how these narratives influence our perception of climate change.
---
Swati, Religious Studies
Swati is a first-year PhD student studying South Asian Religions at the School of Religious Studies. She focuses on how religious texts conceptualize divinity with attentiveness to the scholarly interpretations of new theological formulations in medieval Hinduism. Her doctoral research investigates several texts known as the Rama Upanishads, seeking to explain their textual intricacies and reconstruct their role in canonizing Rama as a principal deity within modern Hinduism. Her research also highlights how competing sectarian Hindu movements modulated and redefined orthodox religious categories. Focusing on this shift at a time when various sects were formulating their theologies, differentiating amongst themselves, and creating localized histories contributes to a more nuanced discourse of Hindu sectarianism.
Her research involves philological analysis of Sanskrit texts, including the collection, collation, and study of their extant manuscripts and recensions to piece together their history, contexts, and reception. She is honored to pursue her research at McGill through the generous support of the Tomlinson Fellowship. She is delighted to work with related manuscripts at the university's Rare Books and Special Collections and study with scholars reading diverse religious and scholarly traditions.
---