Get involved in Global Health at McGill!
McGill University boasts a very active student life with over 300 student clubs on campus.  Many are involved in global health.  Getting involved with these groups is a great way to gain experience and skills for a career in the field.
This list is by no means exhaustive and if you know of a relevant club that is not listed here, globalhealth [at] mcgill.ca (subject: Global%20Health%20Student%20Groups) (contact us)! Descriptions are from the Club's own website, social media profile, or McGill Student Society profile (SSMU, MSS, or other)
McGill Students' Global Health Network
The McGill Students' Global Health Network (GHN) was founded in May of 2014 with the goal of bringing together the 40+ global health related organizations at McGill University in Montreal, Quebec. The network serves to unite these organizations and allow for greater collaboration between network members.
Website: http://www.ghn-mcgill.ca/
Email: ghn-mcgill [at] gmail.com
Facebook: McGill Students' Global Health Network
CHSP
The aim of the Comparative Healthcare Systems Program (CHSP) is to provide opportunities to contrast different healthcare systems. We hope that ideas for the betterment of the Canadian healthcare system will develop from participation in our international exchanges and other various events. We plan to achieve these objectives by giving members information concerning non-Canadian healthcare systems and healthcare in general, investigate the pros and cons of non-Canadian healthcare systems, and promote exchange of information and experience pertaining to public healthcare between students of McGill, departments of McGill University and other institutions. We will achieve these objectives through conferences with guest speakers with particular healthcare knowledge, information tables, educational meetings, fundraisers for public health-related organizations, and exchange trips aiming to investigate a given healthcare system.
Learn more about the mandate and structure of Comparative Healthcare Systems Program in their club constitution.
Email: mcgill.chsp [at] gmail.com
Facebook: Comparative Healthcare Systems Program
Friends of Médecins Sans Frontières (MSF) – SSMU
Médecins Sans Frontières was created in 1971 by a group of French doctors and journalists. Since then, this pioneering organization has treated over one hundred million patients worldwide. Today, MSF works in over 60 countries and provides emergency aid with complete independence from political, economic and religious influences.
Friends of MSF groups are student societies in various Canadian Universities. Our McGill chapter is an official supporter of MSF. Our goals are to increase awareness for MSF, create fundraising activities and to encourage aspiring humanitarians to consider working with MSF.
Learn more about the mandate and structure of Friends of MSF-SSMU in their club constitution.
Website: http://www.doctorswithoutborders.ca/mcgill-university-friends-msf
Email: fomsf.mcgill [at] gmail.com
Facebook: Friends of MSF McGill
Twitter: @Friends_of_MSF
McGill Students Chapter of Universities Allied for Essential Medicines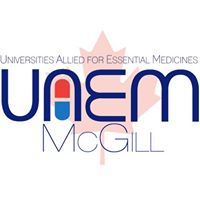 Changing the attitude of university research.
There is a major gap between the need for life-saving technologies, such as medications for HIV/AIDS, and their actual availability in the developing world where their need is the greatest. This gap means that lives are being lost not because we do not have the health innovations to save them, but because we have not made those innovations available. Universities and publicly funded research institutions will be part of the solution to the access to medicines crisis by promoting medical innovation in the public interest and ensuring that all people regardless of income have access to essential medicines and other health-related technologies.
Email: info [at] uaem-mcgill.ca
Facebook: UAEM - McGill
Twitter: @UAEMMcGill
McGill Students for Unicef
McGill Students for UNICEF is a student organization at McGill that raises awareness and funds for UNICEF Canada.
Events such as the yearly Kicking Hunger Out soccer tournaments and UNICEF week raise money and awareness for the current Unicef Canada campaigns.
Past campaigns include the No Lost Generation campaign which helped raise funds for emergency relief for children affected by the war. The club helped raise funds for Typhoon Haiyan in the past as well.

Unicef is impartial, neutral and independent. As such, it is entirely privately funded and has no political or ideological motives. Unicef helps children and mothers care for their children.

McGill Students for Unicef is an important contributor to Unicef's budget, raising over $18,000 in the 2014-2015 school year.

Join us, stop by and chat with us at a bake sale, donate or educate yourselves (http://www.unicef.ca/). We look forward to seeing you around campus!
Website: http://ssmu.mcgill.ca/unicef/
Facebook: McGill Students for UNICEF
MEDLIFE McGill
MEDLIFE is a non-profit student organization that was established with a view towards alleviating global poverty through the distribution and promotion of Medicine, Education, and Development. With a network of over 50 chapters in universities across North America, MEDLIFE continues to grow. The McGill chapter, the first in Canada, was founded in 2010 giving Canadian students the opportunity to participate.
We currently operate in Ecuador and Peru and hope to expand our reach in the near future. All 50+ chapters send several groups of students each year to areas most in need. These teams, called Mobile Clinics, work to establish a permanent MEDLIFE presence. Whether it's building fully staffed medical clinics or schools, or the instalment of absent necessities such as clean-water wells and staircases, we continue to serve a community until we feel we have done all we can. Our long-term mission is to help families achieve freedom from the constraints of poverty, empowering them to live healthier lives.
When not abroad, members can help at home through fundraising efforts. All donations are put towards the MEDLIFE Fund, and 100% of proceeds are used for the creation of medical clinics, schools, and other development projects specific to the needs of each community.
By providing students with real-life, hands-on experience working with poor and underserved populations, we create socially conscious global citizens who realize the difference they as an individual can make. Like or contact us if you feel the call to action and want to make a permanent impact with MEDLIFE.
Website: www.medlifemcgill.com
Email: medlife.mcgill [at] gmail.com
Facebook: MedlifeMcGill
MonWHO
The Montreal World Health Organization Simulation (MonWHO) is a 3-day conference hosted in Montreal that brings together students from a wide range of disciplines to discuss global health issues. The goal is to acquaint students with the role of the WHO while providing them an opportunity to play a proactive role in global health policy.
Participants assume the role of a country's ambassador to the WHO, a non-governmental organization representative, a pharmaceutical representative or a journalist, and work with their peers to develop resolution papers that address the different global health theme chosen every year. In the past, these resolutions have not only been brought to the attention of the WHO but have been adopted by global-health minded student organizations. MonWHO's founder recognized the importance of developing inter-professional relationships in order to develop a deeper understanding of health and more sustainable solutions to its problems. We are very proud to welcome students from all educational backgrounds to our conference.
Website: http://monwho.org
Facebook: Montreal World Health Organization Simulation/ Monwho
MSS Global Health
MSS Global Health is a standing committee of the McGill Medical Student's Society. Its mission is to advocate for global health within McGill Medicine and communicate relevant information to medical students about global health initiatives taking place at McGill or abroad. MSS Global Health provides structure for global health initiatives in McGill Medicine through partnerships with broader representative organizations namely IFMSA-Québec, CFMS, and McGill Global Health Programs.
Facebook: MSS Global Health
Students for Partners in Health
McGill Students for Partners In Health (PIH) is a student-led non-profit organization dedicated to raising funds for Partners In Health Canada:

PIH is a global health organization dedicated to providing a preferential option for the poor in health care.

PIH believes in 5 fundamental principles:
1. Universal access to primary health care
2. Making health care and education free to the poor
3. Hiring and training community health workers
4. Fighting disease means fighting poverty
5. Partnering with local and national governments

(taken from the PIH website: www.pih.org)

McGill Students for PIH will use the forums of education, advocacy, and resources, to help support Partners In Health Canada and spread the word about its work and the importance of global health equity.
Website: Partners in Health (student chapters page)
Email: mcgillstudentsforpih [at] gmail.com
Facebook (group page): McGill Students for Partners In Health
The Prognosis
McGill's Student Global Health Journal
Founded in 2010, The Prognosis is McGill's only student-run global health journal. Featuring student articles, opinions, and research on diverse issues related to health in different parts of the world, the journal seeks to provoke debate on issues at the intersection of social, biomedical, global, and local perspectives on health. For its fourth edition (2014-15), The Prognosis is looking forward to working in close partnership with the Institute for Health and Social Policy and McGill's Global Health Programs in order to expand its calibre and audience.
Website: https://theprognosismcgill.com/
Facebook: The Prognosis
Twitter: @The_Prognosis
McGill African Student Society
Coming soon
Nurses for Global Health
Coming soon
SPOT Global Health Forum
Coming soon
Health on Earth
Global Health Radio Show
Health on Earth is a bilingual global health radio show at CKUT 90.3 FM, a community radio station in Montreal. The 30-minute weekly show has been produced by McGill students and young health professionals since 2006. The interdisciplinary production team has diverse educational backgrounds including nutrition, economics, nursing, medicine, public health, and international development. Topics of shows include optimizing healthcare with technology, international medical internships, the Trans-Pacific Partnership and access to essential medicines, physician-assisted suicide, and more recently a series on health and human rights in Québec that explores the right of access to health services for different marginalized communities.
Website http://www.healthonearth.net/
Email: healthonearthradio [at] gmail.com
Facebook: Health on Earth
Twitter: @HealthonEarth_
Student Association for Medical Aid (SAMA)
Promoting sustainable humanitarian aid for communities in need.
The Student Association for Medical Aid (SAMA) is a non-profit, student-run, humanitarian aid organization with no political or religious affiliations. Our mission is to promote sustainable humanitarian aid for communities in need and empower individuals within these communities to help themselves. We act as facilitators to reach these goals by developing and implementing projects, based on locally expressed need, alongside partners within these communities. In recent years, many of these projects have focused on issues pertaining to health in East Africa.
Throughout the academic year, SAMA fundraises to support these projects and works to engage our peers in the McGill and Montreal communities by raising global health awareness. Outreach such as this is crucial to increasing global consciousness and goes hand in hand with our long-term vision.
Facebook: SAMA
Twitter: @SAMAMcGill
Unite for Sight
Unite For Sight is a health delivery organization that empowers communities worldwide to improve eye health and eliminate preventable blindness.

At the university chapter level, we look forward to partnering with UFS and fostering the next generation of global health leaders at McGill. It is our belief that through teamwork and cooperation, we can achieve the goals set out by UFS and will be having many fundraisers and initiatives for our members to become involved with eye care.

 Email: ufs.communications [at] gmail.com
Facebook: Unite for Sight McGill Global Health Society
Daraja
Daraja is comprised primarily (but not exclusively) of students who were part of McGill's Canadian Field Studies in Africa program (CFSIA). We come from diverse academic backgrounds but all have a common goal of doing what we can to provide support for various organizations we encountered while we were in East Africa. Daraja is here to connect McGill students to amazing work being done in East Africa and assist projects in the small ways that we can. This year we are supporting women's enterprise in Maasailand, specifically by raising funds for the Maji Moto Group Ranch Women's Group and the Olkiramatian Reto Women's Group! To find out more about our partners go here. ​
website: http://darajamcgill.weebly.com/
McGill Students for FIMRC (Foundation for International Medical Relief of Children)
FIMRC is a non-profit organization dedicated to improving the health of families in the developing world through the implementation of innovative and self-sustainable health improvement programs. Through its network of outpatient clinics and partnerships, FIMRC asserts a multidimensional strategy that includes clinical services, extensive community outreach efforts and health education programs.
Learn more about the mandate and structure of the McGill Students for FIMRC in their club constitution.
Website: https://www.fimrc.org/
Facebook: McGill Students for FIMRC