Get involved in Global Health at McGill!
McGill University boasts a very active student life with over 300 student clubs on campus.  Many are involved in global health.  Getting involved with these groups is a great way to gain experience and skills for a career in the field.
This list is by no means exhaustive and if you know of a relevant club that is not listed here, studentaffairsghp.med [at] mcgill.ca (subject: Global%20Health%20Student%20Groups) (contact us)! Descriptions are from the Club's own website, social media profile, or McGill Student Society profile (SSMU, MSS, or other)
Canadian Association for Global Health (CAGH) McGill Student Chapter
CAGH is a national organization that aims to create a better world through the promotion of health equity by connecting, engaging, strengthening, and mobilizing the global health community across Canada and internationally.
As the McGill student chapter of CAGH, we aim to contribute to this goal by creating a platform where students and professionals can engage in topics related to global health. More specifically, we hope to curate events, initiatives and programs that will educate our general members as well as facilitate conversations among students and young professionals to ultimately lift up the next generation of global health practitioners and encourage involvement in the global health community at McGill
Canadian Global Surgery Trainees' Alliance (CGSTA) McGill Chapter
CGSTA is a national global surgery organization in Canada, affiliated with the International Student Surgical Network - InciSioN. Currently, 5 billion people around the world lack access to basic surgical and anesthesia care. After the release of the Lancet Commission on Global Surgery in 2015, there has been an increased awareness in this field and an in-depth analysis of various policies and actions taken at the highest level. In Canada, global surgery would be incomplete without mention of rural surgery and disparities in the Northern and Indigenous communities. With a large number of trainees interested in and participating in global surgery experiences, we hope to develop stronger networks for collaboration, education, and advocacy across Canada.
We aim to:
To create a network of inspired, educated medical students engaged in global surgery advocacy, research, and initiatives and
To provide a platform for medical students engaged in global surgery initiatives for further advocacy, research, networking, and training.
Community Health and Social Medicine (CHASM) Incubator
The first of its kind at McGill University, the Community Health and Social Medicine (CHASM) incubator takes the most innovative aspects of startup culture and blends them into a practical, project-based model to improve Montréal's health system. We nurture community-based teams with project ideas and connect them to business and nonprofit leaders. By providing each group with a context-specific curriculum designed with the help of McGill public health leaders, CHASM ensures that teams and their community partners can realize their healthcare goals.
Comparative Healthcare Systems Program - CHSP
The aim of the Comparative Healthcare Systems Program (CHSP) is to provide opportunities to contrast different healthcare systems. We hope that ideas for the betterment of the Canadian healthcare system will develop from participation in our international exchanges and other various events. We plan to achieve these objectives by giving members information concerning non-Canadian healthcare systems and healthcare in general, investigate the pros and cons of non-Canadian healthcare systems, and promote exchange of information and experience pertaining to public healthcare between students of McGill, departments of McGill University and other institutions. We will achieve these objectives through conferences with guest speakers with particular healthcare knowledge, information tables, educational meetings, fundraisers for public health-related organizations, and exchange trips aiming to investigate a given healthcare system.
Learn more about the mandate and structure of Comparative Healthcare Systems Program in their club constitution.
Friends of Médecins Sans Frontières (MSF) – SSMU
Médecins Sans Frontières was created in 1971 by a group of French doctors and journalists. Since then, this pioneering organization has treated over one hundred million patients worldwide. Today, MSF works in over 60 countries and provides emergency aid with complete independence from political, economic and religious influences.
Friends of MSF groups are student societies in various Canadian Universities. Our McGill chapter is an official supporter of MSF. Our goals are to increase awareness for MSF, create fundraising activities and to encourage aspiring humanitarians to consider working with MSF.
Learn more about the mandate and structure of Friends of MSF-SSMU in their club constitution.
Global Health Rehabilitation Initiative
The Global Health Rehabilitation Initiative (GHRI) includes a student-led component supervised by the GHRI committee and the faculty co-leads.
The GHRI provides unique opportunities for students to be involved at many levels and in various capacities; from attending meetings with faculty members, to active involvement with different student or student-faculty committees, and interactive events and activities.
Engaging with the GHRI is an opportunity to share knowledge and exchange perspectives on global health in rehabilitation, work on train the trainer initiatives, and learn about experiences in fieldwork (OT) and clinical placements (PT) on the intersectionality of global health, rehabilitation and disability.
Health on Earth
Global Health Radio Show
Health on Earth is a bilingual global health radio show at CKUT 90.3 FM, a community radio station in Montreal. The 30-minute weekly show has been produced by McGill students and young health professionals since 2006. The interdisciplinary production team has diverse educational backgrounds including nutrition, economics, nursing, medicine, public health, and international development. Topics of shows include optimizing healthcare with technology, international medical internships, the Trans-Pacific Partnership and access to essential medicines, physician-assisted suicide, and more recently a series on health and human rights in Québec that explores the right of access to health services for different marginalized communities.
The McGill Global Food Security Club
The McGill Global Food Security Club (GFS) is a place for discussion and volunteering at the Macdonald Campus. The Club provides unique opportunities for students striving to raise awareness of what is occurring locally and globally regarding food security in a collaborative fashion. The Club also values sustainability and aligns with the Sustainable Development Goal (SDG) Two of the United Nations: Zero Hunger. Engaging with GFS is an opportunity for students to exchange perspectives on global health, specifically food security and sustainable food systems.
The McGill Journal of Global Health (formerly known as The Prognosis)
McGill's Student Global Health Journal
Founded in 2010, The McGill Journal of Global Health (formerly known as the Prognosis) is McGill's only student-run global health journal. Featuring student articles, opinions, and research on diverse issues related to health in different parts of the world, the journal seeks to provoke debate on issues at the intersection of social, biomedical, global, and local perspectives on health. For its next edition, The Journal is looking forward to working in close partnership with McGill's Global Health Programs in order to expand its calibre and audience.
McGill Perspectives on Global Health Blog
Created in 2016, the new Global Health Blog serves as a space for all those interested in global health, from students to faculty, to share their unique perspectives. Featuring a variety of content, the blog creates an online environment that will give a snapshot of what is happening within and outside of the McGill global health community.
McGill Reimagine Global Health Group
The McGill Reimagine Global Health Group is a collective of students and faculty working towards dismantling colonial structures in global health's academic and professional spheres. We organize talks and panels, coordinate workshops, and screen documentaries to expose and challenge the colonial, oppressive dynamics infiltrating the equitable goals of global health. Comprising members from all backgrounds and disciplines, our collective reimagines global health and seeks to realign it with principles of equity and collectivity.
McGill Students Chapter of Universities Allied for Essential Medicines - UAEM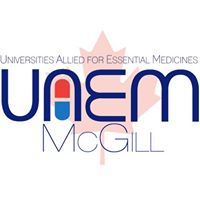 Empowering students to fight for people over profit
Universities Allied for Essential Medicines (UAEM) is a global network of students that fight to make life-saving medicines affordable and accessible for all. Since universities develop many of the medical technologies that end up in the hands of pharmaceutical companies, students have the power to encourage universities to adopt equitable licensing practices (we've done it!). This year, McGill's UAEM chapter is collaborating with McGill faculty, the Montreal Neurological Institute, the Center for Artistic Activism, and UAEM chapters around the world, to focus on three main projects; (1) Developing an Open Science resource guide for student researchers, (2) Educational programming about access to medicines and creative activism, and (3) leading the Canadian team for the international Free the Vaccine for COVID-19 Campaign.
McGill Students for FIMRC (Foundation for International Medical Relief of Children)
FIMRC is a non-profit organization dedicated to improving the health of families in the developing world through the implementation of innovative and self-sustainable health improvement programs. Through its network of outpatient clinics and partnerships, FIMRC asserts a multidimensional strategy that includes clinical services, extensive community outreach efforts and health education programs.
Learn more about the mandate and structure of the McGill Students for FIMRC in their club constitution.
McGill Students for Partners in Health Canada (PIHC)
Directly affiliated with Partners in Health Canada, McGill Students for PIHC is a student initiative dedicated to combating global health inequity. We are unified and driven by our belief that health is a human right. Our mandate is threefold: to educate ourselves and others about global health issues, to advocate for equitable access to health care for all, and to raise funds for Partners In Health Canada. We aim to mobilize the student networks in support of global health equity and in solidarity against social injustice.
McGill Students for Public Health - MSPH
Formerly Student Association for Medical Aid (SAMA):
Student-led organization that seeks to tackle public health issues at a local and global level
McGill Students for Unicef
McGill Students for UNICEF is a student organization at McGill that raises awareness and funds for UNICEF Canada. Events such as the yearly Kicking Hunger Out soccer tournaments and UNICEF week raise money and awareness for the current Unicef Canada campaigns. Past campaigns include the No Lost Generation campaign which helped raise funds for emergency relief for children affected by the war. The club helped raise funds for Typhoon Haiyan in the past as well.

Unicef is impartial, neutral and independent. As such, it is entirely privately funded and has no political or ideological motives. Unicef helps children and mothers care for their children.

McGill Students for Unicef is an important contributor to Unicef's budget, raising over $18,000 in the 2014-2015 school year.

Join us, stop by and chat with us at a bake sale, donate or educate yourselves. We look forward to seeing you around campus!
MSS Global Health
MSS Global Health is a standing committee of the McGill Medical Student's Society. Its mission is to advocate for global health within McGill Medicine and communicate relevant information to medical students about global health initiatives taking place at McGill or abroad. MSS Global Health provides structure for global health initiatives in McGill Medicine through partnerships with broader representative organizations namely IFMSA-Québec, CFMS, and McGill Global Health Programs.
McGill African Student Society
Coming soon
Nurses for Global Health
Coming soon