The McGill Global Health Scholars program for Graduate Students supports Masters- and PhD-level McGill students engaged in global health research in low or middle-income countries (LMIC) or in Northern Canada. Learn more about our current and past participants below.
2021 Global Health Graduate Scholars
Emmanuelle Batisse
PhD Candidate, Epidemiology - Participant in the McGill Global Health Scholars Program for Graduate Students supported by the Soe-Lin-Hecht Global Health Graduate Award
Emmanuelle's project: Exposure to Household Air Pollution and Immune Function Among Rural South African Children participating in the Venda Health Examination of Mothers, Babies and their Environment (VHEMBE).
"In South Africa, more than 40% of the rural population still uses solid fuels for indoor cooking. These practices result in critically high exposure to household air pollution (HAP), specifically to fine particulate matter (PM2.5), with women and children being particularly at risk. PM2.5 penetrates deeply into the lung and enters the bloodstream contributing to systemic inflammation and oxidative stress, which have been shown to alter antibody response to response to vaccines. However, no human study has investigated whether exposure to HAP inhibit immune response to vaccines in children. The objectives of my doctoral research are to characterize the levels, sources, and determinants of exposure to HAP in rural South African children and to determine whether exposure to HAP is associated with altered immunologic response to vaccines between age 6.5 and 8 years. This study is based on the Venda Health Examination of Mothers, Babies and their Environment (VHEMBE), a cohort of 752 South African mothers and children. Using personal-level exposure to PM2.5 and black carbon, I will characterize children's levels, sources and determinants of exposure. I will use generalized linear models to investigate the association between exposure to HAP and immunity function for three classes of vaccine. This research project represents the largest and newest study exploring the potential adverse effects of HAP on children's immune response to vaccines anywhere in the world. In these poor areas where infectious diseases account for almost half of the disease burden among children, these results will have major repercussions for vulnerable populations."
Morgen Bertheussen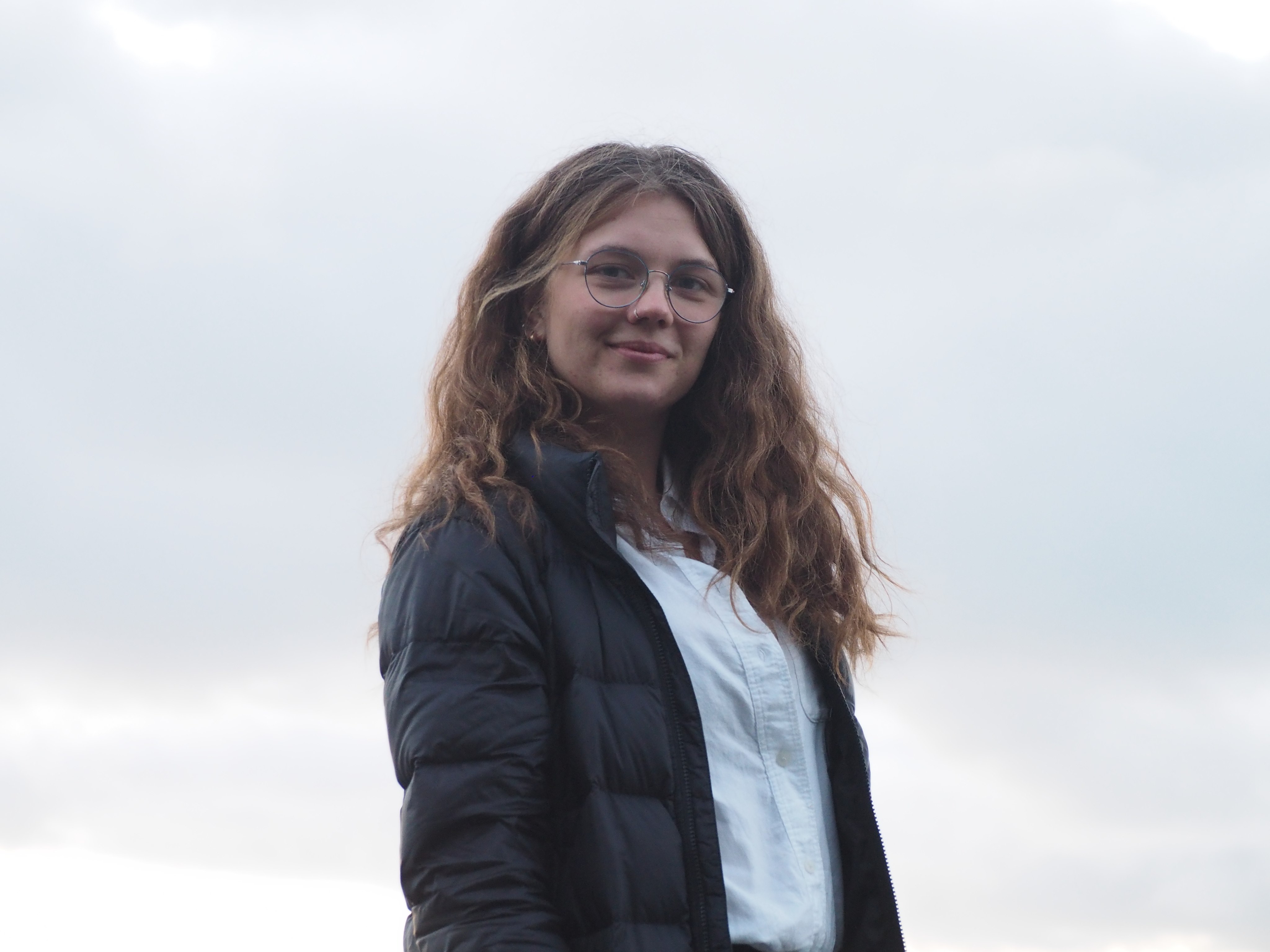 Masters of Arts, Geography - Participant in the McGill Global Health Scholars Program for Graduate Students
Morgen's project: What household and community-level SDH are associated with more favorable health outcomes across communities in Nunavik
"Inuit perception of health is multidimensional, emerging from the interaction and interrelation of many social and environmental factors. Because of this, health and well-being can vary significantly depending on the extent to which protective factors are available at the household and community-levels. Social determinants of health (SDH) represent these conditions that go beyond individual-level risk factors in shaping population health outcomes. There is a consensus in the literature that the SDH play a major role in influencing physical and psychosocial health of Indigenous Peoples. However, previous quantitative studies examining these associations seldom define health holistically. Rather, health is measured using univariate outcome indicators, failing to capture Indigenous holistic conceptualizations of health, and further reinforcing western biomedical principles that tend to treat health issues separately. Hence, because Indigenous perception of health is multidimensional, a holistic measure of health is required to better understand how the SDH influence Inuit health and well-being. Therefore, my thesis aims to answer the following question: What household and community-levels SDH are associated with favorable health outcomes across communities in Nunavik? This project will be integrated within the scientific activities of the Community Component of Qanuilirpitaa?, the 2017 Nunavik Health Survey, and will apply the conceptual framework developed in the former to operationalize a holistic indicator of Inuit health and well-being, and link holistic health to household and community-level factors. Understanding how SDH relate to the principle of holistic health has the potential to inform, promote and support public health interventions, services, and programming in the Arctic."
Andrea D'Addario
Masters of Management, International Health Leadership - Participant in the McGill Global Health Scholars Program for Graduate Students supported by the Spencer-Hick Family Global Health Education and Training Fund
Andrea's project: The Impact of COVID-19 on Remote Health Care Provider Wellness: A Northern Territory Lens
"Recently, a system wide staff wellness survey carried out in January 2021 by an operational team in an NWT health authority (D'Addario, 2021) suggests that frontline and management teams are experiencing significant psychological distress, loss of professional autonomy, fatigue, and burnout. Despite the relatively low numbers of positive COVID-19 cases in the NWT, the survey highlights trends of the intensifying impacts on health care practitioner wellbeing. Additionally, the feedback alludes to the increased potential of workforce loss as a result of poor workplace support and leadership. Review of practitioner narratives suggested that staff wellness may be mitigated by the presence of supportive and responsive supervision and leadership.
This research project aims to understand if the anecdotal evidence highlighted in the preliminary qualitative survey is supported by more robust quantitative research methods. Through partnerships with the Northwest Territories Health and Social Services Authority (NTHSSA) and the Territory of Nunavut (NT), the research aims to better understand the psychological impact on the northern health care workforce, specifically health and social services staff and health management personnel, and, to evaluate how health leadership style is associated with improved outcomes for health care workers living and working in remote northern communities during the lifecycle of the pandemic. Additionally, this research project endeavours to provide Territorial policymakers and executive leadership with meaningful organizational insight and interventions at the frontline and health care leadership levels to protect and sustain the longevity of a skilled health care work force across the Northern Territories."
Minnie Horace
PhD Candidate, Nursing - Participant in the McGill Global Health Scholars Program for Graduate Students supported by the Joseph I. Wolfsdorf Fund for Global Child Health
Minnie's project: Exploring Liberian nurses and midwives' individual and shared experience with using The World Health Organization Safe Childbirth Checklist to improve maternity care practice in Liberia: An interpretive phenomenological study
"Approximately 830 women worldwide die every day from preventable causes related to pregnancy and childbirth (WHO, 2019). Many of these deaths could be prevented by providing evidence-based care. To address the issue of preventable maternal deaths and to assist skilled birth attendants in remembering and adhering to evidence-based practices, the World Health Organization Safe Childbirth Checklist (WHO-SCC) was developed by WHO in 2008 (Spector et al., 2012). The SCC was introduced in Maryland county, Liberia in 2018, with little known of the acceptability of using this tool by nurses and midwives who attend births. This project, to be conducted under the supervision of Dr. Anita Gagnon of the Ingram School of Nursing (ISoN), is meant to begin to fill this knowledge gap. An interpretive phenomenological study will be conducted to explore and understand the lived experiences and perception of nurses, midwives, and other health professionals likely to be implicated with the use of the SCC."
Lavanya Huria
MSc, Epidemiology - Participant in the McGill Global Health Scholars Program for Graduate Students supported by the Soe-Lin-Hecht Global Health Graduate Award
Lavanya's project: Patient pathways, individuals' care seeking behaviours, delays, and costs of care
"As a direct cause of the COVID-19 pandemic, compared to 2019, the reported number of people who were diagnosed with tuberculosis (TB) between January and June dropped by 25-30% in India and Indonesia. The pandemic is an additional burden on the already fragmented health sector of both these countries, and private providers are struggling to accommodate individuals seeking care for TB. The private sector administers approximately 50% of TB treatment in both countries. However, decreasing case notifications are evidence that the nationwide lockdown has had devastating impacts on the TB patient pathway. Predictably, prices for care are rising and clinics are struggling to stay open. The primary objective of my research project is to explore the impact of the COVID-19 pandemic on individuals seeking to access care for TB from the private sector. Surveys will be conducted with consenting individuals from Mumbai and Patna in India, and Bandung in Indonesia to gather information regarding the steps individuals with TB took while seeking care (screening, diagnosis, treatment), delays that they are facing due to the pandemic, and direct costs of care. This will allow me to empirically analyze the current situation and investigate the true double burden of COVID and TB. In order to address the disruptions in care that the pandemic has caused, we must ascertain the nature and location of these delays. I hope to gather evidence to eventually guide strategies that engage private healthcare providers and accelerate the delivery of care to those most burdened by this pandemic."
Lilian Lopez Leyva
PhD Candidate, Human Nutrition - Participant in the McGill Global Health Scholars Program for Graduate Students supported by the Joseph I. Wolfsdorf Fund for Global Child Health
Lilian's project: The importance of the human milk microbiome, and its relationship with subclinical mastitis and their impact on infant growth in an indigenous population of Guatemala
"In my proposed project I am interested in further investigating the association of the milk micronutrient composition (minerals and trace elements), the human milk microbiota and subclinical mastitis, which this latter one may be a consequence of micronutrient deficiencies and microbiota dysbiosis. Finally, I will analyze the impact on infant growth of human milk microbiota changes induced by subclinical mastitis and milk nutrient composition (mineral and trace elements), all this using biobanked milk samples that have been previously collected by our research group. However, with the help of the Global Health Scholars and a visit to Guatemala I would be able to obtain more information on infant feeding practices, as currently we only have data of the maternal diet intake.
A second objective in travelling to the research site in Guatemala is to collect water and soil samples in order to analyze if any environmental bacteria might be associated with to the milk microbiome. I am interested in acquainting myself with the culture and traditions of the community and interviewing the Mam-Mayan mothers in order to better the infant feeding practices. Finally, by being in Guatemala I will be able to give back to with team members at CeSSIAM by sharing my recent findings and work collaboratively (as Spanish is my mother tongue)."
Enriqueta Lucar Figueroa
MSc, Experimental Surgery - Participant in the McGill Global Health Scholars Program for Graduate Students supported by the Soe-Lin-Hecht Global Health Graduate Award
Enriqueta's project: Evaluation of epilepsy surgery program development in low-and-middle income countries (LMIC) and creation of a Delphi-consensus epilepsy database
"This project consists of two parts with the goal of improving epilepsy care in LMIC by creating tools to better help define the disease burden of epilepsy and to improve epilepsy program development. The first part of this project consists of a scoping review assessing established epilepsy programs in LMIC. Each building block of the WHO health system framework will be evaluated based on its strengths, weaknesses, opportunities, and threats/barriers. The goal is to identify gaps in epilepsy care systems in LMIC. The second part of this project is to create an epilepsy database for LMIC based on epilepsy experts' opinion with a modified Delphi method consensus. Participants will be both national and international epilepsy experts from several disciplines dedicated to epilepsy patient care. Epidemiological, clinical and administrative variables will be assessed. The goal is to create a database to help define the epilepsy disease burden in LMIC which can then serve both for epidemiological and research purposes. After completion of the database, follow-up studies will be conducted through retrospective internal and external validation of the proposed database."
Karen Paul
PhD Candidate, Social Work - Participant in the McGill Global Health Scholars Program for Graduate Students
Karen's project: "Good Social Work Practice" in Settings of Armed Conflict: A Study of Syria
"My research project explores perspectives on what constitutes "good social work practices" in the midst of the complex emergency in areas of Northwest Syria outside of government control. My research focuses on the perspectives of community members, national and international practitioners who perform or receive social work functions. It also explores their views on useful forms of support for Syrians who perform these functions and recommendations for "good social work practices" in other complex emergencies. Within the social work profession, best practices may be defined as "recommendations regarding the practices most appropriate for routine use in service systems with particular populations and problems" (Mullen et al., 2008, para 4). "Good practices" are those that are proven to be useful and create good results, and are thereby recommended as models (FAO, 2016). Yet, conceptions of good practice may differ across culture and contexts. Existing social work research explored effective practices for working with survivors of human trafficking globally (Steiner et al., 2018), perspectives on local forms of social work in post-conflict Sierra Leone (Doucet & Denov, 2012), and post genocide Rwanda (King et al., 2017). Yet, there is a lack of research exploring perspectives on "good social work practices" within complex emergencies and in Syria. Using an online collaborative method, my research uses constructivist grounded theory to develop a framework on what constitutes "good social work practices" in the midst of the Syrian context. This framework will offer insights for recommendations on good social work practices in other complex emergencies and effective forms of support for local practitioners."
Angelina Sassi
MSc, Epidemiology - Participant in the McGill Global Health Scholars Program for Graduate Students supported by the Ambassador Paul Frazer Travel Award for Global Health
Angelina's project: COVID Effect on TB (COVET) project [focus on Indonesia data]
"Tuberculosis (TB) is one of the top ten causes of death globally. Ensuring that high-quality health care is accessible and available to all people at risk for TB is a crucial step in the fight to end TB. This project will contribute to the goal of engaging private healthcare providers for TB by assessing the extent to which the COVID-19 pandemic has disrupted private healthcare markets in Indonesia.
The goal of the COVID Effect on TB (COVET) project is to enrich our understanding of how the COVID-19 pandemic has impacted private healthcare markets in three countries with high burden of TB and dominant private health sectors (India, Indonesia, and Nigeria). My thesis will specifically assess the extent to which the COVID-19 pandemic has affected the quality of TB services in the private health sector in Indonesia. In partnership with local research organizations, we will collect quantitative, comparative data on how the COVID-19 pandemic has changed private health markets as compared to pre-COVID markets. The standardized patient methodology for assessing quality of TB care has been previously validated and a detailed manual and toolkit have been published for wider use. By limiting standardized patient surveys to just one case – the classic, "presumed" TB patient who will present with typical TB symptoms – comparisons can be easily made to standardized patient data that were collected in Indonesia before the COVID-19 pandemic began. We will complete 250 actual standardized patient interactions with 200 providers in each site."
Khandideh Williams
MSc, Family Medicine - Participant in the McGill Global Health Scholars Program for Graduate Students supported by the Soe-Lin-Hecht Global Health Graduate Award
Khandideh's project: A qualitative study exploring the relationship between race and primary healthcare accessibility within socially vulnerable populations in Montreal
"Although the Canadian Medicare system was created to increase accessibility to healthcare services, many healthcare disparities still exist. The Covid-19 pandemic has exposed and exacerbated these disparities and has drawn attention to their social determinants. For example, in Montreal, Quebec, the highest number of Covid-19 cases have been reported in neighbourhoods with high rates of poverty and the most racial diversity. However, even though 22.3% of the Canadian population identify as a visible minority, racial differences are rarely considered in the Canadian healthcare literature. Using a qualitative exploratory design, this study elicits the experiences of racialized minorities in accessing primary healthcare during Covid-19 in Montreal's less advantaged neighborhoods. Insights emerging from analysis will inform the development of strategies to enhance healthcare accessibility. The focus on issues of equity and healthcare accessibility in racially, culturally, and ethnically diverse populations locally resonates with global health values and concerns for universal health coverage. Race-based analysis and the critical discourse it provokes are needed to avert disparities in morbidity and mortality that have already been observed within these populations and which are being amplified by the pandemic. Global goals around universal health coverage will only be achieved if barriers to equitable healthcare access are addressed – Canada must embrace this challenge and be a model of best global practices."
2020 Global Health Graduate Scholars
Loloah Chamoun
PhD Candidate, Human Nutrition, Global Food Security - Participant in the McGill Global Health Scholars Program for Graduate Students supported by the Ambassador Paul Frazer Travel Award for Global Health
Loloah's project: The use of palm weevil larvae as a livelihood strategy and a food fortification approach for women of reproductive age in Ghana.
"The research project aims to gain a better understanding of Ghanaian women of reproductive age's (WRA) beliefs regarding the acceptability of palm weevil larvae (akokono) for consumption and sale purposes, as well as evaluate the barriers and facilitators associated with its marketability within selected communities in the Ashanti region. Moreover, this study aims to evaluate WRA's dietary intake to develop anakokono-fortified food product that is specific to the communities' nutritional needs (mainly in terms of iron), that is highly nutritious, cost-effective, accessible and accepted organoleptically by WRA.Ultimately, I am trying to understand whether akokono could be harnessed as a source of income for WRA in peri-urban communities in the Ashanti region, and as a food fortification approach to treat iron-deficiency anemia among WRA."
Gabriel Schnitman
MSc Candidate, Experimental Surgery (Global Surgery stream) - Participant in the McGill Global Health Scholars Program for Graduate Students supported by the Soe-Lin-Hecht Global Health Graduate Award
Gabriel's project:  Feasibility of the application of multimedia animations as preoperative guides for urgent abdominal surgeries in public hospitals in Brazil
"With a need for better communication tools, this study aims to evaluate the feasibility and impact of standardized pre-surgical multimedia guides for patients. Utilizing routinely updated, peer-reviewed medical literature, short-animated videos can be developed to focus on holistically educating patients on what to expect when undergoing surgical procedure, preoperative information, overview of their treatment, what to expect during their hospital stay and postoperative recovery details. The main objective of this study is to evaluate feasibility and impact of standardized pre-surgical animation guides for patients subjected to emergency surgical procedures in public hospitals in a low/middle income country."
Giorgia Sulis
PhD Candidate, Epidemiology - Participant in the McGill Global Health Scholars Program for Graduate Students supported by the Soe-Lin-Hecht Global Health Graduate Award
Giorgia's project: Mystery clients to assess inappropriate antibiotic use in India
Global antibiotic consumption has increased dramatically over the past few decades, contributing to the development and spread of antimicrobial resistance (AMR), which is now a public health emergency worldwide. As highlighted by our previous work with standardized (simulated) patients (SPs), even in countries like India where the burden of infectious diseases is high, antibiotics are excessively used. Besides prescription in the absence of clinical indication (such as common cold or self-limiting watery diarrhea), it is likely that antibiotics are prescribed inappropriately in terms of drug choice, dosage and duration to patients who need an antibiotic treatment. For instance, certain antibiotic classes such as quinolones that have a high potential for selecting resistance and should be therefore used with great caution, are disproportionately prescribed and dispensed in India, suggesting a poor adherence to treatment guidelines among health professionals. Private providers substantially contribute to the high levels of antibiotic use in the country. Since about three quarters of outpatient visits in India take place in the private sector, a better understanding of prescription practices among private primary care practitioners is extremely important. We will conduct a SP study in India with the aim ofassessing the extent and pattern of inappropriate antibiotic prescribing/dispensing to patients with prespecified infectious illnesses that are commonly encountered in primary care settings in India and for which antibiotics are required.
Juan Pimentel
PhD Candidate, Family Medicine - Participant in the McGill Global Health Scholars Program for Graduate Students supported by the Soe-Lin-Hecht Global Health Graduate Award
Juan's project: Impact of Co-Designed Game Learning on Cultural Safety in Colombian Medical Education: a Randomized Controlled Trial
"Cultural safety encourages health practitioners to examine how their own culture shapes their clinical practice; it proposes they should respect patient worldviews. Lack of cultural safety in health care is linked to stigma and discrimination towards culturally diverse patients. As part of an effort to bridge the cultural divide between Western health services and the cultural preferences of the society, we developed a medical curriculum to promote respect for traditional medicine users in multicultural Colombia. A challenge facing cultural safety education in a setting like this is that health professionals are seldom motivated to interact with traditional health practices. Game jams, collaborative workshops to create and play games,have recently shown effectiveness and engaging potential in university-level education. No published medical education research has explored the role of co-designed game learning in medical training. My trial aims to determine whether medical student participation in a game jam to design an educational game on cultural safety is more effective than a conventional lesson on cultural safety in terms of change in students' self-reported behavior."
Tristan Supino
Msc Candidate, Psychiatry - Participant in the McGill Global Health Scholars Program for Graduate Students supported by the Spencer-Hick Family Global Heath Education and Training Fund
Tristan's project: School Mental Health Promotion for Indigenous Youth
"Background: In the Division of Social and Transcultural Psychiatry, my project will evaluate the implementation of a school-based mental health promotion program for Indigenous youth. Indigenous populations in Canada have been subjected to colonialism and cultural oppression, leading to many Indigenous groups having higher rates of youth suicide and drug abuse than non-Indigenous counterparts. Health promotion programs that build upon resilience are one strategy to address this inequity. Directed by Dr. Kirmayer, Listening to One Another to Grow Strong (LTOA) originates as a family-based mental health promotion program developed in partnership with First Nations communities that aims to enhance the well-being of Indigenous youth, their families, and their communities. A unique feature of the program is that each First Nation adapts the program to their culture to increase cultural appropriateness and community uptake. To increase program reach, the LTOA team developed a shortened and more flexible school-based program. Although the school-setting can scale-up a family program to reach a larger population, the evaluation of the implementation of a school-based mental health programs in Indigenous communities in Canada remains an under-studied area.
Research Objectives: In partnership with Nlaka'pamux Health services,a First Nations Health Organization in British Columbia, the research objectives are: (1) identify implementation strategies used to successfully deliver the LTOA school-based program;(2) assess the students' experiences in the program.To have positive outcomes, interventions need to be properly implemented while considering the context of the implementation. The specific objective is to evaluate the local implementation process of the school-based intervention, with the goal of improving program delivery."
Joy Nyamiaka
Masters of Science in Public Health - Participant in the McGill Global Health Scholars Program for Graduate Students supported by the Soe-Lin-Hecht Global Health Graduate Award
Joy's project: Tailoring Cervical Cancer Screening Services for Inuit Women of Nunavik
"Being informed about HPV and its association with cervical cancer is crucial for women to understand and take full advantage of cervical cancer prevention and detection strategies. The level of awareness and knowledge about HPV among Inuit women is quite low. A study by Cerigo et al.(2010) found that only about 31% of Inuit women have heard about HPV with most of them hearing about it from their health care provider, the radio, or female lay health workers. Therefore, under the supervision of Dr Brassard, I will be working with health care workers in Nunavik, Quebec to identify ways to implement HPV self-sampling as a way to increase access to regular screening among Inuit Women. Specifically, in collaboration with these health professionals, I will develop educational tools to inform women about cervical cancer, HPV related cancers, and the importance of cervical cancer screening and prevention. This project aims to identify convergence and divergence between Inuit women and non-Inuit health care workers to define implementation strategies for cervical cancer screening that are in accordance with Inuit values and practices.Since primary care in Nunavik is provided by non-Inuit professionals, understanding how Nunavummiut see the issue is fundamental to developing realistic screening strategies. Cancer screening coverage can be increased by self-sampling however, implementation strategies must be contemporaneous with an education campaign on the importance of screening and the link between HPV and CC."
2019 Global Health Graduate Scholars
Kathryn LaRusso
PhD Candidate, Experimental Surgery, Global Surgery Track - Kathryn is a Jean-Martin Laberge Global Pediatric Surgery Research Fellow in the Department of Pediatric Surgery at Montreal Children's Hospital. She has always been drawn to global work and completed her undergraduate degree at Georgetown University in International Health. She subsequently obtained an MPH from Boston University in International Heath and Health Policy after living and working in Dakar, Senegal with the World Bank Group. She worked on HIV and TB projects in Togo, DR Congo, and Gabon before attending medical school at Michigan State University. She is currently a general surgery resident at UT Health in San Antonio and interested in completing a pediatric surgery fellowship. Her PhD work is focused on improving surgical care for children and currently based in Uganda
Kathryn's project: Measuring pediatric risk-adjusted surgical outcomes in low-resource settings using the National Surgical Quality Improvement Program for Pediatrics database
Parnor Madjitey
PhD candidate, Family Medicine - Parnor is a biochemist and a bioethicist trained at the Center for Biomedical Ethics and Law at the Katholieke Universiteit in Leuven, Belgium and at the Joint Centre for Bioethics at the University of Toronto, Canada. He has many years of research experience working with a team of scientists on a multidisciplinary case-control study of malaria in a Ghanaian local community. He worked as the team leader at both the field site and in the malaria project laboratory. He has also been involved in non-communicable disease research in various locations in Ghana and taught public health ethics courses at the School of Public Health, University of Ghana, Legon, Ghana. The focus of his Doctoral thesis is on the 2014 Ebola pandemic outbreak in Liberia, Sierra Leone and Guinea. He has an interest in exploring how to promote health equity at the intersection of primary health care, global health and public health ethics.
Parnor's project:  An investigation of ethical tensions faced by health workers during Ebola outbreaks in resource-poor settings
Erin Muyres
Masters of Science in Public Health - Erin is a Registered Nurse with a BScN from MacEwan University in Edmonton, Alberta. Following practical experience, primarily in maternity and pediatric environments, she volunteered for two years as an RN with Mercy Ships in Benin and Madagascar. During this time she also acquired a Diploma of Tropical Nursing at the Liverpool School of Tropical Medicine in the UK. Erin is passionate about capacity building and improving health systems globally which led her to pursue a Masters of Science in Public Health at McGill.
Erin's project: Developing training materials for health workers for the Smart Discharges Program in Uganda to decrease post-discharge mortality in children
Raissa Passos dos Santos
PhD Candidate, Nursing - Raissa is a PhD Candidate at Ingram School of Nursing. She graduated with a Masters Degree in Nursing Science from the Federal University of Santa Maria, Brazil. Her masters thesis was focused on the moral experiences of nurses caring for children with complex needs. Raissa is the recipient of the 2016 David McCutcheon Pediatric Palliative Care. She is part of the VOICE team (Views On Interdisciplinar Childhood Ethics) as a research trainee. In 2018, she was awarded the Doctoral training scholarship from the Fonds de recherche Santé do Quebec (FRQ-S). Her research interests include Health Care for Children with Medical Complexity, Pediatric Palliative Care, Global Health, Ethics and Bioethics in Pediatrics and Nursing Ethics and Practice.
Raissa's project: Advancing ethical care for children with medical complexity in Brazil: a global health qualitative study
Talia Sternbach
Msc Candidate, Epidemiology - Talia holds a BA in Environmental Science and Urban Systems from McGill University and is pursuing her MSc in Epidemiology, focusing on global environmental health and policy evaluation. She is interested in leveraging scientific evidence and interdisciplinary collaborations to inform health and social policies and address environmental exposures that are harmful to human and planetary health.
Talia's project: Assessment of air pollution and indoor temperatures in peri-urban Beijing to inform the Beijing Household Energy Transition (BHET) policy evaluation.
Anita Svadzian
PhD Candidate, Epidemiology - Anita first joined the McGill International TB Centre as a research assistant. As an RA, she was working on various projects through McGill's agreement with UNOPS – Stop TB Partnership – TB REACH. Though Anita holds an honours B.A. in Art History and History, she has always had a strong interest in medical fields having worked in clinical research for the Cedar's Breast Centre at the MUHC for the majority of her undergraduate studies and thereafter. This formative experience inspired her to seek formal training and consequently, she completed her M.P.H. from Boston University with a focus on Epidemiology. She is extremely interested in the social determinants of health and as such her somewhat unorthodox background has helped her in understanding the interdisciplinary dynamics of health research.
Anita's project:
Substandard and falsified TB and Malaria medicines market and drug resistance emergence facilitation via subclinical dosages.
Ran van der Wal
PhD Candidate, Family Medicine and Primary Care - Ran is a Vanier Scholar with a background in law and public health. With nearly a decade of global health practice (Médecins Sans Frontières and Première Urgence Internationale), she has been involved in global health research since 2013. Her current PhD project involves participatory research in a structural HIV prevention trial in Botswana. Her fieldwork supports stakeholder-led improvements of social support programs to leverage resources and capabilities for HIV prevention.
Ran's project: HIV-sensitive social protection in Botswana: vulnerable young women improve their access to social support programs
Mercedes Yanes Lane
Masters of Science in Public Health - Mercedes is a bicultural Mexican-British family doctor, passionate about infectious diseases and finding ways to reduce the social inequities that can lead to them. She graduated from the Autonomous University of San Luis Potosi Mexico and has since worked in the Mexican National Public Health Institute as a research assistant in the Tuberculosis unit and as program coordinator for the infectious diseases and maternal health and well-being programs of the Medical Specialties Hospital of San Luis Potosi.
Mercedes' project: Sustainability and impact of interventions from the Enhancing the Public Health Impact of Latent Tuberculosis Infection Diagnosis and Treatment study (ACT 4) in Rio de Janeiro, Brazil
Michele Zaman
Masters of Science in Public Health - Michele completed her Bachelor's of Science at McMaster University. Through her previous work with intergovernmental organizations, she has became passionate about child and maternal health issues, particularly the relationship between nutrition and social determinants of health and how these interactions affect the etiology of obesity and other child health outcomes. Her research focuses on the promotion of early childhood development through nutrition, education and gender empowerment.
Michele's project: A global systematic review and meta analysis of responsive feeding exposure and effects on child development and health outcomes
2018 Global Health Graduate Scholars
Emily MacLean
PhD Candidate, Epidemiology - Emily completed her BSc in Biology at Simon Fraser University, and her Masters in Microbiology & Immunology at McGill, where her research focused on cutaneous leishmaniasis. Expanding upon her interest in infectious disease beyond the molecular level, she joined Dr Pai and his team at the McGill International TB Centre as an RA and is now pursuing her PhD in epidemiology. 
Emily's project: "Childhood TB is difficult to diagnose because the symptoms are very general, making it difficult to distinguish from other diseases, and existing diagnostic tests are not tailored for use in children. Both the most widely used diagnostic test, smear microscopy, and the most accurate modern test, GeneXpert MTB/RIF, require sputum samples, which young (<7 years) children cannot actually produce. My research project is concerned with evaluating the diagnostic accuracy of an updated GeneXpert test, GeneXpert Ultra, with an alternative sample for childhood use. In collaboration with NGOs FIND and Jan Swasthya Sahayog, we will conduct a field study of Xpert Ultra in Ganiyari, India, a rural village in central India. We will determine how well Xpert Ultra, performs using stool samples, which are much easier to obtain from children than sputum. Stool will be sampled using a sample collection and purification tool that will ensure samples are of minimal biohazard risk, and that samples to be processed will be standardized before being run in the Xpert Ultra test. Additionally, we aim to determine the impact of other medical conditions on Ultra performance. It is critical to understand test accuracy in people living with severe comorbidities, which are unfortunately common in children at risk for TB."
Emmanuel Chilanga
PhD Candidate, Social Work - Emmanuel holds a Master of Science degree in Geography from University of Western Ontario and a Bachelor's degree in Education from University of Malawi. Emmanuel is a member of the Centre for Research on Children and Families (CRCF) at McGill University and a Malawian collaborator of Consuming Urban Poverty (CUP2) research group based at Wilfrid Laurier University in Canada.
Emmanuel's project: Applying the Intervention Mapping Protocol to develop a Community Based Household Food Security and Dietary Diversity Promotion Program in Mzuzu city, Malawi
"The aim of my study is to develop a household food security and dietary diversity promotion program by using an Intervention Mapping Approach in Mzuzu city, Malawi. The proposed nutritional intervention program protocol will act as a blueprint that will guide Mzuzu city Council and its development partners to successfully implement a theory and evidence based nutrition intervention that can mitigate the negative impacts of severe food insecurity and low dietary diversity. The protocol was designed for health promotion but it can also be used in any situation in which behavior change is desirable. Intervention mapping framework is based on three perspectives. The first is a social ecological approach whereby the framework recognizes that health is a function of individuals and of the environments in which individuals live. Secondly, the intervention mapping protocol recognizes the importance of collaboration among various stakeholders in development, implementation and evaluation of health promotion program. Inclusive community participation is important in designing a health program because it ensures that the intervention reflects the needs of the local community, brings a greater breadth of knowledge, skills, and expertise that improve the external validity of the intervention. Lastly, the intervention mapping is based on the use of theory and evidence based data in order to develop, implement and evaluate a health program."
Icoquih Badillo-Amberg
Masters of Science in Public Health - Icoquih received her Bachelors of Arts in Psychology, minoring in Biology at McGill University. She is currently completing her masters in Public Health as a Queen Elizabeth Scholar at the same institution.  Icoquih is very passionate about maternal and child health  issues.Her research focuses on the promotion of health service access and health equity among women and children in North-Eastern Kenya. In addition to generating scientific evidence, Icoquih and her team work to inform decision making and policy for effective and sustainable responses to critical health issues facing vulnerable women and children in this region.
Icoquih's Project: "My research project seeks to utilize data from the African population Health Research Center (APHRC) to determine the impact of culturally appropriate interventions on maternal health service utilization in women aged 15-49 in Garissa, Kenya and seeks to study the socio-cultural barriers that preclude women from accessing healthcare in this region. It is a project that may contribute to the efforts of improving maternal and child health globally by generating evidence for the effectiveness of a culturally sensitive maternity intervention.  In addition to writing the report of my own project, I will conduct epidemiological analysis in collaboration with APHRC research scientists and will also contribute to writing the final report of the intervention study, which will be submitted November 2018."
Kariane St-Denis
Masters of Science in Public Health, Global Health Option - Kariane completed a Bachelor's in Arts and Science with a double major in Molecular Biology and International Development Studies. In the past, she has worked with an NGO focusing on issues of reproductive health among school-aged girls in regions of rural Uganda.
Kariane's project: Validating first trimester pregnancy status in adult women to inform implementation of deworming programs
"The aim of this study is to validate the use of a questionnaire, consisting of a minimum set of parsimonious questions with high predictive potential, in assessing the pregnancy status of women in Iquitos, Peru. A study population of 1000 adult women  will be recruited from a catchment area of peri-urban communities around Iquitos. These communities are known to be endemic for worm infections and would be included in the national deworming program. Both a questionnaire and a urine-based pregnancy rapid test will be administered to the study population. The validity of the questionnaire will be assessed by comparing the results of the questionnaire to the results of the pregnancy rapid test, which will serve as the gold standard. One or more questions with the greatest predictive capacity (those for which the answers show a consistent pattern of agreement with the binary outcomes of the pregnancy result) will be identified using quantitative biostatistical methods. To complement this comparative analysis, the value and applicability of the questionnaire as perceived by the respondents themselves will be assessed through focus group discussions. The focus group discussions will  contextualize and inform the interpretation of the data and provide guidance during the rolling out of the deworming program."
Katherine Pizarro
PhD Candidate, Psychiatry - I am a PhD student in Transcultural Psychiatry with a background in public health and evaluation research. I have mixed-methods training and have conducted formative and evaluation research in Peru, Ethiopia and the US. My doctoral research is focused on the evaluation of mental health promotion programs for at-risk youth.
Katherine's Project: "My PhD will focus on developing and evaluating a community-led intervention for addressing the social determinants of fathers' wellbeing and engagement in promoting maternal and child health (MCH) in marginalized indigenous  communities in Guatemala. The current project will be the first step in this larger effort and aims to: 1) explore the knowledge and perceptions of fathers, mothers, indigenous healers and local health center staff about the local determinants of paternal wellbeing and involvement in MCH, and 2) measure the prevalence of these determinants and their  relationship to men's wellbeing and involvement in MCH). The fieldwork will take place in two rural regions with a high burden of maternal and child morbidity: Cuilco, Huehuetenango and Santiago Atitlan, Sololá. Taking a participatory approach, I seek to build a culturally safe, collaborative environment to generate community engagement in promoting men's involvement in MCH. I will form a community advisory committee (CAC) of interested stakeholders in each of the two regions, which will contribute to intervention design, ensure the appropriateness of methods, identify and recruit participants, and interpret findings."
Sophie Huddart
PhD Candidate, Epidemiology - Sophie Huddart received a BSc in Immunology and Infectious Disease from Penn State University and a MSc in Biostatistics from the University of Glasgow as a Fulbright Scholar. She has conducted research in immuno-parisitology and statistical clustering methodology but has always been an epidemiologist at heart. In addition to being the team's number cruncher, Sophie works on diagnostics and patient mortality in the Indian TB epidemic.
Sophie's Project: "A key component of the WHO End TB Strategy is improving the quality of TB care. Case fatality is an important marker of care quality as prompt diagnosis and appropriate treatment should prevent deaths during and after treatment. The End TB Strategy calls for a 95% reduction in TB deaths by 2035 relative to 2015 rates and improving this metric requires accurate measurement of fatality. This project, which will form the central paper in my manuscript-based PhD thesis, will estimate the case fatality rate among TB patients treated in the largely unregulated Indian private healthcare sector. Currently, very few studies in the literature that assess the mortality of Indian TB patients consider privately treated patients because weak recordkeeping systems make these patients very difficult to follow using administrative databases. In this project, I will collaborate with PATH and World Health Partners (WHP) to survey cohorts of privately treated TB patients in Mumbai and Patna, India. I will estimate the rate of fatality and recurrent TB in this understudied patient group and identify predictors for fatality and recurrence."
Sara Ferwati
Masters of Science in Public Health - I am a biochemist by training. I have completed a previous MSc in cancer research, but realized I spent a lot of my spare time studying policies and understanding the impact of social inequities on health. Thus, I decided to pursue a MScPH as a way to consolidate my health science background and interest in social determinants of health.
Sarah's Project: "The primary objective of this study is to design interventions to address the cost period before and after the diagnosis and the associated social costs of childhood cancers in India. To do so we will conduct: 1) A scooping review of literature addressing interventions to combat treatment costs of  chronic diseases in LMIC, specifically in South Asian communities. 2) Interviews and focus groups to assess the applicability of the designed interventions at a cultural and political level; this will be carried out in New Delhi. The interviews will be designed and conducted under the guidance of Dr. Ramandeep Aror, the on-site supervisor. Our research team has extensively mapped the sources of families' costs and availability of support prior and following their child's cancer diagnosis. This study will design and evaluate targeted interventions to alleviate the costs associated with a child's cancer, with the goal of reducing the rates of treatment abandonment in India."