This project, titled "News and Social Media," analyzes how sexual and gender-based violence is portrayed across media platforms and how survivors, students, and the general public engage with this content.
Specifically, this project has two over-arching objectives:
To empower and advocate for survivors by drawing attention to offensive and violent sexual content on news and digital platforms.
To raise awareness and responsible media reporting of incidents that involve sexual and gender-based violence. "News and Social Media" has generated several research-based and multi-media projects from our university partners across Canada and our McGill student team.
---
Simon Fraser University and Emily Carr University – "The P*rn Project" and "Incognito Mode"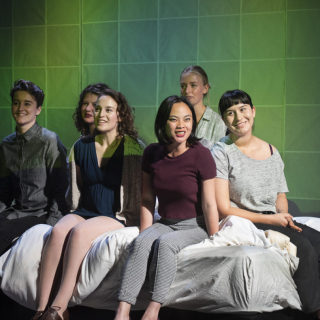 Dr Stuart Poyntz of Simon Fraser University and Dr Ruth Beer of the Emily Carr University of Art and Design engaged university students through qualitative interviews and theatre arts to explore the personal, social, and ideological consequences that young people have experienced as a result of being part of the first generation with unfettered and on-demand access to internet pornography. Interview data was used to create, in collaboration with Studio 58/Langara College, the theatre productions "The P*rn Project" and "Incognito Mode."
The next phase of this project includes touring the play at post-secondary institutions and holding educational workshops that examine the impact of online access to pornography on young people's understanding of sex, sexual violence, and sexuality. Check out below for some stills from the production of "Incognito Mode" at Neworld Theatre in Vancouver. Watch the animated short inspired by these projects below. 
---
McGill University - Digital Literacy and Sexual Violence
Dr Christian Ehret and Anita Hagh are conducting research focusing on digital literacy practices that youth use to navigate online environments where AI bots and algorithms can push users into content bubbles and echo chambers. Their research explores how youth engage with both online content and the algorithms that can create warped perceptions about sexualities and sexual violence. They are also exploring hopeful experiences in online media, including how youth can and do employ their digital literacies toward social change and against sexual violence. The next step of this project includes developing digital teaching guides for media literacy that will be co-produced with high school teachers in Quebec. The team also plans to publish their findings as a conceptual journal article on digital literacy.
---
McGill University Student Research - Dating Apps & the Role of Media in Rape Culture
Dr Christopher Dietzel, a recent graduate from the Faculty of Education, has contributed significantly to the iMPACTS project since its inception. His dissertation and the bulk of his research examined sexual consent and sexual violence related to people's use of dating apps, especially LGBTQ+ people. Dr Dietzel has also been involved in other research projects. In 2019, he worked with a team in Australia to investigate dating app users' experiences of safety, risk, and wellbeing. These findings are available in the Safety, risk, and wellbeing on dating apps: Final report. Since March 2020, Dr Dietzel has been working with researchers from Concordia University and UQAM to examine dating app companies' responses to the COVID-19 pandemic. To learn more, check out this article in The Conversation: "Relationships during a pandemic: How dating apps have adapted to COVID-19."
iMPACTS research assistant Farah Roxanne Stonebanks, a master's student in the Department of Integrated Studies in Education at McGill University, is also contributing to the project "News and Social Media." Her research centres on the role of news and social media in relation to sexual assault (both on and offline), as well as other forms of peer violence. In particular, she is exploring how media partners can work with universities to address rape culture in their immediate and larger environments. Additionally, her work in social media has been dedicated to research in cyberbullying. It focuses on youths' increased immersion within social media, the forms of normalized hate they are experiencing, and the ways educators and society at large could properly empower youth to safely navigate these spaces.