---
Safia Amiry
Department of Integrated Studies in Education (PhD)
---
I was born in Kabul, Afghanistan where, during the Taliban period, women were denied their fundamental rights. That made me more passionate about women's rights and gender equality in all aspects. Therefore, I volunteered with many organizations back in Afghanistan, working on women's advocacy programs. My Fulbright program in the US in 2017 allowed me to do a certificate program on Women, Gender, and Sexuality Studies, along with my Master's degree in International Development Studies. Studying this subject academically gave me a clearer picture to reroute my focus for my Ph.D. program and further explore this subject.
I am currently enrolled in the Ph.D. program in Educational Studies with a focus on Gender and Women's Studies. I am planning to look at the role of women in the peace-building process in post-conflict countries, especially Afghanistan. Because I believe that the role of women and women's needs are mostly undermined in the peace negotiation process where women are one of the primary victims during the war, which includes sexual violence. Being with the IMPACTS project allows me to better understand women and gender issues at different levels, including policy development, and further explore them through my research. I am looking forward to adding to my experience and also learning through this project.
Karen Andrews
Department of Integrated Studies in Education (MA)
---
After earning a Bachelor of Social Work from McGill and a Bachelor of Education from the University of Ottawa, I have taught in Ontario public schools for nearly 20 years. For the last few years, I have taught newcomer youth from refugee backgrounds with emerging print literacy in their mother tongues. Currently pursuing a master's in Education & Society at DISE, my thesis project is analyzing Ontario education language policy for students with emerging print literacy in their mother tongues in classes called English Literacy Development (ELD) programs. Using intersectionality-based policy analysis, I am exploring how different levels of policy (e.g., ministry, school board, school, classroom) can restrict or empower these students' use of their whole linguistic and communicative repertoire to maximize their learning, support their plurilingual and intersecting identities, and increase their sense of belonging and well-being at school.
I am also passionate about understanding gender-based violence, especially intimate partner violence. Issues around power, with individuals, within families, and within/between groups in society are something that I want to understand. As a Research Assistant with iMPACTS, I am excited to review studies about the education and training journalists receive around reporting sexual violence. I look forward to deepening my awareness of the overlapping connections between sexual violence and power within the continuum of gendered violence.
Selene Coiffard-d'Amico
Faculty of Law (BCL/JD)
---
I am a 3L in the Faculty of Law's BCL/JD program with interests in sustainable development and environment, in which women, minorities, and Indigenous people play a significant role if we hope to achieve future objectives. I have a Bachelor of Arts from McGill where I studied Philosophy, including advanced studies in critical race feminism.
As a Research Assistant for the iMPACTS project, I hope to contribute to our understandings of on-campus sexual violence and the conditions which foster it so as to help develop policies which effectively protect students and survivors.
Ashna Hudani
McGill Faculty of Law, (BCL/JD)
---
I am currently in my second year of legal education, pursuing a BCL/JD at the McGill University Faculty of Law. Before this, I studied International Development Co-op at the University of Toronto, where my thesis research focused on understanding how gender shapes vulnerability to natural disasters in Pakistan, and evaluating disaster management responses in how they address these vulnerabilities.
As a Research Assistant on iMPACTS, I look forward to conducting legal research that supports strategic, interdisciplinary initiatives that aim to reduce and prevent sexual violence on campus. Through this work, I hope that we can employ anti-oppressive and intersectional survivor-centred approaches to ensure that sexual violence response adequately addresses actual survivor needs, while developing policy and curricula that effectively prevents sexual violence.
Shannon Hutcheson
Department of Integrated Studies in Education (PhD)
---
I am a doctoral student who came to Montreal to pursue research in international/comparative education and the international student experience at McGill. After working in education and studying School Psychology at the University of Minnesota, I spent four years working in Lyon, France as a Psychology and English as a second language (ESL) instructor in higher education. I'm happy to be part of the Define the Line project and I look forward to providing a comparative/multicultural lens.
Safeera Jaffer
Department of Integrated Studies in Education (MA)
---
I am currently completing a Master of Arts in Education & Society in the Department of Integrated Studies in Education (DISE) at McGill. My academic and professional background focuses heavily on student experiences in higher education. I am currently working on my thesis and graduate research on critical, engaged pedagogy in university-level Cultural Studies classrooms, specifically emphasizing teaching practices and their impacts on racialized students. I am thrilled to be joining the iMPACTS team as a Research Assistant. In relation to the iMPACTS project, my research will examine the role of post-secondary curriculum in addressing sexual violence on university campuses. I am looking forward to exploring this topic further and understanding the nuanced relationships between theory, curriculum, practice, and lived experiences.
J. William W. James
Department of Integrated Studies in Education (MA)
---
I am originally from the west coast of Canada. Growing up I always wanted to help others succeed at what they are capable of, hence why I chose education as a career. My areas of interests for research lie in critical thinking and how online platforms affect and inform us of what news and information we gather, especially the long-term economic impacts that they have on a person's productivity and social status. With a strong association between skill development and income earned in the labor market, the loss of cognitive skills is detrimental to an individual's wellbeing. My question relays to how provincial governments can take legal action to ensure that Canadian provincial curriculums accommodate online learning. Not only to fulfill critical thinking for students, but to ensure that safe and non-subjective information is provided to for people to work with.
Being with the iMPACTS team allows me to develop a better understanding of legal policies, and how policy study is conducted to uncover issues such as sexual violence on university campuses. I am looking forward to bringing my own strengths to this project and learning along the way.
Colleen (C.J.) Michael
School of Information Studies (MISt.)
---
I'm a first-year student in the Master of Information Studies program, with a focus on data science. My professional background is in biology, and I have a Bachelor of Science Honours in Ecology (2011) from the University of Calgary. Through my work as a biologist, I gained a deeper awareness of the gender-based impacts of major infrastructure construction in remote communities, in addition to my own lived experience as a female-presenting person in STEM.
As a Data Repository Research Assistant for iMPACTS, I look forward to contributing my data management skills in support of the meaningful work being achieved by this project. I'm passionate about accessibility, equity, and inclusion, and I'm interested in exploring everything about data, including data sharing and research data management.
Juliet Morrison
Department of Political Science and Gender, Sexuality, Feminist, and Social Justice Studies (B.A)
---
I am currently in my second year studying Political Science and Gender, Sexuality, Feminist, and Social Justice Studies (GSFS). From an academic perspective, I am intrigued by the complexity of tackling sexual violence and the challenges encountered when trying to meaningful address the issue, especially those from the legal framework.
I am thrilled to be on the iMPACTS project so I can deepen my understanding of sexual violence and contribute to research that informs better policy. As a student journalist who has covered sexual violence cases, I believe in the importance of maintaining a dialogue around tackling sexual violence at universities.
Sara Sanabria
Faculty of Law (JD/BCL)
---
Before coming to McGill, I completed a dual BA between SciencesPo Paris and the University of British Columbia where I majored in international relations and political science. While at UBC I was a Research Assistant for the Hard-working Student Study conducted through the faculty of Education and led by Dr. Alison Taylor. Currently, I am in my second year of study at McGill's Faculty of Law.
As a Research Assistant on the iMPACTS team, I conduct research on legal issues related to the project and I provide editorial support. I am excited to be a part of the iMPACTs project because I get to meaningfully contribute to raising awareness about sexual violence on campus. As someone passionate about student's rights, this is a very important opportunity to me. I also look forward to conducting legal research on important contemporary legal issues such as the rise of "stealthing", the non-consensual disruption of intimate photos and sexual harassment on virtual reality platforms.
Mysha Shariff
Arts and Science (BA)
---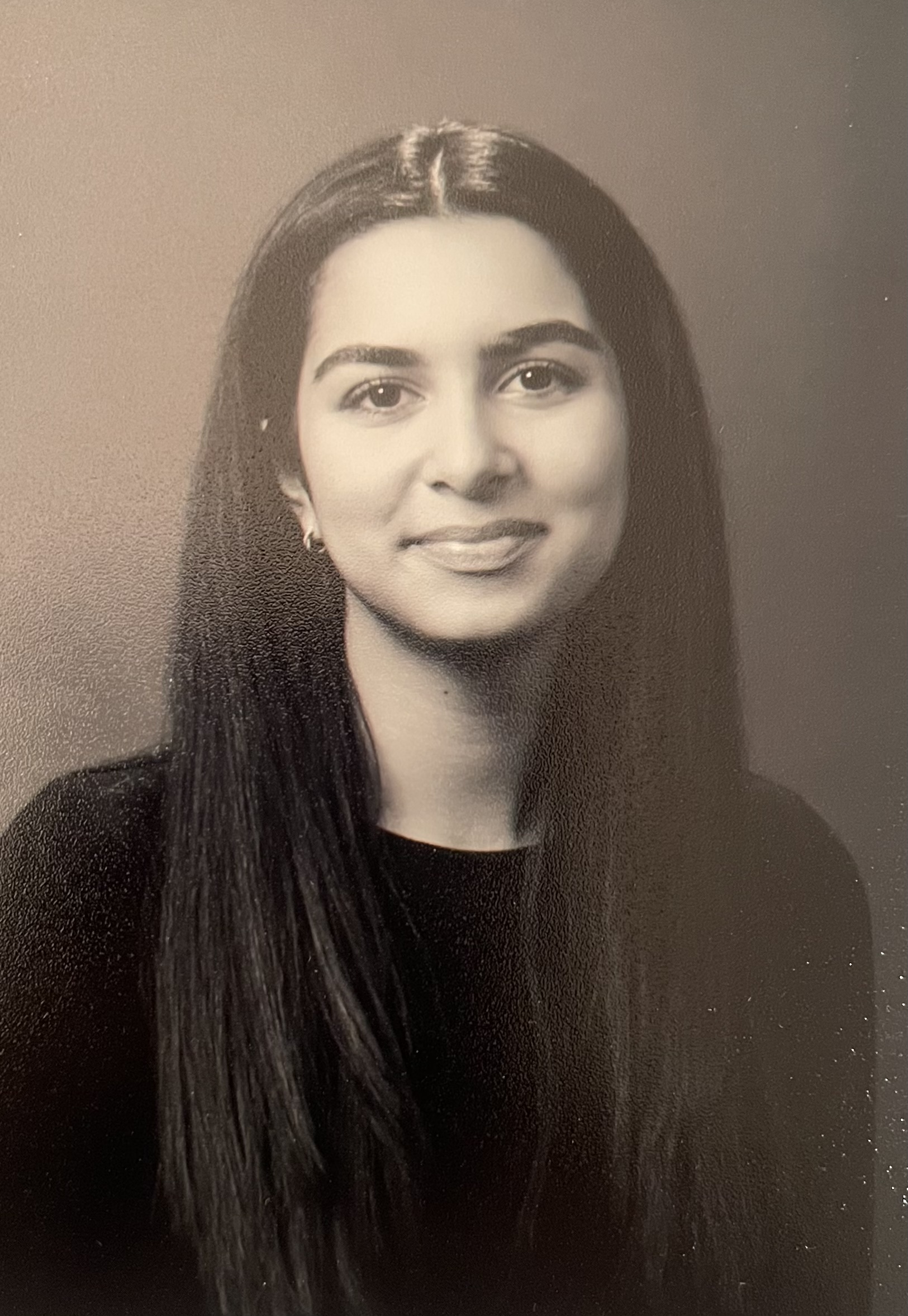 I am a U0 in the Arts and Science program at McGill. Through this interdisciplinary program, I combine my interests in both the social sciences, specifically public policy, and science. As a young female undergraduate at McGill, iMPACTS' initiative resonates with me. Preventing sexual violence at university institutions is critical to create a safer and more inclusive environment for all students. Through my work with iMPACTS, I hope to contribute to fostering prevention and support for my peers, while simultaneously learning more about the intricacies of public policy and social change.
Sarah Zreim
Department of Integrated Studies in Education (PhD)
---
Born in Canada, raised in Lebanon, I am a second-generation immigrant who seeks to make a dent in the world of girls' education through research and teaching. I earned my bachelor's in Education and master's degree in ESL. I chose to teach at an all-girls school where I had first-hand experience with the educational challenges that impede girls' personal, social, academic, and intellectual growth. This experience has inspired me to pursue my PhD. My research focuses on sexual harassment and gender-based violence among intersectional youth. I am pleased to join iMPACTS and work closely with a determined and influential team. Through my work with iMPACTS, I aim to gain a clearer awareness on women and gender issues in the Western world context.