This project, titled "Activism in Arts, and Popular Culture," analyzes a range of activist and artistic interventions and the role of the entertainment industry and popular culture to uncover the roots and effects of sexual violence at universities. Specifically, this project has two overarching objectives:
To study the history and on-going work of student activism and art interventions that promote sexual violence prevention, education, and support and encourage social and policy changes at universities.
To investigate the role of popular culture in perpetuating, condoning, and dismissing sexual-based violence and gender-based violence at universities and in society.
Several multi-media and research-based projects have emerged from "Activism in Arts, and Popular Culture" including projects from university partners and community partners. These projects have been fundamental in iMPACTS' work because we are studying the ways in which the arts can mobilize change.
---
McGill University – Arts-Based Interventions for Sexual Violence Prevention
iMPACTS co-investigators Dr Claudia Mitchell and Dr Mindy Carter, collaborator Maria Ezcurra, and past research assistant Dr Chloe Garcia are proud to present A toolkit: Arts-based Interventions for Sexual Violence Prevention. It was created by scholars from iMPACTS in partnership with Institute for Human Development and Well-Being, McGill University and Participatory Cultures Lab, McGill. The toolkit shares a collection of creative strategies and methodologies for developing and implementing transformative arts-based workshops on sexual violence within community settings.
The toolkit aims to address the following objectives:
Provide an overview of the benefits and challenges of working with various arts-based methodologies, including participatory visual methods, participatory textiles, art museum education, image theatre, and dance.
Explain the uses of arts-based methodologies for sexual violence prevention and response.
Offer comprehensive steps for developing and implementing arts-based initiatives.
Present general guidelines to ensure ethical and inclusive work.
Though the primary focus of the toolkit is the university context, it may be helpful for any individual interested in learning, teaching, or researching about sexual violence topics in the classroom or their communities.
Download the toolkit here: A toolkit: Arts-based interventions for sexual violence prevention (Garcia et al., 2022).
---
McGill University – "Archive of Student Activism"
iMPACTS co-investigator Dr Carrie Rentschler - alongside both research assistants Nina Morena, Benjamin Nothwehr, Emma Blackett, and Keira Seidenberg, and PhD student Alesha Vemuri - have been exploring how university campuses can better retain a cultural memory of student activism on topics of gender-based violence. Through interviews with current and former student activists at McGill and historical research via the McGill student press and student organizations, this research highlights the key roles students play in defining and addressing the problem of gender-based violence. Dr Rentschler and her team are creating an open-source digital collection of student activism from student newspaper articles, zines, images from art exhibitions, and products of student organizations and demonstrations. They are publishing several pieces from their research, including: 1) toolkits on conducting survivor-centred research and working in ethical collaborative relationships; 2) book chapters on the theory and feminist practice of building a digital archive of student activism; 3) articles on the radical history of the student press at McGill, on the politics of time and affect in student activist experience, on call out culture on campus, on the politics of care among student anti-violence workers, on #MeToo and the impact on student activism, and on doing media histories of student feminism. Check out some samples from the digital collection below. 
---
Concordia University – "Beyond #MeToo"
Dr Sandi Curtis, a music therapist and professor emeritus at Concordia University, explored the culture of male violence against women on campus. Her resulting project, "Beyond #MeToo," was run with, by, and for university students, and it applied a feminist approach to music therapy. Through workshops run by Curtis, students listened to music of singer/songwriters who challenged the patriarchy. The students also created their own songs and music videos. All the resources from the project – the film, the music video, and the workshop materials – are available for free for anyone who wishes to use them (but please be sure to credit Dr Sandi Curtis when using these resources). Check out one of the resulting videos from "Beyond #MeToo" below. 
---
Visual Arts Centre – "In/Visible: Body as a Reflective Site"
Our Montreal-based community partner, the Visual Arts Centre (VAC), has been involved in creating public art projects and events related to the topics of consent and survivorship. In June 2019, the VAC's McClure Gallery ran an exhibit entitled "In/Visible: Body as a Reflective Site" with the goal of making sexual violence more visible within the community. Selected artists – including Hannah Claus, Dayna Danger, Maria Ezcurra, Sandeep Johal, Kama La Mackerel, and Nadia Myre – used their work to show the body as a site for expression, empowerment, and resistance. The month-long exhibit also included a free art-based workshop for the public and two panel discussions featuring some of the artists along with Dr Shaheen Shariff, iMPACTS Director and James McGill Professor, and Natasha Reid, the Executive Director of the Visual Arts Centre.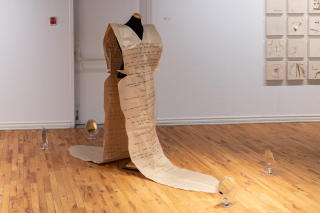 Photos (by Paul Litherland) from the exhibition are (left to right): Maria Ezcurra, "Invisible;" Kama La Mackerel, "Vérité et Punition;" Sandeep Johal, "Rest in Power Series;" and Hannah Claus, "For those who didn't make it home."
---
Teesri Duniya Theatre – "Ways Forward" and "Meet Me"
In conjunction with International Women's Day in March 2017 and 2018, Teesri Duniya Theatre hosted the event "Ways Forward," a listening circle dedicated to all survivors of assault and harassment on university campuses. Themes explored included communication, helping others, sharing pain, and using art and creativity to heal trauma. Teesri Duniya Theatre is currently developing a theatre project entitled "Meet Me," an interactive narrative about consent and dating during #MeToo.
---
Douglas College – "SHIFT" Film Festival, Conference, and Events
Our co-investigators at Douglas College – Dr Lisa Smith, Ms Carla Hotel, and Dr Karyn Audet – have been busy hosting multiple events, including the film festival SHIFT: Let's Talk Gender Violence – Engaging through Film and Dialogue. The week-long event in September 2018 featured four film screenings with moderated discussions, public panels, and a survivor art installation entitled "What Were You Wearing?" The co-investigators also held "SHIFT: Tracing the Impacts of COVID-19," a week-long conference in March 2021 that explored the wide-ranging social impacts of the pandemic with a focus on sexual and gender-based violence, mental health, anti-racism, and decolonization. The conference featured 34 speakers and included research findings, community dialogue sessions, and stories from those with lived experiences.
---
For information about the academic publications that have resulted from these projects, please see our list of publications.