The 34th edition of Soup and Science was a hybrid event with both in-person and online sessions. Students and community members heard from 18 outstanding McGill professors and 7 student speakers across disciplines talk about their research program in lightning-style talks, followed by active discussions. Click on the date for the online sessions to view the  video recording of the presentation. 
Monday September 19
11:30 AM - 12:30 PM (In-person)

Prof. Genevieve Ali
Earth & Planetary Sciences; Geography
Watersheds as complex ecohydrological systems

Prof. Keita Christophe
Department of Psychology
Understanding risk, resilience, and cultural factors in racial/ethnic minority youth and families

Prof. Grant McKenzie
Department of Geography
Location sharing and geoprivacy preservation

Prof. Reza Sharif Naeini
Department of Physiology
Neurophysiology
Amaris Huang (Student Speaker)
Department of Psychology
Unsupervised detection of bots in likert type survey

Prof. Eric Kolaczyk
Mathematics & Statistics
Statistical and machine learning methods for primarily network data

Prof. Nicolas Moitessier
Department of Chemistry
Chemical biology; Synthesis/Catalysis

Prof. Pia Wintermark
Department of Pediatrics
Neonatal neurocritical care research

Yuyan Chen (Student Speaker)
Computer Science
Modelling Calcium Dynamics with PDE and Computer Vision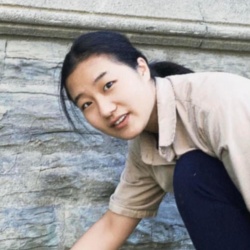 Ruth Wang (Student Speaker)
Department of Physics
Relativistic-Moving Mirror
Wednesday September 21
11:30 AM - 12:30 PM (In-person)

Prof. Gil Bub
Department of Physiology
Cardiovascular physiology and instrumentation

Prof. Eric McCalla
Department of Chemistry
Advanced battery materials design

Prof. Maurice Chacron
Department of Physiology
Understanding how large neural populations give rise to behavior

Prof. Jackie Vogel
Department of Biology
Molecular, Cellular and Developmental Biology
Sophia Howard (Student Speaker)
Mathematics & Statistics
Monte Carlo Integration

Prof. Melanie Dirks
Department of Psychology
Clinical psychology and developmental science

Prof. Graham MacDonald
Department of Geography
Land use and food systems

Prof. Mylène Riva
Department of Geography
I heat only one room in the house

Lisa Papara (Student Speaker)
Department of Physiology
From bone marrow to microchannel: migratory behaviour of innate immune cells
Kaiyuan Wang (Student Speaker)
Department of Geography and Earth & Planetary Sciences
Glaciologic response to climate change
Friday September 23
11:30 AM - 12:30 PM (In-person)
Prof. Cynthia Chiang
Department of Physics
Observing the Cosmos from the Ends of the Earth
Prof. Edward Ruthazer
Department of Psychology; MNI
Seeing seeing – live observation of visual circuit form and function

Prof. Bradley Siwick
Department of Chemistry
Ultrafast Structural Dynamics

Prof. Natalie Zeytuni
Anatomy and Cell Biology
Unravelling the Molecular Secrets of Bacterial Pathogenicity by Hybrid Approaches
Simone Têtu (Student Speaker)
Department of Physics
Comparing novel highly granular detectors for particle physics

 
Acknowledgements
A special thank you to the Office of Science Education for partnering with the Research Office for the Fall 2022 Soup and Science.