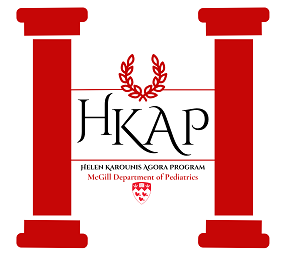 The Helen Karounis Agora Program (H-KAP) is an innovation of the Department of Pediatrics which engages retired faculty members as teachers and mentors within their academic departments.
Dr. Helen Karounis was a Pediatric Emergency Medicine physician who was a dedicated educator and recognized for her excellence in teaching, commitment to educational innovation and compassionate patient care. Dr. Karounis passed away on June 19, 2008 at the age of 38 after a courageous battle with cancer. The Division of Pediatric Emergency Medicine, the Department of Pediatrics and Dr. Karounis' family have created the Helen Karounis Agora Program to commemorate the spirit of Dr. Karounis' impact on teaching and patient care.
Goals of the H-KAP
The Helen Karounis Agora Program (H-KAP) is designed to engage retired members of the Department of Pediatrics (H-KAP Fellows) as volunteers to participate in academic activities such as teaching and mentoring of trainees and faculty within their academic departments. H-KAP began in the 2018-2019. This teaching innovation fosters mentorship, intergenerational learning, as well as competency-based learning and is a framework that is translatable to other Departments, Schools, and Faculties both locally and nationally.
How are H-KAP Fellows Selected?
H-KAP Fellows are appointed by the Chair of the Department of Pediatrics. To be eligible to become an H-KAP Fellow, these physicians must have been members of the Department of Pediatrics and retired from clinical practice within three years prior to their appointment as an H-KAP Fellow. H-KAP Fellows are considered active members of the Department and receive McGill academic appointments and honorary MUHC hospital privileges.
What is the time commitment of H-KAP Fellows?
H-KAP Fellows have committed to volunteering a minimum of 10 hours of teaching of pediatric resident and fellows per academic year.
What are examples of H-KAP activities?
Activities in which H-KAP Fellows have participated include (but are not limited to): OSCEs, direct observations of technical skills, histories and physical exams and non-Medical Expert competencies (such as communication, collaboration), teaching longitudinal ECG interpretation curriculum, trainee and faculty mentoring, participating in rounds such as Chief of Service rounds (case discussions led by residents) and subspecialty rounds, academic coaching.
How are the H-KAP Fellows assigned academic activities?
Matching H-KAP Fellows with academic activities is a bidirectional process. Departmental educators may advise the H-KAP Director of academic activities which would benefit from participation of H-KAP Fellows or directly contact the H-KAP Fellows. In order to align with the H-KAP Fellows' interests and expertise, H-KAP Fellows then decide in which activities they would like to participate and when. In addition, H-KAP Fellows also suggest academic activities to the H-KAP Director or the relevant Departmental educator(s) and coordinated as the need arises.
Contacts
Dr. Laurie Plotnick, Founder and Director of H-KAP | laurie.plotnick [at] mcgill.ca (Email)
Michelle Kim, Senior Administrative Coordinator | peds.admin [at] muhc.mcgill.ca (Email)
Executive Committee
Dr. Laurie Plotnick
Committee Chair - H-KAP Director (ex-officio)
Dr. Preetha Krishnamoorthy
Pediatrics Undergraduate Medical Education Director (ex-officio)
Dr. Robert Sternszus
Core Pediatrics Program Director(s) (ex-officio)
Dr. Najma Ahmed
Subspecialty Program Director
Dr. Holly Agostino
Faculty Member in the Department of Pediatrics
Dr. Jill Ranger
Core Pediatrics Resident (R1-R3)
TBD
Subspecialty Pediatrics Resident or Fellow (R4-R6)
Dr. Claudette Bardin
Dr. Bernard Rosenblatt
H-KAP Fellow(s) (1-2)
Michelle Kim
H-KAP Administrator
---
Meet the H-KAP Fellows
Franziska Baltzer, MD
I was born and raised in Switzerland. My father, a physician, died when I was 5 years old, my siblings 3, 4 and 6. Our mother worked in her private practice as an internist until the age of 74. She died in 2015 at the age of 94. In 1978, I received the Federal Diploma in Medicine and, in 1981, the Doctor of Medicine from the University of Bern, Switzerland. In 1988 I was certified as a pediatrician by the Federatio Medicorum Helveticorum. In 1983, I came to Montreal for the first time, completing subspecialty training in Adolescent Medicine at Saint-Justine Hospital (under Drs. Jean Wilkins and Jean-Yves Frappier). In 1987-88 I returned to Montreal for a fellowship in Pediatric/Adolescent Gynecology at the Montreal Children's Hospital (under Dr. Elsa Quiros). In 1991, I settled in Montreal for good at which time I joined the Department of Pediatrics as Director of the Division of Adolescent Medicine, first as an interim and then with a permanent appointment in 1993. I remained in this position until 2015. During my career, my focus was on providing care to the most vulnerable of adolescent populations including teen mothers with substance abuse issues, incarcerated youth, and those with mental health issues. I also developed an expertise in caring for children and adolescents who were sexually abused and helped to establish province-wide protocols in this field. I was a longstanding member of the Canadian Pediatric Society Adolescent Health Committee and of the Board of Directors for the Canadian Association for Adolescent Health. I retired in 2020 but immediately re-engaged in the Department as an H-KAP Fellow.
In my free time, I enjoy my family, gardening, reading and knitting.
Claudette Bardin, MD, PhD
After undergraduate education in Chemistry in France, I received a PhD in Biochemistry in Montreal and completed a fellowship in Chicago. I then received an MD (1982) from the MD-PhD program of University of Miami. After two years of residency in Pediatrics at Michael Reese Hospital (University of Chicago), I completed my Pediatrics residency and Neonatology fellowship (with an Endocrinology research focus) at McGill. I became a Neonatologist at the Jewish General Hospital in 1989 where I was actively involved in clinical research. I was also a teacher in the Neonatal Resuscitation Program (NRP) and supported the development of NRP in Morocco. In 1999, I shifted my clinical practice to the Montreal Children's Hospital at which time I was clinically active in both Neonatology and General Pediatrics and participated in a few missions with Doctors Without Borders (Sri Lanka and Angola). In 2006, I focused my clinical activities on the medical inpatient wards and short stay unit, as Director, and became involved in additional administrative, clinical and education activities such as the development of the Pediatric Consultation Service for the community, the Resident Continuity Clinic and the Medical Day Hospital which evolved into a teaching unit. Before retiring in 2016, I practiced as a pediatric consultant in the community (CLSC Cote des Neiges and CLSC Parc-Extension) and a pediatrician for asylum-seeking families with complex developmental issues and medical needs. I also helped develop a multidisciplinary developmental clinic for the CIUSSS du Centre Ouest de l'Ile de Montreal. I was twice the recipient of the Paige and Bernard Kaplan Award for excellence in clinical teaching.
Marie Josée Béland, MDCM
I was born on March 1, 1953 in the western wing of the Montreal General Hospital (2300 Tupper which subsequently became the MCH). I received a BA in Economics at McGill University (1975), and an MDCM at McGill University (1980). I completed my Pediatrics and Pediatric Cardiology training at the MCH, and a pediatric electro- physiology specialization at the Hospital for Sick Children in Toronto (1985-6). I then became an attending staff in the MCH's Division of Pediatric Cardiology in 1986 with an expertise in non-invasive pediatric electrophysiology and, to this day, I love teaching about ECGs and rhythms. During my career, I was the Pediatric Cardiology residency program director for more than 10 years, Division Director for 14 years and President of the Canadian Pediatric Cardiology Association for 3 years. My biggest research interest has been in the international standardization of nomenclature for congenital heart disease. I am a founding member of the International Society for Nomenclature of Pediatric and Congenital Heart Disease that has been working with the World Health Organization to produce a meaningful list of terms for ICD-11. I received the MCH Pfizer Award of Excellence for Leadership (2006), the title of "Innovator in Pediatric Cardiology" (World Congress of Pediatric Cardiology and Cardiac Surgery, 2017) for my work to standardize congenital heart disease nomenclature, the MCH Lifetime Achievement Award (2018) and the title of "Cardiologue émérite" (Association des cardiologues du Québec, 2018).
Manon Boutin, MD
I obtained my medical degree from the Université de Montréal (1976) and completed my Pediatrics residency at Centre hospitalier universitaire de Sherbrooke (1983). I was Assistant Professor at McGill and clinically active for 34 years during which time I was an attending staff in the Emergency Department and Ambulatory Care (1985-2017) and participated in the Northern and Native Child Health program (1989-2005). I was also a pediatrician for the native community Manawan (1990-1999) and a primary care pediatrician and pediatric consultant at the CLSC de Matawinie (1990-1999). Since my retirement, I have re-established connections with Manawan to help contribute to their greater well-being. As a physician and a "proche aidante", I think that communication and holistic care are a priority in our health system.
Robert Brouillette, MD
I am honored to be an inaugural H-KAP fellow. I graduated from Providence College and initially taught Grade 5 in the Indianapolis, Indiana Public Schools. From 1970- 1979, I trained in medicine, pediatrics and neonatology, and control of breathing research at Washington University, St. Louis. From 1979-1989, I was on faculty at North- western University, Chicago. In 1989, I was recruited to McGill as tenured professor and Division Director of Neonatology at the Montreal Children's Hospital (MCH). I founded the pediatric sleep laboratory at the MCH in 1989. I have been Division Director of Respiratory Medicine, as well as, Vice-Chair, Associate Chair and Interim Chair of Pediatrics at McGill. My research administrative positions have included Director of Clinical Research at the MCH and MUHC Research Institutes, McGill Center Director and National Curriculum Director for the Canadian Child Health Research Program. I have published over 100 peer-reviewed papers, mostly dealing with control of upper airway patency, obstructive sleep apnea, central hypoventilation syndrome and other pediatric sleep-related breathing disorders. | Website
Daniel Faucher, MD
I am really honoured to join the H-KAP family. I have worked in Neonatology for more than 38 years, 32 years at McGill University. I graduated in 1978 from medical school at the University of Sherbrooke. I gradually worked my way across the province of Quebec with my first year of residency at the CHUL in Quebec City, and second and third year at Ste. Justine and at the MCH. After the core program of Pediatrics, I joined the University of Texas Southwestern Medical School in Dallas for a three-year fellowship in Neonatal-Perinatal Medicine. I remained an additional three years as a junior Faculty in the same center in Dallas. In 1989, I moved to Montreal as a faculty at McGill University, with a joint appointment in the Department of Pediatrics and the Department of Obstetrics/Gynecology. I was the Program Director in Neonatal-Perinatal Medicine from 2000-2004, Director of the Division of Neonatology at the RVH from 2008 to 2012 and served as an Associate Director of the MUHC Division of Neonatology from 2012 until my retirement in 2021.
At the beginning of my career, I was committed to basic research in the field of fetal adaptation to intra-uterine stresses and was granted three-year funding from the Medical Research Council of Canada. Throughout my career, the aspects of fetal medicine and perinatal adaptation processes continued to remain a major interest and focus of my practice. For me, vulnerable women that are facing a threat to their pregnancies and high-risk fetuses represent a challenge in which compassionate and committed care is essential for advancing the field of Neonatal Medicine. As an H-KAP Fellow, I look forward to engaging with pediatric trainees or Neonatology fellows for supervision, career mentoring or other educational tasks.
Emmett Francoeur, MD
A true "Montréalais Tricolor", born at St. Mary's Hospital, and raised in St. Laurent and NDG. Formative experiences included an extended family of educators, psychologists, and theologians, a year of study at Université de Bruxelles (which occurred between my 3rd and 4th year of High School), 6 months at L'Arche in Trosly-Breuil, and an Arts/Science degree from Loyola of Montreal. McGill Medicine preceded a year of rotating internship at St. Joseph's in London, Ontario, leading to 4 years of Pediatric Residency at the beloved old MCH, and a 2-year Fellowship in Developmental Pediatrics. After 5 years as Director of the General Pediatrics Clinic, community practice with Dr. Shirley Blaichman became my clinical focus, while maintaining a 1 day a week clinic at the MCH in Developmental Pediatrics. Most significantly, raising twins with my busy wife became my paramount joy over these years. I remained active on the Canadian Pediatric Society Board for 8 years, culminating in its Presidency in 1998. In the early 2000s, I chose to return to the Child Development Program as Director, where new networks (Brain, Development, Behavior Clinically Integrated Network), new clinics, and a Royal College training Program were established. I hope to continue teaching sensitivity to the needs of children with neurodevelopmental disorders, sharing experience in psychopharmacological interventions for these children, and working in community practice and on the Board of Giant Steps to support families with these special needs. All the while, I will be having fun with my 4 grandchildren, cycling, playing tennis, and listening closely to the wisdom of trees.
Patricia-Ann Hegarty-Forbes, MD
I obtained my medical degree in 1958 from Manchester University in the United Kingdom (UK) and continued junior residency there. I then completed my pediatrics residency at the Montreal Children's Hospital (MCH), during which time I was chief resident in 1964. I was an attending physician at the MCH for 51 years until 2015. During this time, I was an active clinician and assumed many roles including (but not limited to) Ward Chief, Chair of the Ethics Review Board, founder of the UTI clinic (before there was a Nephrology subspecialty) and member of the multidisciplinary Spina Bifida clinic. I was also involved in the coordination of ward management, bed utilization and patients with chronic conditions requiring GI and respiratory support. Educationally, I was an Associate Professor, the coordinator of the rotating interns' program (which subsequently became the Family Medicine program), and was a member of the McGill Faculty of Medicine medical admissions committee. Having been a junior resident in the UK in the 50's where learning was "by doing", I appreciate the importance of clinical supervision and teaching. At that time, a slightly more senior resident and I were in charge of two 20-bed wards and a newborn service of 2,500 deliveries/year, and alternating night coverage; all done with little clinical supervision and no formal teaching.
Michael S. Kramer, MD
I did my medical school, pediatrics residency, and clinical epidemiology fellowship training at Yale University. In 1978, I moved north to the McGill Department of Pediatrics and the Montreal Children's Hospital. I worked in the Adolescent Clinic (and as an inpatient ward attending physician) until 1991 and in the Emergency Department until 2003. At the end of 2020, I retired as James McGill Professor in the Departments of Pediatrics and of Epidemiology, Biostatistics and Occupational Health. I served as Scientific Director of CIHR's Institute of Human Development and Child and Youth Health from 2003 to 2011 and Director of the Centre for Outcomes Research and Evaluation at the Research Institute of the McGill University Health Centre from 2013 to 2018. Since 2013, I have been the inaugural S. Shan Ratnam Visiting Professor in the Department of Obstetrics & Gynaecology at the National University of Singapore. I have authored or co-authored over 500 original articles, mostly in the area of perinatal epidemiology and population health. I was recently cited as among the most impactful 0.01% of the world's researchers across all scientific fields. I am currently completing a book for the general public, The Science of Parenting, to be published in 2021. In 2011, I was elected a Fellow of the Royal Society of Canada in the Life Sciences Division of the Academy of Science. In 2016, I received the American College of Epidemiology's Abraham Lilienfeld Award for Overall Excellence in Epidemiology—only the third Canadian ever to have won this prestigious award. As an HKAP Fellow, I look forward to engaging with pediatric trainees and faculty in journal clubs, research supervision, and career mentoring.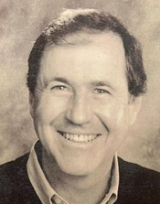 Denis Leduc, MD
It is a privilege to be part of the unique membership of the HKAP fellowship. I grew up in Edmonton and obtained my BSc and MD from the University of Alberta in 1971. After completing a Rotating Internship in Ottawa and a year of ER attending staff at the University Hospital in Edmonton, I came to McGill via the Robert Wood Johnson Clinical Scholarship program where I obtained my fellowship in Paediatrics and Certification in Family Medicine (1978). I then joined an established Community Paediatrics practice in Montreal and subsequently founded the Association of Community Paediatricians of the MCH in 1983.I was a member of the Royal College examination Board for Paediatrics (1988-1993) and Vice-President of the Examination Board for Pediatrics of the Collège des Médecins du Québec from 1995-2004. I have been involved with newborn care at the Royal Victoria Hospital since 2003 and was clinical director of the Newborn Nursery at the MCH from 2015-2020. Through the mentorship of Dr Robert Usher in "my early years", I have retained a very special attachment to the maternal-infant experience and the postnatal management of newborns. In 1998, I joined Drs. Leslie and Jim Rourke as co-author of the Rourke Baby Record, a widely used evidence-based clinical tool in Canada for well-baby/well-child care. For the past 25 years, I have also been involved with the Canadian Paediatric Society in a variety of roles, including Chair of the Community Paediatrics Committee (1988-2004) and President (2005), and was honoured with the Distinguished Community Paediatrician Award in 2011.
Dorothy Moore, MD, PhD
I obtained my medical degree at Memorial University, NL (1977), did an internship (back in the day!) at the RVH, (1977-8), then pediatric residency and infectious diseases training at the Montreal Children's Hospital (1978-84). My practice was based entirely at the MCH (1984 to 2016), except for brief stints as a general practitioner in Chisasibi (1981) and Lambarene, Gabon (1982). When I joined the MCH staff, I did a bit of everything – infectious diseases, infection control, ward physician, infectious diseases clinics, general pediatrics clinics, emergency room, and visits to Chibougamau. With time, as our division's responsibilities grew, my activities were limited to the Infectious Diseases (ID) Division for which my main areas of focus were the Infection Control program, vaccines and vaccine-preventable diseases, and pediatric HIV. In 1985, I set up the pediatric HIV clinic in collaboration with Dr. Hanna Strawczynski in the "Home Care" service (now Complex Care). However, my favorite aspect of my career was always direct patient care. I have also long been involved with activities of the Canadian Paediatric Society (CPS) and have been the CPS liaison to the National Advisory Committee on Immunization since 2012, an activity that keeps my brain busy! Since retirement, I still teach medical students (12-16 hours/year) and ID-medical microbiology fellows.
S. Patricia Riley, MDCM
Transplanted from an Ontario farm to Montreal, I graduated from McGill (BSc) in 1968. Formative experiences prior to medical school (MDCM McGill 1972) included working in a nursing home as a nurse's aide, in a TB hospital in Moose Factory, and as a lab assistant in a small-town hospital in Ontario. Choosing an internship in the Université de Montreal system provided an invaluable experience living and working in French. After a year in Family Medicine at McGill, I switched to Pediatrics, training at McMaster and Ste. Justine and then in Newborn Medicine at McGill. Other than four years at the University of Pittsburgh, my career has been at McGill University in Neonatology and Neonatal follow-up. My mandate and passion, for 40 years, was developing a patient and family-centered multidisciplinary team and assessing and researching developmental outcomes of high-risk infants and preschoolers. Since my retirement in 2016, I continue to attend pediatric and neonatal rounds regularly and am actively involved as a volunteer in the NICU literacy support program at the MCH, promoting and assessing the family and developmental benefits of parental reading in the NICU.
Bernard Rosenblatt, MDCM
I obtained my BSc (Psychology) and MDCM at McGill University and then did a one-year internship in Internal Medicine followed by one year in Pediatrics with emphasis on Neonatology. I then completed my specialty training in Child Neurology and subspecialty training in electrophysiology. In 1978, I began my clinical practice at the MCH with appointments in the Departments of Neurology/Neurosurgery and Pediatrics and was a Pediatric Neurology consultant for the JGH, Shriner's and Douglas Hospital. Gradually, my work became more focused on clinical neurophysiology and intractable epilepsy. As Founding Director of the Evoked Potentials (EP) Lab (1980-2016), one of the first pediatric EP labs in Canada, we pioneered the use of EPs in neonates and infants. We published early normative data and demonstrated the utility of EPs for the prediction of neurodevelopmental outcome in high-risk neonates. Our lab was also a pioneer in EP spinal cord monitoring. To initiate our epilepsy surgery program, we began performing corticographies and developed a technique to differentiate sensory from motor cortex in the OR. As Director of the Department of Clinical Neurophysiology (1990- 2016), I converted the EEG lab to a digital system and collaborated with Dr. J. Gotman to develop the first neonatal seizure detection software allowing for earlier intervention of subclinical epilepsy. I have 70 publications related to EPs and neurophysiology. From 1994-2007, I was the Division Director of Pediatric Neurology. I have also been deeply committed to medical education. At the undergraduate level, I lectured for over 16 years, facilitated neuroanatomy small groups and was the Chair of the Department of Neurology/ Neurosurgery Undergraduate Education Committee. In postgraduate medical education, I was the Program Director for Child Neurology (1994-2005), a member of the Adult Neurology Residency Program Committee and Neurology Residency Program Promotions Committee as well as a research supervisor of graduate and post graduate students and EEG fellows.
N. Blair Whittemore, MDCM
I completed my BSc at Bishop's University, followed by my MDCM at McGill University. At that time, we began post-graduate education with a rotating internship. I subsequently trained for one year each in internal medicine (IM), pediatrics, and pathology. As pediatric hematology was fully staffed, I spent one year in adult hematology at the Montreal General Hospital (MGH), followed by a two-year fellowship at the University of Rochester. Upon my return to the MGH, my focus was on clinical hematology and teaching. I served on the McGill Medicine curriculum committee for four years and taught in the Department of Medicine undergraduate program at all levels. I was chair of the Department of Medicine undergraduate teaching program for eight years during which time we introduced the first OSCE at McGill which remains an integral component of objective evaluations. I was also an examiner of the Royal College of Physicians and Surgeons of Canada in IM and Hematopathology.
In 1983, I was appointed Associate Physician-in-Chief at the MGH. In 1988, I moved to Ottawa to become the Director of Blood Services for Canada on behalf of the Canadian Red Cross. After 15 months, I returned to the MGH as Director of Professional Services for the next 7 years. In 2002 I "retired" to the Montreal Children's Hospital site to assume responsibilities for the hematology lab services. My clinical activities were limited to the ambulatory care of pediatric and adult patients with thalassemia major and inherited hemostatic disorders. I was also appointed as the first MCH Director of Complaints against Physicians. From 2003, I became the Interim Director of Hematology/Oncology, a position that I held for 10 years, during which time we successfully reestablished the residency training program for which I was also program director for 5 years.
I was honored with the Distinguished Service Award and the Order of the Canadian Red Cross member status because of my 25-year commitment to the Canadian Red Cross Blood Services. At the MCH, I received the Pfizer Leadership Award, the Award of Merit from the Council of Physicians, Dentists and Pharmacists, the naming of the 7th floor conference room in my honour and a named lectureship by the Sarah Cook Fund of the Cedars Cancer Foundation.
My principal interest has been the teaching of peripheral blood and bone marrow morphology to our technologists and hematology-oncology residents and fellows.
Sandra Woods, MD, BCh
I was born in February 1953 at Torsney's Nursing Home in Dublin, Ireland. With a University College Dublin scholarship, I attended medical school and graduated in 1976. After a rotating internship in Saint Vincent's Hospital, Dublin, I moved to Halifax where I did my first two years of residency training in Pediatrics followed by two further years at McGill University. I then completed a fellowship in Pediatric Respirology at McGill University in 1983. That same year, I accepted the challenge of establishing a department of Pediatrics in Val-d'Or where I practiced as a general pediatrician until 2018 as well as working in the Centre Jeunesse de Val-d'Or (1984-2018). I was a lecturer in Pediatrics at McGill University (1989-2018) where I have been an Assistant Professor since 1989. I was a member of the examination committee of the Royal College of Physicians and Surgeons (2001-2006) and am a member of the editorial board of Pediatrics and Child Health since 2002. Throughout my career, I have enjoyed supervising medical students and residents during their pediatric rotations.