Event
Ciné Campus: la Guerre des Tuques
Tuesday,
December
5,
2023
18:30
to
19:30
Leacock Building
855 rue Sherbrooke Ouest, Montreal, QC, H3A 2T7, CA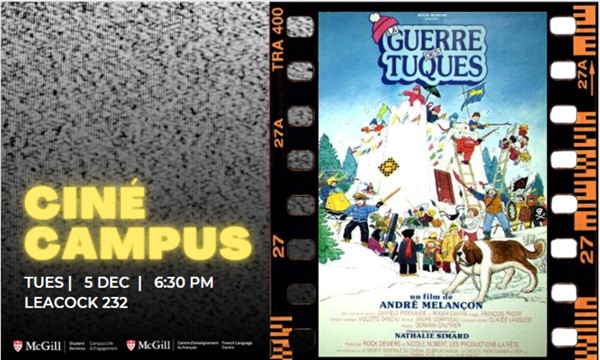 Partnering with different groups on campus, CL&E has launched a new program of movie nights to represent the diversity of student voices at McGill through film. In partnership with the French Language Centre, join us to watch La Guerre des Tuques! Celebrate the end of classes and imminent winter break with this cult classic of Québécois cinema.
En partenariat avec différents groupes sur le campus, CL&E a lancé un nouveau programme de soirées cinéma pour représenter la diversité des voix étudiantes à McGill à travers le cinéma. En partenariat avec le Centre d'enseignement du français, rejoignez-nous pour voir La Guerre des Tuques! Venez fêter la fin des classes et les vacances d'hiver qui s'en viennent avec ce film culte du cinéma québécois.