Tuesday,
March
28,
2023
18:00
to
20:00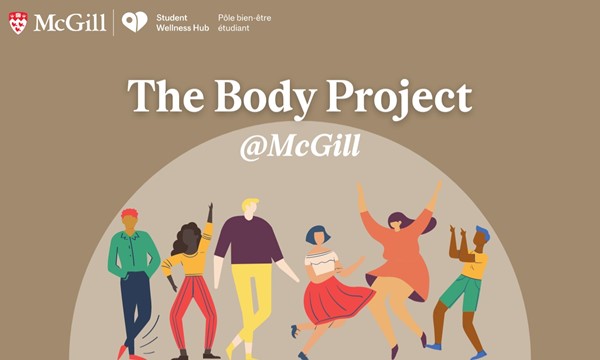 Would you like to learn skills to improve your body image?
The Body Project is two 2-hour peer-led body acceptance sessions delivered in a group format, open to all McGill students.  Please plan to attend both sessions on Tuesday, March 28 & April 4, 2023.
During the Body Project Experience, the interactive meetings will address:
How to challenge unwanted body comments
Skills to improve your body image
You will have the opportunity to connect with others impacted by our complicated relationships with food and exercise and commit to making positive changes together.
Please note that this is a program to help build a better body image; it is not treatment for an active eating disorder. If you believe you are struggling with an eating disorder and need support, please contact the McGill Wellness Hub.
Please register 24 hours prior to the start time of the workshop to receive the invitation to the online meeting.
 All Wellness Hub events are made available only to McGill students who have registered. To keep our virtual space safe, please do not allow any other person to access your registration information. By choosing to participate, you consent that your name (or preferred name), image and voice may be shared with other participants.
Online Event Instructions
You will receive the invitation to the online meeting via MS Teams 10-15 minutes before the start of the workshop.