About the Working Paper Series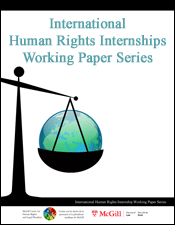 The Centre for Human Rights and Legal Pluralism (CHRLP) Working Paper Series enables the dissemination of papers by students who have participated in the CHRLP's International Human Rights Internship Program.
Through the Program, student interns complete placements with NGOs and tribunals where they gain practical work experience in human rights investigation, monitoring, and reporting and participate in a seminar that critically engages with human rights discourses in which they write a research paper through a peer review and support process.
In accordance with McGill University's Charter of Students' Rights, students in this course have the right to submit in English or in French any written work that is to be graded. Therefore, papers in this series may be in either language.
The papers in this series are distributed free of charge in PDF format. Papers may be downloaded for personal use only. The opinions expressed in these papers remain solely those of the author(s). They should not be attributed to the CHRLP or McGill University. The papers in this series are intended to elicit feedback and to encourage debate on important public policy challenges. Copyright belongs to the author(s).
---
Spring 2015
Arielle Corobow - A New Vision for Human Rights Education in Quebec High Schools
Amélia Couture - The Politics of International Justice: the Security Council's Impact on the Independence, Effectiveness and Legitimacy of the International Criminal Court
Jacinthe Poisson - Indigenous collective property: comparative study of the Canadian and the Inter-American systems
Inaki Navarette - Breaking Disabling Barriers: Mental Disability and Enabling Remedies at the Inter-American Court of Human Rights
Nicolas Aubin - Revisiting the (Hi)story: the Role of High School History Education in our Inability to Understand Environmental Challenges
Suzanne Zaccour - « C'est la faute à la culture! » Critique de la culturalisation du harcèlement de rue au Cameroun
Veaceslav Balan - Human Rights, Human Rights Based Approach, Empowerment and Development: Case Study Of Moldova and its Broader Lessons
Prophète Arbouet - Restavèk and Access to Justice
Matthias Heilke - Thinking Small: The Possibilities of Tort Law in Strategic Litigation for the Right to Health
Kyle Best - The Development of Piracy Law in West Africa & the Institutions Underpinning Counter-Piracy Efforts
---
Spring 2014
Angela Slater - Traditional Legal Institutions through a Rule of Law Lens: the Chieftaincy in Ghana
Emily Hazlett - Disability Rights in a post-Convention Era: Protecting Legal Capacity at the European Court and Beyond
Laura Rhodes - Supplementary Governance by Business for Human Rights Protection in Resource-Based Conflict
Diya Bouchedid - Le système de contrôle international des drogues et les Droits de l'homme: Cohésion ou Confrontation?
Audrey Mocle - Reshaping the Bad Barrel: Strategies for Human Rights Organizations to Mitigate the Situational and Systemic Forces Influencing Corporate Human Rights Abuse
Lipi Mishra - Medicine and Marginalization: How Intellectual Property Laws Provide a "Generic" Solution to a Grave Human Rights Problem
David Nugent - Recent Amendments to Nunavut's Liquor Act: A Sensible Approach to Alcohol-Related Harm?
Charlotte-Anne Malischewski - Where the Exception is the Norm: The Production of Statelessness in India
---
Spring 2013
Éloïse Ouellet-Décoste. Forced Evictions & Grassroots Resistance in Phnom Penh: Lessons for advancing the rule of law in weak and captured states.
Read it: 2013_ihri_wps_v1n1-ouellet-decoste.pdf
Jacqueline Madden. Engaging with Customary Law in Timor-Leste: Approaches to Increasing Women's Access to Justice.
Read it: 2013_ihri_wps_v1n2-madden.pdf
Anne-Claire Gayet. Contexts of Structural Discrimination in the Jurisprudence of the Inter-American Court of Human Rights.
Read it:  2013_ihri_wps_v1n3-gayet.pdf
Chris Durrant. "None of that Paper Stuff Works": An Anti-Essentialist and Anti-Colonial Analysis of Efforts to End Domestic Assault in Nunavut.
Read it: 2013_ihri_wps_v1n4-durrant.pdf
Melissa Austen. The Unfinished Philippine Juvenile Justice Puzzle: the Missing Normative Piece to Restorative Youth Justice Legislation.
Read it: 2013_ihri_wps_v1n6-austen.pdf
Jeanne Mageau-Taylor. La question LGBT au Cameroun: Réflexions sur la criminalisation des pratiques homosexuelles et sur ses effets.
Read it: 2013_ihri_wps_v1n7_mageau-taylor.pdf
Will Collish. The International Criminal Court in Guinea: A Case Study of Complementarity.
Read it: 2013_ihri_wps_v1n8-collish.pdf
Molly Joeck. Gender Inequality and NGOs in Africa.
Read it: 2013_ihri_wps_v1n10-joeck.pdf
Edward Béchard-Torres. Finding Their Way by Conceptualizing Their Role: Court Orders and Social Rights in South Africa.
Read it: 2013_ihri_wps_v1n11-bechardtorres.pdf