About the Working Paper Series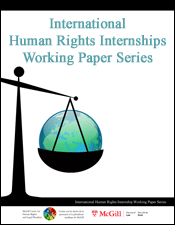 The Centre for Human Rights and Legal Pluralism (CHRLP) Working Paper Series enables the dissemination of papers by students who have participated in the CHRLP's International Human Rights Internship Program.
Through the Program, students complete placements with NGOs and tribunals where they gain practical work experience in human rights investigation, monitoring, and reporting. Students then write a research paper through a peer review and support process while participating in a seminar that critically engages with human rights discourses.
In accordance with McGill University's Charter of Students' Rights, students in this course have the right to submit in English or in French any written work that is to be graded. Therefore, papers in this series may be in either language.
The papers in this series are distributed free of charge in PDF format. Papers may be downloaded for personal use only. The opinions expressed in these papers remain solely those of the author(s). They should not be attributed to the CHRLP or McGill University. The papers in this series are intended to elicit feedback and to encourage debate on important public policy challenges. Copyright belongs to the author(s).
---
Spring 2017 - Volume 5
Matthew Squire - Towards a Legal Pluralistic Approach of Law Reform: a Case Study of Mali's Failed Family Law Reform of 1996-2009
Fiona Cooke - Alternative Sanctions for International Crimes: Considering the Colombian Model
Shaké Sarkhanian - Diplomatic Spaces, Indigenous Voices, and Equity in a Shifting Paradigm of Global Governance
Nigah Awj - Right of a child with disabilities to NOT be institutionalized
Alexander Agnello - Extrajudicial Killings and Human Rights Education in the Philippines
Amanda Arella - Murky Waters: Evaluating the Role of Campaign Ships on the High Seas
Antoine Beauchemin - Homosexualité au Maroc post-2011 : possibilités d'émancipation dans un décor couvert d'obstacles
Blake Connell - Is it Really 'All for One and One for All'? The Strengths and Weaknesses of the 'LGBTI' Label in Australian Rights Advocacy
André Moreau - Sexual and Reproductive Health Rights in Uganda: Overcoming Barriers in the Pursuit of Justice, Equity and Prosperity
André Capretti - Human Rights, Rule of Law and Democracy in Post-Conflict Cambodia: Failures of the Paris Peace Agreement and Promises for Cambodia's Future
Jacinthe Dion - Falling Through the Cracks: Canadian Indigenous Children with Disabilities
Amelia Philpott - Revisioning a Restorative Justice Response to the Crisis of Indigenous Overrepresentation in the Canadian Criminal Justice System
Émilie de Haas - A Commitment to Reconciliation: Canada's Next Steps in the Post-TRC Phase
Rachel Kohut - 'War on Drugs'—or on Pregnant Women who Use Drugs? Situating Russia and Canada in Global Drug Policy
---
Fall 2016 - Volume 4
Michel Bélanger-Roy - Objectifs du Millénaire et droits humains: Prendre la mesure du progrès
Frédérique St-Jean - La culture comme alliée du discours féministe: une étude de la situation tunisienne
Sarah Chenevert-Beaudoin - Susciter l'empathie pour lutter contre les violations des droits de la personne: Perspectives critiques
Jessica De Santi - "Dancing is for everybody": Street dance and cultural rights in Montreal
Olivier Beaubien - Légitimité du Commentaire général no. 1 du Comité sur les droits des personnes handicapées
Dominic Bell - Alcoholism in the North: Conceptualizing the Agency in Crime
---
Spring 2015 - Volume 3
Arielle Corobow - A New Vision for Human Rights Education in Quebec High Schools
Amélia Couture - The Politics of International Justice: the Security Council's Impact on the Independence, Effectiveness and Legitimacy of the International Criminal Court
Jacinthe Poisson - Indigenous collective property: comparative study of the Canadian and the Inter-American systems
  Iñaki Navarrete "Démanteler les obstacles invalidants: Handicap mental et réparations habilitantes à la Cour interaméricaine des droits de l'homme" [.pdf] Published in the Revue québécoise de droit international 28.2 (2015)
Nicolas Aubin - Revisiting the (Hi)story: the Role of High School History Education in our Inability to Understand Environmental Challenges
Suzanne Zaccour - « C'est la faute à la culture! » Critique de la culturalisation du harcèlement de rue au Cameroun
Veaceslav Balan - Human Rights, Human Rights Based Approach, Empowerment and Development: Case Study Of Moldova and its Broader Lessons
Prophète Arbouet - Restavèk and Access to Justice
Matthias Heilke - Thinking Small: The Possibilities of Tort Law in Strategic Litigation for the Right to Health
Kyle Best - The Development of Piracy Law in West Africa & the Institutions Underpinning Counter-Piracy Efforts
---
Spring 2014 - Volume 2
Angela Slater - Traditional Legal Institutions through a Rule of Law Lens: the Chieftaincy in Ghana
Emily Hazlett - Disability Rights in a post-Convention Era: Protecting Legal Capacity at the European Court and Beyond
Laura Rhodes - Supplementary Governance by Business for Human Rights Protection in Resource-Based Conflict
Diya Bouchedid - Le système de contrôle international des drogues et les Droits de l'homme: Cohésion ou Confrontation?
Audrey Mocle - Reshaping the Bad Barrel: Strategies for Human Rights Organizations to Mitigate the Situational and Systemic Forces Influencing Corporate Human Rights Abuse
Lipi Mishra - Medicine and Marginalization: How Intellectual Property Laws Provide a "Generic" Solution to a Grave Human Rights Problem
David Nugent - Recent Amendments to Nunavut's Liquor Act: A Sensible Approach to Alcohol-Related Harm?
Charlotte-Anne Malischewski - Where the Exception is the Norm: The Production of Statelessness in India
---
Spring 2013 - Volume 1
Éloïse Ouellet-Décoste. Forced Evictions & Grassroots Resistance in Phnom Penh: Lessons for advancing the rule of law in weak and captured states.
Read it: 2013_ihri_wps_v1n1-ouellet-decoste.pdf
Jacqueline Madden. Engaging with Customary Law in Timor-Leste: Approaches to Increasing Women's Access to Justice.
Read it: 2013_ihri_wps_v1n2-madden.pdf
Anne-Claire Gayet. Contexts of Structural Discrimination in the Jurisprudence of the Inter-American Court of Human Rights.
Read it:  2013_ihri_wps_v1n3-gayet.pdf
Chris Durrant. "None of that Paper Stuff Works": An Anti-Essentialist and Anti-Colonial Analysis of Efforts to End Domestic Assault in Nunavut.
Read it: 2013_ihri_wps_v1n4-durrant.pdf
Melissa Austen. The Unfinished Philippine Juvenile Justice Puzzle: the Missing Normative Piece to Restorative Youth Justice Legislation.
Read it: 2013_ihri_wps_v1n6-austen.pdf
Jeanne Mageau-Taylor. La question LGBT au Cameroun: Réflexions sur la criminalisation des pratiques homosexuelles et sur ses effets.
Read it: 2013_ihri_wps_v1n7_mageau-taylor.pdf
Will Collish. The International Criminal Court in Guinea: A Case Study of Complementarity.
Read it: 2013_ihri_wps_v1n8-collish.pdf
Molly Joeck. Gender Inequality and NGOs in Africa.
Read it: 2013_ihri_wps_v1n10-joeck.pdf
Edward Béchard-Torres. Finding Their Way by Conceptualizing Their Role: Court Orders and Social Rights in South Africa.
Read it: 2013_ihri_wps_v1n11-bechardtorres.pdf