Each summer, the Paul-André Crépeau Centre for Private and Comparative Law organizes a series of seminars to promote research of students from McGill and elsewhere.  
Attendance is open to all.
For more information, please contatct the Crépeau Centre: centre.crepeau [at] mcgill.ca (subject: Summer%20seminars)
See our past seminars here.
2017 Summer Seminars
---
Étienne Cloutier (University of Toronto), Origines et évolution du droit québécois de l'absence : de l'existence incertaine à la présomption de vie
Wednesday, August 2, 2017, 12:30-1:30, Room 312, New Chancellor Day Hall
(In French only) En décembre 1964, le navire Marie-Carole, parti en mer des Îles-de-la-Madeleine pour une expédition de pêche, sombre lors d'une tempête au large du Cap-Breton, en Nouvelle-Écosse. Les cinq hommes à son bord, pères de dix-neuf enfants, sont alors introuvables. En plus des considérations humaines inhérentes à toutes tragédies, le naufrage du Marie-Carole soulève aussi, pour un juriste, diverses questions légales complexes. Qu'advenait-il des successions de ces cinq hommes? Et, le cas échéant, de leur mariage? Devait-on présumer les naufragés vivants, ou bien morts?
C'est à ces questions, et à bien d'autres encore, que tente de répondre le droit de l'absence. Bien que dans des contextes indéniablement moins folkloriques, il est encore aujourd'hui des instances où les dispositions relatives à l'absence, lesquelles visent, pour l'essentiel, la protection des intérêts de disparus dont l'existence est incertaine, trouvent application devant les tribunaux. Certes, ces situations sont de plus en plus rares, vu le développement effréné des technologies de communication, mais elles n'en demeurent pas moins possibles. La disparition d'une soixantaine de personnes dans le récent incendie d'une tour de logements à Londres, et d'une centaine d'autres des suites d'un éboulement dans le sud-ouest de la Chine, l'incapacité des autorités à identifier ou même à retrouver plusieurs des corps, nous le rappelle de manière tragique.
C'est face à cette éventualité que le législateur québécois, loin d'abandonner l'institution de l'absence au moment de la réforme du Code civil du Québec, a plutôt décidé de la simplifier et de la moderniser, et d'ainsi l'adapter aux réalités contemporaines.
Vu la rareté des ouvrages de droit québécois sur la question, et l'absence (!) d'écrits contemporains offrant un portrait global des origines et du développement de cette institution au Québec, il nous a semblé opportun d'ajouter notre contribution à cette discussion. Nous proposons donc d'observer les premières manifestations de cette institution en droit romain et dans l'ancien droit français, pour ensuite retracer les origines – historiques et conceptuelles – du droit québécois de l'absence, et de détailler son évolution, du Code civil du Bas-Canada jusqu'au Code civil du Québec.
Nous chercherons également, lors de cette conférence, à mettre en relief l'influence qu'a pu avoir sur l'état actuel du droit québécois le traitement dans les systèmes de droit continental – napoléonien et germanique – de cette question. Nous entendons aussi démontrer, au terme de cette discussion, que c'est devant le constat de l'impraticabilité de l'idée, propre au modèle napoléonien, du maintien de l'incertitude quant à la vie ou la mort de l'absent, qu'il l'a abandonnée au profit de celle, issue du droit germanique, selon laquelle sa vie est présumée jusqu'à ce qu'une preuve contraire soit suffisante.
---
Laura Cárdenas (McGill University), Blended Families in Comparative Succession Law
Tuesday, August 1, 2017, 12:30-1:30, Room 312, New Chancellor Day Hall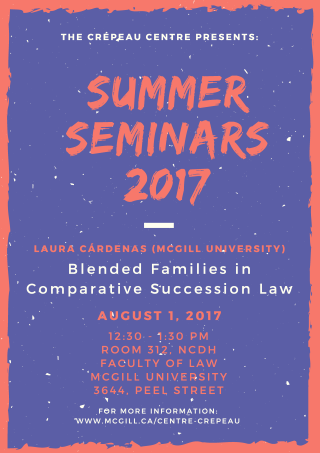 Intestate regimes determine the way an individual's property is divided upon their death if they do not have a valid will, planning for the distribution of this property to their family in accordance with the rules set out by the regime. In many jurisdictions, intestate succession regimes are still struggling to find ways to accommodate the relationships that arise out of blended families, a reality that is increasingly present. This presentation examines some of the different ways blended families are affected by intestate succession regimes in the Canadian common law and Quebec civil law. Comparisons will be drawn with foreign jurisdictions such as England, Scotland, and France to examine how reforms to intestate succession regimes in these countries have affected blended families.
---
Laurence Saint-Pierre Harvey (McGill University), Prestation compensatoire et union de fait : critique d'un discours jurisprudentiel catégorique
Tuesday, July 25, 2017, 12:30-1:30, Room 316, New Chancellor Day Hall
(In French only) Dans la décision Éric c Lola (2013 CSC 5), la Cour suprême conclut à la constitutionnalité de l'absence d'encadrement législatif des unions de fait en droit privé.  Le Comité consultatif sur le droit de la famille propose en 2015 de ne pas instaurer de partage de propriété ou d'obligation alimentaire aux unions de fait. Néanmoins, il suggère au législateur québécois d'élargir l'application de la prestation compensatoire à ces unions. Dans une perspective queer, je propose une critique du discours tenu par les tribunaux lorsqu'ils tranchent une demande de prestation compensatoire. Par celle-ci, je souhaite démontrer que la prestation compensatoire n'est plus l'institution longtemps imaginée, c'est-à-dire égalitaire, flexible et équitable. Le discours s'est plutôt polarisé, voire catégorisé, et ce, sous quatre axes. Par l'étude de ces quatre dichotomies du discours, je tente d'illustrer que la prestation compensatoire n'est pas une institution appropriée pour répartir équitablement les désavantages économiques subis par un conjoint de fait au moment de la séparation.
---
Léa Brière-Godbout (LL.M., Yale), Thick or Thin? Exploring the Multi-Fold Manifestations of the Anti-Stereotyping Principle in North-American Anti-Discrimination Law
Tuesday, June 13, 2017, 12:30-1:30, Room 202, New Chancellor Day Hall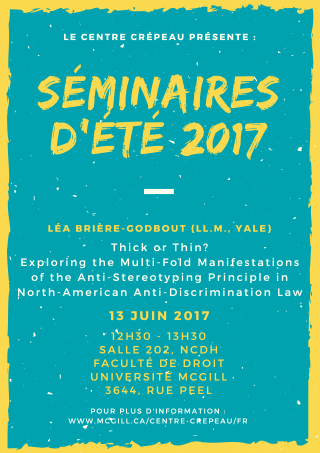 This seminar is accredited by a recognized provider for 1 hour of continuing legal education for the Barreau du Québec and the Chambre des notaires du Québec.
The wrong modern North-American anti-discrimination legislation seeks to curtail is not straightforwardly unique; rather, it is multi-fold. So much so, that its many objectives—while they no doubt often collide—frequently also contradict each other, leaving scholars and judges alike in under-theorized, conflicted territories. The present conference is an attempt to contribute to the growing body of work theorizing one of the most complex contemporary legal questions: why is discrimination wrong, exactly?
This conference will proceed in two parts. The first will consist of a brief presentation of the broad landscape shaped by Prof. Reva Siegel, Prof. Sophia Moreau, and others, which is composed of four distinct philosophies of anti-discrimination: anti-classification, anti-balkanization, anti-stereotyping, and anti-subordination. Their presence and polymorph appearance in both American and Canadian constitutional law will be discussed. The focus will then be placed on anti-stereotyping, for it is the most malleable of the four philosophies. Just as it gains constant ground in North-America, its exact content somewhat eludes us. What, then, is the exact wrong that anti-stereotyping is determined to curtail?
I hope to demonstrate that, much like the broader landscape of anti-discrimination law in which it inserts itself, anti-stereotyping is aimed at plural wrongs—rather than at any one singular wrong. The result is a tentative typology, drawn from American and Canadian scholarly work, in which anti-stereotyping is attentive to four different wrongs; a model I will discuss in detail.
***Please note that the presentation will be in French.
---