Each summer, the Paul-André Crépeau Centre for Private and Comparative Law organizes a series of seminars to promote research of students from McGill and elsewhere.  
Attendance is open to all.
For more information, please contatct the Crépeau Centre: centre [dot] crepeau [at] mcgill [dot] ca (subject: Summer%20seminars)
See our past seminars here.
2016 Summer Seminars
---
Jennifer Anderson, McGill University, Law is as law does: Revisiting retroactivity in common law jurisdictions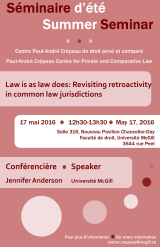 Tuesday, May 17, 2016, 12:30-1:30, Room 316, New Chancellor Day Hall
The strong presumption of prospectivity in statutory construction reflects well-established concerns with retroactivity on the bases of the rule of law, liberty, and reliance. Strikingly, common-law judicial lawmaking routinely exemplifies these problems, yet largely escapes criticism for its retroactivity. Arguments justifying this difference amount to variations on one theme: lawmaking is simply not what courts are, or should be, doing, and worrying about their decisions' real-world retroactive effects is therefore beside the point.
I challenge this view. Not only do appellate courts make law, that is their primary function. Further, if judge-made law is law more than in name only, then certain logical consequences follow. Chief among these is that retroactivity (and the problems it creates) requires defending as much in judicial as in statutory lawmaking. My analysis suggests that such a defence is elusive; more radically, it also calls into question the precise relationship between lower and higher courts.
---
Stefanie Carsley, McGill University, Reconceiving Quebec's Legal Responses to Surrogacy Agreements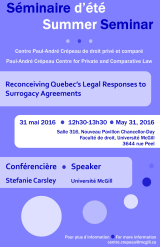 Tuesday, May 31, 2016, 12:30-1:30, Room 316, New Chancellor Day Hall
In June 2015, the government-appointed Comité consultatif sur le droit de la famille released a report proposing substantial revisions to Quebec's laws on surrogate motherhood. It recommended that article 541 CCQ – which renders surrogacy agreements "absolutely null" – be repealed, and that lawmakers amend the Civil Code of Québec to recognize and regulate surrogacy arrangements within the province. This paper examines the Comité's proposed reforms and considers whether they better support Quebeckers' reproductive choices than Quebec's current regime. It argues that while the Comité's recommendations better protect surrogate mothers' interests, they do not go far enough to recognize and balance the experiences of intending mothers or to support diverse family forms. It suggests that Quebec might learn from British Columbia's Family Law Act in reimagining its legal responses to surrogacy agreements.
---
Jessica Leblanc, UQAM, La propriété civiliste et les analyses féministes : à la recherche d'un lieu à soi.
Tuesday, June 14, 2016, 12:30-1:30, Room 200, New Chancellor Day Hall
Les analyses féministes matérialistes condamnent la propriété en tant qu'institution sur laquelle reposent les rapports sociaux de sexe. Ainsi, parce qu'elles critiquent l'objectivation, la soumission à l'indisponibilité et l'appropriation des femmes, les analyses féministes entretiennent un rapport conflictuel avec la propriété. La propriété civiliste, quant à elle, ne se prête pas aisément à l'analyse contextualisée du droit et à la prise en considération des rapports de pouvoir qui traversent la réalité sociale. Les caractéristiques propres à chacune de ces traditions les opposent donc naturellement.
Qu'il s'agisse de la qualification juridique du corps ou des fondements de la propriété, les questions qui taraudent actuellement le droit des biens sont toutefois susceptibles d'intéresser les analyses féministes. Parallèlement, la doctrine civiliste ne sait pas toujours sur quel pied danser pour qualifier des phénomènes dont la complexité ébranle les catégories classiques du droit civil. Puisant à ces deux traditions, cette présentation a pour objectif de s'interroger sur la possibilité de les faire dialoguer, dans un lieu qui leur serait propre.
---
Sabrina Tremblay-Huet, Université de Sherbrooke, Le contrôle touristique dans le Sud Global par le droit international privé : le cas des Caraïbes
Tuesday, June 28, 2016, 12:30-1:30, Room 316, New Chancellor Day Hall
Considérant l'impact économique majeur du tourisme de masse dans la région des Caraïbes, et les impacts sociaux et environnementaux largement préjudiciables aux communautés hôtes, il serait instinctif de croire que cette industrie est significativement légalisée en droit international public. Or, le réel pouvoir se situe en droit international privé, notamment par les investissements privés étrangers et les appropriations de terres destinées à combler les désirs des touristes, provenant majoritairement du Nord Global. Le droit international public s'en voit nécessairement érodé, principalement en matière de droits humains, alors qu'en parallèle il promeut le développement par cette industrie, entre autres avec le Code mondial d'éthique du tourisme. Loin de l'attention de nombreux juristes (et de nombreux touristes) se concrétise le contrôle effectif en matière de détermination de l'offre touristique des Caraïbes, ainsi que des conditions de vie et de travail des communautés hôtes, par les contrats de droit international privé. 
---
Charles R. Daoust, McGill University, Appellate Review of Social Facts: How Deference to Trial Courts Threatens to Uproot the Living Tree
Tuesday, July 5, 2016, 12:30-1:30, Room 316, New Chancellor Day Hall
My research papers tackles the issue of social fact evidence in constitutional rights litigation. In particular, I assess the impact of two recent Supreme Court of Canada decisions in which the Court formulates a full-deference approach to findings of social fact by trial courts. Though the Court's expeditious overview of the topic has done little to indicate its potentially far-reaching implications, I argue that the Court's conclusion regarding the treatment of social framework evidence during the appeal process will significantly affect the scope of Canadian appellate courts' authority to shape legal rules and ensure their universal application. Moreover, the neutering of appellate judges' power to independently review social facts will contribute to the accelerating pace of the Canadian justice system's growing trend toward trial-centric, fact-based adjudication in constitutional cases. This phenomenon will further undermine higher courts' ability to fulfill their obligation to honor and apply the 'living tree' doctrine. I contend that a middle ground approach to deference enabling appellate courts to incorporate their own reading of the social, political and economic context into their decisions will better serve Canadian citizens and help protect their rights.
---
Dialogue de doctorants: Victor Proulx and Antoine Nallet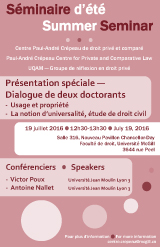 Tuesday, July 19, 2016, 12:30-1:30, Room 316, New Chancellor Day Hall
We are pleased to announce a special presentation of the 2016 Summer Seminar Series organized by the Crépeau Centre, this time in collaboration with the "Groupe de réflexion de droit privé de l'UQAM". Kindly note that these presentations will be in French.
Dialogue de deux doctorants
Victor Poux (Université Jean Moulin Lyon 3), « Usage et propriété »
Au regard de l'article 544 du Code civil français, le droit de propriété est conçu comme étant exclusif et absolu. Toutefois, il semblerait que cette vision soit aujourd'hui contestée par des formes nouvelles de relations aux biens qui placent l'usage en tant que finalité du rapport d'appropriation et dont la théorie dite « des communs » s'est faite l'écho. Deux logiques sont ici à l'œuvre, la première est fondée sur la volonté de garantir un accès aux usages des biens (biens numériques) alors que la seconde a pour objectif la préservation des usages des biens et la lutte contre le mésusage (biens environnementaux et ressources naturelles). Aussi, la remise en cause de la propriété classique est importante. D'une part le traditionnel droit d'exclusion tend à s'effacer au profit d'un droit à l'inclusion et, d'autre part, la possibilité de disposer de ces biens est réduite au strict minimum. Si la tentation de redéfinir la propriété à l'aune des communs est grande, c'est plutôt l'apparition d'un nouveau modèle d'appropriation qu'il apparait possible de constater ; un modèle reposant sur l'idée de biens affectés à une finalité particulière et à la possibilité de jouissances d'utilités simultanées.
 
Antoine Nallet (Université Jean Moulin Lyon 3), « La notion d'universalité, étude de droit civil »
Le droit civil a régulièrement recours à la notion d'universalité lorsqu'il s'agit de qualifier les différents ensembles de biens, notamment s'ils se singularisent par un certain dynamise et une certaine cohésion. Il en est ainsi avec les différents fonds (commercial, agricole et civil), ou encore – voir même essentiellement – avec le patrimoine du sujet de droit et, plus récemment, avec les patrimoines d'affectations (Fiducie et EIRL). Pour autant, la notion d'universalité souffre d'un désintérêt patent en doctrine. Le peu de recherches effectuées sur la notion conduisent les différents acteurs juridiques à reproduire le schéma théorique légué par la tradition. C'est donc sous l'angle d'une distinction entre l'universalité de droit et l'universalité de fait que l'on analyse traditionnellement les différents ensembles de biens. Pourtant, cette typologie séculaire présente bien des obstacles tant les caractéristiques inhérentes à chaque notion sont difficilement perceptibles. Classiquement, la doctrine s'accorde sur la présence d'un passif au sein de l'universalité de droit et son absence au sein de l'universalité de fait. Toutefois, là encore, l'analyse se révèle insuffisante à bien des égards. Comment justifier la présence de dettes dans un ensemble de biens sinon reconnaître l'existence de biens négatifs, ou, pire encore, élever la notion dans la sphère des personnes alors même qu'elle semble concerner le monde des choses. Le présent travail de recherche a donc pour objectif de comprendre et cerner la notion d'universalité en droit civil. Et c'est au travers d'une étude de son évolution puis de son fonctionnement que l'on sera à même de répondre à l'objectif fixé.