Each summer, the Paul-André Crépeau Centre for Private and Comparative Law organizes a series of seminars to promote research of students from McGill and elsewhere.  
Attendance is open to all.
For more information, please contatct the Crépeau Centre: centre [dot] crepeau [at] mcgill [dot] ca (subject: Summer%20seminars)
See our past seminars here.
2017 Summer Seminars
Léa Brière-Godbout (LL.M., Yale), Thick or Thin? Exploring the Multi-Fold Manifestations of the Anti-Stereotyping Principle in North-American Anti-Discrimination Law
Tuesday, June 13, 2017, 12:30-1:30, Room 202, New Chancellor Day Hall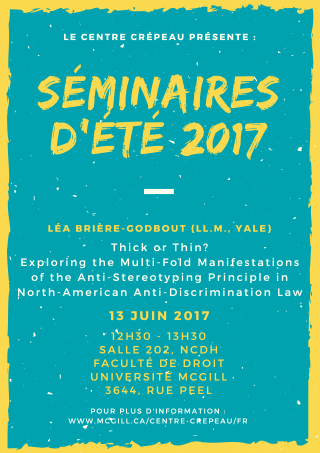 This seminar is accredited by a recognized provider for 1 hour of continuing legal education for the Barreau du Québec and the Chambre des notaires du Québec.
The wrong modern North-American anti-discrimination legislation seeks to curtail is not straightforwardly unique; rather, it is multi-fold. So much so, that its many objectives—while they no doubt often collide—frequently also contradict each other, leaving scholars and judges alike in under-theorized, conflicted territories. The present conference is an attempt to contribute to the growing body of work theorizing one of the most complex contemporary legal questions: why is discrimination wrong, exactly?
This conference will proceed in two parts. The first will consist of a brief presentation of the broad landscape shaped by Prof. Reva Siegel, Prof. Sophia Moreau, and others, which is composed of four distinct philosophies of anti-discrimination: anti-classification, anti-balkanization, anti-stereotyping, and anti-subordination. Their presence and polymorph appearance in both American and Canadian constitutional law will be discussed. The focus will then be placed on anti-stereotyping, for it is the most malleable of the four philosophies. Just as it gains constant ground in North-America, its exact content somewhat eludes us. What, then, is the exact wrong that anti-stereotyping is determined to curtail?
I hope to demonstrate that, much like the broader landscape of anti-discrimination law in which it inserts itself, anti-stereotyping is aimed at plural wrongs—rather than at any one singular wrong. The result is a tentative typology, drawn from American and Canadian scholarly work, in which anti-stereotyping is attentive to four different wrongs; a model I will discuss in detail.
***Please note that the presentation will be in French.
---