March 31, 2017, 2:40 - 5:00 PM, rooms 202 & 203, New Chancellor Day Hall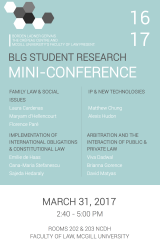 Hosted by Borden Ladner Gervais, the Paul-André Crépeau Centre for Private and Comparative Law and McGill University's Faculty of Law, this mini-conference will feature students who will talk about their research and share their ideas with their colleagues and professors. The conference, focusing mainly on private law or comparative law, will be held in two pairs of concurrent sessions.
Programme
Programme - BLG Student Research Mini-Conference - Mini-conférence BLG sur la recherche étudiante
2 h 40

Session 1A - Salle 202 NCDH

Moderator: Prof. Shauna Van Praagh

Family Law and Social Issues

Laura Cardenas – Married Couple, Single Recipient: The Exclusion of Gifts and Inheritances from Default Matrimonial Regimes

Maryam d'Hellencourt – Compenser la grossesse et l'allaitement en droit de la famille

Florence Paré – Don't Be So Hateful:  The Insufficiency of Anti-Discrimination and Hate Crime Laws in Improving Trans Wellbeing

Session 1B - Salle 203 NCDH

Moderator: Prof. Yaëll Emerich

IP and New Technologies

Matthew Chung – Bagel Bag as Bellwether? The Fate of Appropriation Art under the Canadian Copyright and Trade-Marks Acts

Alexis Hudon – Voitures autonomes : le modèle québécois comme réponse aux enjeux de responsabilité extra-contractuelle

3 h 45
Break
4 h 00

Session 2A - Salle 202 NCDH

Moderator: Prof. Mark Walters

Implementation of International Obligations and Constitutional Law

Emilie de Haas – It's not just business: Implementing the UN Framework for Business and Human Rights State Duty to Protect in Canada

Oana-Maria Stefanescu – Confronting Legal Transplants with the Imperative of Uniformity: The Example of the UN Convention on Contracts for International Sales of Goods

Sajeda Hedaraly – For a Bilingual Supreme Court: The Consequences of Judicial Interpretative and Law-Making Functions

Session 2B - Salle 203 NCDH

Moderator: Prof. Kun Fan

Arbitration and the Interaction of Public and Private Law

Viva Dadwal – Arbitrator Liability in Third-Party Funded Investment Arbitration

Brianna Gorence – The Constructive Role of General Principles of International Law in International Arbitration

David Matyas – Towards a Transnational Private Law Understanding of International Aid : Mapping the Rights and Obligations of NGOs

5 h 00
Cocktail
Location
Rooms 202 & 203
New Chancellor Day Hall
Faculty of Law, McGill University
3644, Peel Street
Montreal (QC) H3A 1W9

Information : centre.crepeau [at] mcgill.ca
Partners
This event was made possible with the support of Borden Ladner Gervais and McGill University's Faculty of Law.