April 28 - May 1, 2009

Child, Family, and Community Mental Health in Cultural Context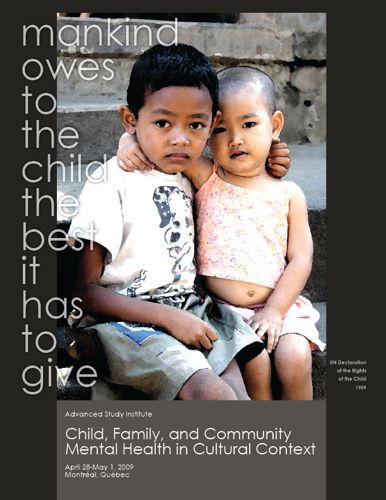 50th Anniversary of the UN Declaration on the Rights of the Child "mankind owes to the child the best it has to give"
Child mental health cannot be separated from the health and functioning of family and community. Development follows diverse trajectories but is profoundly shaped by cultural knowledge, values, and practices. Poverty, migration, war, and political violence all create additional burdens on the resources of child, family, and community. Changes in society may put children at risk or open up new opportunities for coping and resilience. The biomedical view of contemporary psychiatry tends to disconnect mental health problems from their social contexts. Psychiatric theory and practice convey implicit developmental and behavioural norms that may be dissonant with local cultural values and practices.
This workshop and conference will address the interactions between developmental psychopathology, family systems, and culture. An international group of clinicians and researchers will address themes including: (1) cultural constructions of childhood and psychopathology; (2) the impact of culture on child development and psychopathology; (3) models of mental health and social services for low-income countries with limited resources and for wealthier countries with increasingly diverse populations; (4) culture and child mental health promotion; and (5) child rights, protection, and advocacy. Presentations will address the particular needs of new migrants, unaccompanied minors, and indigenous peoples.
The format will be a two-day workshop on child mental health promotion and prevention for researchers active in the field (April 28 - 29, 2008), limited to 40 participants. This will be followed by a two-day public conference (April 30 & May 1) aimed at a wider audience including clinicians, practitioners, and policy makers. The conference will conclude with a symposium reflecting on the UN Declaration of the Rights of the Child on its 50th anniversary.
Guest Faculty:
Thomas Achenbach, François Armand, Ilse Derluyn, Ghayda Hassan, Frederick Hickling, Begum Maitra, Harriet Petrakos, Joanna Anneke Rummens, Radhika Santhanam, Sami Timimi, Charles Watters
McGill Faculty:
Jaswant Guzder, Laurence J. Kirmayer, Toby Measham, Lucie Nadeau, Cécile Rousseau, Ashley Wazana
Workshop:
Tu•W, April 28 – 29, 2009
Conference:
Th•F, April 30 – May 1, 2009
The ASI_2009_Program.pdf and the 2009_Brochure.pdf in Social and Cultural Psychiatry is available for download.