Division of Social & Transcultural Psychiatry, McGill University
Advanced Study Institute in Cultural Psychiatry
The Politics of Diversity:
Pluralism, Multiculturalism and Mental Health
June 2-4, 2014
Montreal, Québec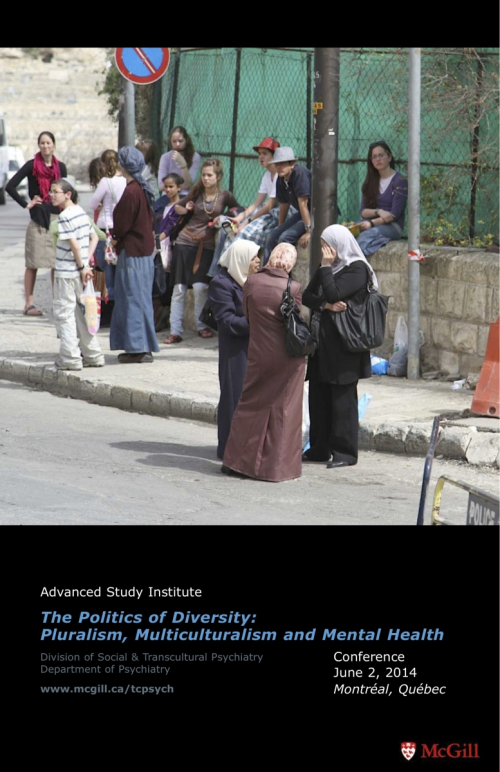 Advanced Study Institute Conference and Workshop (June 2-4, 2013)
ASI 2014 Conference Program.pdf

ASI 2014 Conference & Workshop Program.pdf
Globalization is bringing new tensions and challenges to efforts to build multicultural and inclusive societies. In the name of secularism, neutrality or security, policies are being enacted that target the cultural, linguistic and religious identities and practices of minorities. Policies of multiculturalism and interculturalism that promised greater engagement with others are being challenged by appeals to the vulnerability of dominant groups and the need to reduce the threats of minorities who are portrayed as radical and divisive. This international conference and workshop will bring together scholars from cultural psychiatry, psychology, anthropology, political science, sociology and philosophy to explore basic questions including:
How does diversity contribute to mental health and well-being for individuals and communities?
How is the "other" constructed and what are the consequences of "othering" for recognition or discrimination and suppression of cultural values and practices?
What are the implications of recent challenges to multiculturalism and attacks on diversity in the public space for the health and well-being of populations?
How can mental health research, policy and practice address the challenge of social integration in culturally diverse societies?
Sessions will consider: (i) the social and political construction of the other; (ii) the psychology of "othering" and alterity with particular attention to gender; (iii) the relationship between diversity and mental health well-being; and (iv) strategies in mental health policy and practice to address the impact of social exclusion and respond to health disparities.
The format will be a public Conference and artistic event (June 2) directed to mental health practitioners, educators and policy makers, followed by a two-day Workshop (June 3 & 4) for researchers working on these issues.
Guest Faculty
Gilles Bibeau, Ghayda Hassan, Sushrut Jadhav, Abdelwahed Mekki-Berrada
McGill Faculty
Jaswant Guzder, Laurence J. Kirmayer, Antonia Maioni, Duncan Pedersen, Cécile Rousseau, Morton Weinfeld, Daniel Weinstock, Rob Whitley
Register for the ASI by downloading the 2014_registration_form.pdf

There will be a poster session on June 2, 2014. To submit a poster, please complete the 2014_poster_presentation.pdf form and send it with your application for the ASI Conference.
If paying by credit card, please use the 2014_credit_card_authorization_form.pdf
For payment via wire transfers, please click on the following link.
Please note that the deadline for the Summer School Program does not apply to the Advanced Study Institute.