Welcome to the McGill International Tuberculosis Centre                               @McGill_TB
Stop TB Partnership's TB REACH initiative
Under the leadership of Dr. Madhukar Pai, the Research Institute of the McGill University Health Centre (RI-MUHC) has been awarded a 5-year grant to serve as a knowledge management partner to the Stop TB Partnership's TB REACH initiative. The initiative, funded in part by Global Affairs Canada, provides one-year grants to partners throughout the world to increase the number of people diagnosed and treated for TB. Successful projects are considered for scale up by other donor agencies and/or national governments. The RI-MUHC's role for Waves 5-9 is to provide technical assistance to TB REACH projects in two areas: operational research and knowledge dissemination.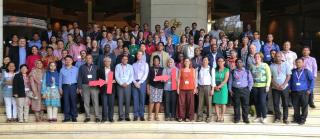 In May 2017, members from Dr. Pai's team travelled to Bangkok, Thailand for an initial gathering of TB REACH Wave 5 grantees from over 20 countries, and the Stop TB Partnership team. Dr. Pai's team members held three grantee capacity building workshops, 1) Data Collection and Management, 2) Qualitative Research Methods, 3) Health Economics, and hosted an interactive lecture on knowledge dissemination for advocacy. They also held fruitful discussions with members of 23 grantee organizations that had requested technical assistance. Following this successful kick-off meeting, Dr. Pai's team is enthusiastic to continue to collaborate with the innovative TB REACH projects for this year and the four waves ahead!
---
The 5th Annual TB Centre Research Day on June 2, 2017 was a great success. There was great attendance and a buzz that can be seen in the photo gallery:  https://goo.gl/photos/HQkuvsoTn8aieSMA9.
Dr. Daniel Chin from the Gates Foundation gave an insightful talk entitled "TB Delivery for Impact" by drawing on his extensive experience with TB control in China. 
---
Congratulations to our members:
Congratulations to our Centre members who won FRQ-S Salary Awards in the Fall 2016 competition 
Frédéric VEYRIER, Junior 1 Chercheur Boursier; Sophie HUDDART, Doctoral Award; Anita SVADZIAN, Doctoral Award; Olivia GANESCU, Masters Award; Zhiyi LAN, Masters Award; Eva KAUFMANN, Postdoctoral Award for non- Quebec resident; Nargis KHAN, Postdoctoral Award for non- Quebec resident
 Studentships:
   from the RI: Marwan Ghanem, Wilian Correa De Macedo
---

---

Nature Reviews Disease Primer
International consortium publishes the first Primer on Tuberculosis in Nature Reviews Disease Primers
At the start of the 47th Union World Conference on Lung Health in Liverpool, UK, an international group of top TB experts from several leading institutions published a primer on tuberculosis (TB) in the journal Nature Reviews Disease Primers (http://www.nature.com/nrdp). The 23-page primer, part of a series featuring the latest state-of-the-art advances in various health fields, can be freely downloaded at http://www.nature.com/articles/nrdp201676 for a 1-month period only.  Download 
---

---
Great job at knowledge synthesis by TB Centre researchers:
---
Post Doctoral Fellowship Positions in Tuberculosis Research Available:
Recent TB Articles/Publications
---
​The 100 top-cited tuberculosis research studies
According to a recent study, McGill researchers account for 6% of the world's best cited TB papers which is a very high ranking! The 100 top-cited tuberculosis research studies (International Union Against Tuberculosis and Lung Disease) Download
---
About the Centre
Our centre brings together over 20 investigators with expertise spanning epidemiology, policy setting, economic analyses, implementation research, meta-analyses,  qualitative research to basic science in microbiology, host genetics and immune response. The work is done both at an academic centre and with a number of collaborating groups around the world. On these pages, we introduce the faculty members who are members of our centre and describe our training programs for students.  Find out why our Centre is a world leader in the interdisciplinary study of TB and how we work together to unravel the many mysteries of this recalcitrant disease.