---
Welcome to the School of Physical & Occupational Therapy (SPOT)
Excellence in research and teaching is the foundation and tradition of the School of Physical and Occupational Therapy, situated on McGill University's upper campus in a gracious downtown area of the beautiful city of Montreal, Quebec.The Faculty educates rehabilitation professionals and, through research, generates the body of knowledge which guides our professions to advance the health, function and participation of the individual in society. Welcome to the School!
---
---
Read the 2015-2016 issue of SPOT's inFocus newsletter: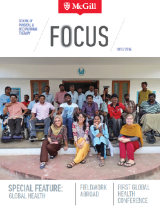 Also read the 2016-2017 issue of the Faculty of Medicine's Focus Newsletter
---
Are you looking for SPOT classmates?
The School wants to help you reconnect with old classmates, network for career opportunities, and maybe even learn about SPOT's programs and newest research! The School wants to stay in touch with you, whether you are currently working in the field or not. Did you know that there are now more than 50 faculty members, 700 students, and 5 diplomas or certificates at McGill's SPOT? If you are on Facebook, please join the McGill SPOT group.
---
- Excellence Through Growth -
---
Connected.