Lessons Learned in Decolonization: Critical Reflections at Sunset
Community forum for McGill School of Social Work - Thursday, March 11, 2021 - 5:30-7:30PM EDT
For many of us, sunset is a time to honour our day to express gratitude for the gifts that came forth, gifts that Mother Earth provides. As the sun sets everyday, we give thanks for the day, thanks for the lessons learned throughout our day. Lessons Learned in Decolonization: Critical Reflections at Sunset is an invitation posed to each and every member of the McGill School of Social Work community, as social workers, as helpers, to come together, visit virtually with each other, and share what we have seen, felt, and experienced.
We are constantly reminded that we are living in unprecedented and uncertain times. During these extended months of rapid and constant change, we have been teaching, learning, and practicing social work on Zoom. All the while, ongoing local to global inequities and crises are brought to our attention, including the persistent calls to address racism and commit to decolonization. We started our Fall 2020 semester with a talk by Dr. Billie Allan, "On being a good relative: decolonial dreaming in social work education." Let us come together as we near the ending of the 2020-2021 school year and reflect on this call to dream decolonial futures for social work education. Let us bring our minds together in a good way to look at what we have learned throughout this year and come towards a shared or collective vision for our school.
We invite members of the McGill School of Social Work (SSW) community to reflect on the following helper questions, based on where you are at:
•What critical lessons and reflections have you learned this year and what do you want to share?
•What is your current understanding of decolonization? What have you learned?
•What are your decolonial dreams for social work education?
•What progress or success have been made this year? What failures, challenges, barriers still remain?
•What actions and accountabilities do you ask of your peers, colleagues, and relatives in the McGill School of Social Work?
Indeed, as a profession, one of our principles of practice is self-reflection. Centering the need to be in relationship with each other, this Community Forum creates a shared space to come together, self-reflect and learn together, so that we can unlearn the things that no longer serve our practice, school, and profession. Using circle methodology and critical self-reflection, we will support small and whole group discussions to come towards a vision for decolonizing social work education at McGill School of Social Work.
Register at: https://mcgill.zoom.us/meeting/register/tZwsdOmpqz0uGNwmzsG9xiDJc7nxl0PaIXTT
Hosted by Indigenous Access McGill (IAM) and Social Work Association of Graduate Students (SWAGS)
---

LIGHTING THE FIRE TEACH-IN
March 3rd, 2021
1:30 to 3:30 ET / 10:30 to 12:30 PT
ALLUMER LE FEU (enseignement)
le 3 mars 2021
13h30 à 15h30 HE / 10h30 à 12h30 HP
Lighting the Fire: Social Work and Indigenous Land and Water Sovereignty
This teach-in follows the call by McGill social work student, Codey Martin, for social work education to address the roles and responsibilities of the social work profession in relation to Indigenous land and water sovereignty in the face of violence against Indigenous land and water protectors across Turtle Island. Why and how should social work education address its responsibilities to Indigenous peoples and territories? How can social work students, educators and practitioners imagine, understand and practice decolonial solidarity with Indigenous land and water protectors?
Join us for this first in a series of teach-ins meant to help encourage dialogue and seed relationships of change. Register in advance to attend this webinar by clicking on the button below. After registering, you will receive a confirmation email containing information on how to join the meeting.
English/French interpretation available for this event
Allumer le feu : le travail social et la souveraineté des terres et des eaux autochtones
Cet enseignement fait suite à l'appel lancé par Codey Martin, étudiant en travail social à l'Université McGill, pour que la formation en travail social aborde les rôles et les responsabilités de la profession de travailleur social par rapport à la souveraineté des terres et des eaux autochtones face à la violence dont sont victimes les protecteurs des terres et des eaux autochtones sur l'île de la Tortue. Pourquoi et comment la formation en travail social devrait-elle aborder ses responsabilités envers les peuples et territoires autochtones? Comment les étudiants, les éducateurs et les praticiens en travail social peuvent-ils imaginer, comprendre et pratiquer la solidarité décoloniale avec les protecteurs des terres et des eaux autochtones?
Rejoignez-nous pour cette première d'une série d'enseignements destinés à encourager le dialogue et à amorcer des relations de changement. Inscrivez-vous à l'avance pour participer à ce webinaire en cliquant sur le bouton ci-dessous. Après votre inscription, vous recevrez un courriel de confirmation contenant des informations sur la façon de participer à la réunion.
L'interprétation simultanée (anglais/français) sera disponible pour cet événement.
---
First Nations and the Healthcare System
Roundtable Discussion
January 19, 2021
12:00pm-1:30pm
Interactive and virtual meeting about racism and discrimination against Indigenous peoples in the healthcare system.
Link to connect to discussion:  https://zoom.us/j/94026224325
Broadcast LIVE on the Assembly of First Nations of Quebec and Labrador Facebook page: https://www.facebook.com/APNQL
---
Virtual Film Screening and Panel
Spirit Bear and Children Make History: Lessons or Social Work and Law
January 25, 2021
6:00 p.m. to 7:15 p.m. EST
Presented by:
McGill Joint MSW/Law Program
Indigenous Access McGill Spirit Bear (@SpiritBear) and
the First Nations Child and Family Caring Society of Canada
Click on the following link to participate: https://mcgill.zoom.us/j/88499427096
---
Webinar on Systemic Racism Against Indigenous People
The Department of Education, Concordia University is offering a webinar on Systemic Racism Against Indigenous People.
Panelists:
Nakuset, Executive Director, Native Women's Shelter of Montréal
Pitseolak Pfeifer, Inuit Solutions
DATE/TIME: December 7th, 11:00 AM to 12:15 PM.
Open to public and place is limited
Registration required:
To REGISTER, click on the link below or go to the website of the Department of Education, Concordia University, scroll down to the section entitled "Events" and click on the related link.
https://www.concordia.ca/content/dam/artsci/education/docs/events/Nakuset_Pitseolak_webinar.pdf
---
Sixties Scoop Healing Foundation Event
Join the Sixties Scoop Healing Foundation this Thursday, November 12th, 2020 at 2:00p.m. EST for a virtual event to meet the new Survivor-led Board of Directors and honour 60's Scoop Survivors.
Come witness history this week by joining us for the official launch of the Sixties Scoop Healing Foundation.
Keynote speaker Senator Murray Sinclair, Chief Commissioner of the Truth and Reconciliation Commission
Special guest speaker singer-songwriter, educator, and social activist, Buffy Sainte-Marie.
Join the event on Thursday, November 12th, 2020 at 2:00 p.m. EST – Click here
---
Dr Wanda Thomas Bernard - Taking Action in the Institution: Strategies for Anti-Racism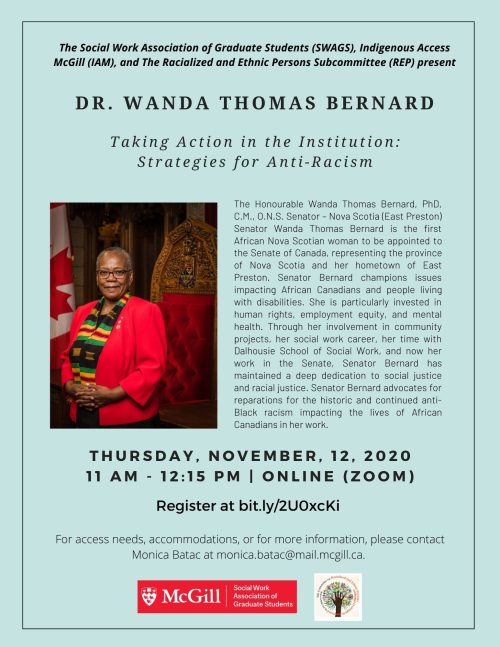 ---
Zoom Check-in With IAM Students
Professor Wanda Gabriel is holding a Zoom meeting on Friday, October 9th at 1:00pm to check-in with IAM students and to see how everyone is doing.
Looking forward to seeing you!
Join Zoom Meeting
https://mcgill.zoom.us/j/86062205806

Meeting ID: 860 6220 5806
One tap mobile
+15873281099,,86062205806# Canada
+16473744685,,86062205806# Canada

Join by SIP
86062205806 [at] zoomcrc.com
 
---
Indigenous Awareness Week Event "On Being a Good Relative" - Guest Speaker, Dr. Billie Allan
Dr. Billie Allan from the University of Victoria School of Social Work will be offering a ceremony and circle on September 29th from 2pm-4pm. 
Please register in advance for this meeting if you would like to attend:  https://mcgill.zoom.us/meeting/register/tJMsc-CvrTIvGta8Gq8KvKu-9_P6-rgYDHGZ 
---
McGill University First Peoples' House Virtual Powwow September 2020