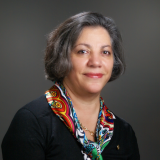 Dr. Saroyan is a professor and the former Chair of the Department of Educational and Counselling Psychology. Her areas of specialization include research in the pedagogical development of academics, academic leadership, quality assurance, and the reform of postsecondary systems.
She serves as a consultant to various international organizations including The World Bank, OECD, and UNESCO. She has extensive international experience in higher education reform in the Middle East, Far East, North Africa, South America, and Post Soviet States. Her publications are on university professors' conceptions of teaching and educational development.
---
Caroline Sia 
​Project Administrator
Caroline brings with her a keen understanding of the need for professional development planning from her experience in both the education and business sectors.  She has spent 3 years managing projects with MIIE's partners in Asia while based in the region.  Prior to joining MIIE, she was a senior consultant at a cross-industry executive training firm with business development and teaching responsibilities. Caroline holds an M.Ed. from the University of Hong Kong.
Contact us at miie.education [at] mcgill.ca.