Congratulations to our M.Sc. and Ph.D. students for receiving research funding from the Fonds de recherche du Québec - Santé (FRQ-S) and Fonds de recherche du Québec - Nature et technologies (FRQ-NT) this year! These provincial funding programs provide researchers with financial support, with the goal of promoting the spread of scientific knowledge and collaboration. Below are a few of our 2020 recipients: 
FRQ-S
Barbara Barth
(Ph.D. student, Dr. P. Pelufo Silveira)
"The role of the dopamine transporter gene network expression on the brain in modulating responses to early life environmental factors"
Harry Glickman
(M.Sc. student, Dr. S. Baillet)
"Personalized Neuromodulation Strategies for Cognitive Rehabilitation"
Ziyaan Harji
(Ph.D. student, Dr. G. Armstrong)
"Investigating synaptic defects in novel TARDBP knock-in zebrafish models of amyotrophic lateral sclerosis"
Eric Krochmalnek
(Ph.D. student, Dr. M. Srour)
"Examining the Pathophysiology of Individual Cell Type(s) Carrying Somatic Mutations in Focal Cortical Dysplasias"
Cynthia Kwan
(Ph.D. student, Dr. P. Huot)
"Towards therapies for Parkinson's Disease: treatment-related complications and animal models"
Firoza Zubeida Lussier
(M.Sc. student, Dr. P. Rosa-Neto)
"Investigating the associations between mild behavioral impairment and imaging biomarkers of Alzheimer's disease in cognitively unimpaired and impaired elderly individuals"
David MacDonald
(M.Sc. student, Dr. M. Chakravarty)
"Autism Spectrum Disorders: Heterogeneity in the Morphology of Subcortical Structures due to Age, IQ, and Sex / Troubles du spectre autistique: hétérogénéité de la morphologie des structures sous-corticales due à l'âge, au QI et au sexe"
Malosree Maitra
(Ph.D. student, Dr. G. Turecki)
"Cell-type specific multiomics of the prefrontal cortex in major depressive disorder"
Jillian McCarthy
(Ph.D. student, Drs. S. Ducharme and Y. Iturria-Medina)
"Determination of multimodal MRI cerebral changes in preclinical frontotemporal dementia using data-driven multivariate statistical modeling"
Amanda McFarlan
(Ph.D. student, Dr. J. Sjöström)
"The Role of Neocortical Vip Interneuron Plasticity in Epileptic Seizures"
Kendra Oudyk
(Ph.D. student, Dr. J-B Poline)
"Are we meta-analyzing results or methods? Evaluating bias caused by methodological trends in neuroimaging of mood disorders"
Kaan Salcin
(Ph.D. student, Dr. M. Leyton)
"PET Neuroimaging of Epigenetic Processes in Stimulant Drug-Users"
Rackeb Tesfaye
(Ph.D. student, Dr. M. Elsabbagh)
"Investigating circadian dysfunction in youth with autism"
Stephanie Tullo
(Ph.D. student, Dr. M. Chakravarty)
"L'impact de la propagation de la protéine alpha-synucléine à travers le connectome cérébral dans un modèle murin de la maladie de Parkinson"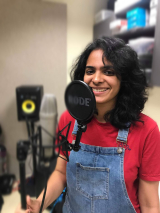 Neelima Vaddadi
(Ph.D. student, Dr. J-F Cloutier)
"Understanding role of Kirrels in circuit formation in the brain"
Johnson Ying
(Ph.D. student, Dr. M. Brandon)
"Base neurale de la mémoire spatiale"
Sheida Zolfaghari
(Ph.D. student, Dr. R. Postuma)
"Restless leg syndrome and atherosclerosis: Canadian Longitudinal Study on Aging / Syndrome des jambes sans repos et athérosclérose: L'Étude Longitudinale Canadienne sur le Vieillissement (ÉLCV)"
---
FRQ-NT
Ross Markello
(Ph.D. student, Dr. B. Misic)
"Network models of brain morphometry and behavior"