Geraldine King
Title:
Assistant Professor; Senior Advisor, Indigenous Curriculum and Pedagogy (Office of Indigenous Initiatives)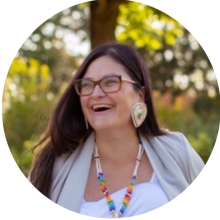 Department:
Department of Integrated Studies in Education
Faculty of Education
Biography:
Geraldine King (she/her/elle/kwe) is Anishinaabe and a member-citizen of Kiashke Zaaging Anishinaabek (Gull Bay First Nation) located in the Robinson Superior Treaty area of Northwestern Ontario. Geraldine is currently a PhD candidate in the cultural studies program at Queen's University and completed her MA in Indigenous Governance at the University of Victoria. Prior to joining McGill, Geraldine was a Lecturer in the School of Canadian and Indigenous Studies at Carleton University where she helped advance Indigenous land-based education grounded in Indigenous communities. Geraldine's doctoral work focusses on Anishinaabe erotics, ethics of intimacy, kinship studies and theories of Anishinaabe phenomenology.
In Fall 2022, the Office of Indigenous Initiatives and the Department of Integrated Studies in Education welcomed Geraldine to the McGill community. As the Senior Advisor, Indigenous Curriculum and Pedagogy. Prof. King will provide strategic advice to individual faculty and academic leaders across the university with the goal of supporting meaningful and respectful relations with Indigenous communities, peoples, knowledges, and epistemologies. Prof. King will also hold an Assistant Professor position in the Department of Integrated Studies in Education (DISE) in the Faculty of Education where she will focus on developing and delivering land-based education.
As an active leader in her First Nation community, Geraldine has recently been elected to serve on Band Council and holds the education portfolio while leading the community in its Comprehensive Community Planning process. In her professional life, Geraldine is an expert consultant in Indigenous facilitation, education strategies, research design, policy development and Anishinaabe-centred strategic planning. Geraldine has been featured on popular podcasts such as the All My Relations Podcast and Auntie Up! where she shares humour and insights into Anishinaabeg life and governance.
Division:
Office of Indigenous Initiatives