Let our students tell you about their experiences in the program!
About their first summer stage (13-week long summer internship)

"I have learned management skills because I am the one that is in charge of the calves and have to make my own decisions, which is a big part of managing in my mind. I have also learned how to make decisions and to have faith that my decisions are actually good ones."
Alana Mckinven – at Rapid Bay Jerseys, Ormstown, QC 
"Being in Alberta is an opportunity not everyone can have and I cherish the moments that I have here. It's a great experience and a good way to learn about yourself. When you get to work at a different place than your own, it gives you the opportunity to work with different people, create contacts and see different ways of doing things. My experience has been rewarding for all the ideas and things I saw that I will or will not bring to my home farm."
Audrey Villeneuve - at New Mars Dairy Farm, Millet, AB
"It feels great to be working somewhere where you are new and the boss trusts you after only seeing you work [and knowing you] for a few days.
Since I've started working at my internship farm I have become more independent. I can get up early in the morning and go to work before the others and if I have small problems I can figure it out on my own. I have become more outgoing; I'm not as shy as I used to be."
Lucas Senn - at Lesyk Farms, Birsay, SK
"I have learned a lot during this internship but the main thing I learned is how the FMT program is a good program. With everything I learned during the year, I felt completely confident in everything I did to this date. The growth stages in corn, the diseases, the tillage practices and their consequences, the types of soils and their effects on fertilizer application, the pesticide formulations, the tank mixes, the  maintenance of the equipment and many other things.
I feel truly involved in the research process and I even get the chance to talk to producers. I've developed the ability to socially interact with producers and other professionals. I think that discussing with these people quickens the learning process."
Matthew Dewavrin - at the Monsanto research station, Couteau-du-Lac, QC
"I have learned how to look at a problem and try and figure it out myself instead of always looking to my boss or his son for help. I learned how having a clean barn and machinery makes for a better working environment and also in the process allows your machinery to last longer and work better.
Even though sometimes it might be a lot of work and that it might be difficult to keep up with the standards of my boss, I am learning lots of new things and in the process I am becoming a better worker and person, and the experience will help me be a better manager if ever I have my own enterprise."
Michael Breault - at Ferme Troitrefles, Embrun, ON
"Since starting my internship I have become more open-minded and more interested in innovative ideas that will help improve the running/operating of the farm. I think that I will have a lot to take back to my own farm once my stage is completed.
This internship has made me wonder about becoming a spokesperson for farms. Looking for ideas that can help improve farms and promoting them, working with the public to help them better understand more about small/family farms."
Shelby Drew - at Todd Simmentals, Waterloo, QC
"What I have learned from being here so far is that there is no room for mistakes and that communication is one of the biggest keys to operate any successful farm or business.
Since my arrival, I would say I have changed a lot. I've learned that agriculture is a business and that you treat your business as a business. And always have a plan B."
Will Robinson - at Bodensee Farms Ltd, Beechy, SK
"This internship made me think that there are no other career [possibilities for me] than being a farm manager or a producer. I want to have my own farm and to manage it the way I want to. On the other hand, I know from the producer's comments that I could easily go work there after the FMT program."
Philippe Keurentjes - at Élevages J. Bertrand, St-Alexandre, QC
"This experience has made me think about how to incorporate other careers into farming. The most prominent one  is artificial insemination of cattle. Shayne does all the inseminating and it has made me think more and more that it is something I would like to do at home. The other career I have thought about is an agricultural mechanic, they have a mechanic do almost all maintenance and repair work on equipment. At home I will definitely do more of the maintenance and simple repair work myself."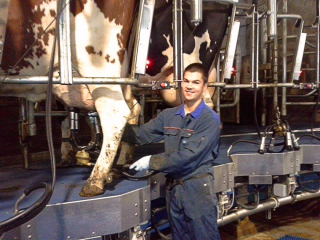 Matthew Burns - at Santschi Holstein, Ayer's Cliff, QC
"While working here, I have developed the ability to think more critically about certain management practices. By seeing so many different farms and talking to other farmers, I am learning a lot. Before, I thought that every farm was nice, and that the way every farmer did it was right. Now I can look at a barn and see if it works or not and see future problems."
Thomas Kuipers - at Van Creij Dairy, Haps, Noord-Brabant, Netherlands
"This experience has made me realize that much more that I want to own and manage my own farm someday with my family. At my host farm, I'm involved in a lot of the decision-making such as when to cut the hay or what bull should be used on a cow or if this field should be plowed under because it's not performing like it should. My host producer tells me all the little things I should look at when making these decisions which will help me when I have to make them in the future."
Matthew Morin - at Ferme Gabriel, Hinchinbrooke, QC