Please take note this is a FRANCOPHONE teaching site: French is mandatory
Description
---
LOCATION
The city of Gatineau is located in western Quebec, near Hull, across from Ottawa, on the banks of the Ottawa River. The teaching site is part of the CSSS de Gatineau.
---
LANGUAGE
• Spoken: French
• Teaching: French
• Patient files: French
---
GENERAL DESCRIPTION
Mission
The Gatineau Family Medicine Unit (FMU) adheres to the CSSS de Gatineau's mission:
Actively contribute to the well-being of the population by offering a range of accessible, safe, and quality health and social services.
Vision
The Gatineau Health and Social Services Centre stands out as one firmly rooted in its community, supported by a culture of continuous improvement in quality and performance.
Relying on the competence, commitment, and pride of all its employees, doctors, midwives, and partners, the Gatineau Health and Social Services Centre aims to improve the health status of the population
To do this, the Gatineau Health and Social Services Centre focuses on healthy living, promotion and prevention, maintaining the living environment as well as partnerships with local service networks.
Values
The Gatineau Health and Social Services Centre has five key values that guide its relations with the public, users, midwives, employees, volunteers and partners:
• Respect
• Collaboration
• Transparency
• Competence
• Accountability
The CSSS de Gatineau FMU: Everything is here!
Our history and 25 years of teaching!
In January 1988, the Gatineau Hospital Centre affiliated with McGill University to inaugurate the Family Medicine Unit (FMU). Since 1988, we have proudly participated in the McGill University program for postgraduate training in family medicine. The Gatineau Family Medicine Unit emerged out of a need for expansion of education in family medicine and the willingness to train family physicians in the region. The unit saw its role as a rural site, which hosted two residents for a six-month period, evolve to a broader vocation and become a complete unit that can accommodate up to 20 residents for 24 months. A real core clinical campus of Gatineau of McGill University, the FMU continues to evolve and grow. With retention rates of over 80%, it remains the main mode of recruitment in family medicine for the Outaouais region.
Customized training
Offering a horizontalized program, residents can experience real immersion in family medicine with training environments representing actual practice conditions. Set in modern and functional premises, the FMU clinic serves more than 20,000 patients with a variety of clinical cases in a friendly and fully computerized environment. With more than a dozen exam rooms, a surgery room, specialized dermatology, gynecology, child care, and psychiatry clinics, two multimedia rooms, everything is implemented. Supported by a multidisciplinary team comprising 22 supervising physicians, nurses, psychologist, specialized nurse practitioner, residents of the FMU operate in an environment where collaboration of doctors and other professionals is acquired, providing quality supervision.
With three regional hospital centres, a dedicated hospital medicine unit, four shelters, a geriatric rehabilitation unit, the CSSS de Gatineau provides more than a dozen educational sites to residents and medical students. These sites offer quality clinical exposure to explore the various facets of family medicine. Truly personalized training in one of the most important Quebec CSSS comprising 460 physicians. In this regard, the CSSS de Gatineau stands out as one firmly rooted in its community.
A booming teaching environment
With the establishment of a McGill University clinical medical education campus, the teaching mission is experiencing unprecedented development. With the creation of the integrated clerkship program,  regional elective experiences will accommodate a growing number of students in the coming years. To coordinate this development through its university affiliation, the CSSS de Gatineau has created DEMO, the direction de l'enseignement médical en Outaouais.
---
POPULATION
Gatineau, 4th largest city in Quebec!
The city of Gatineau, with a population of nearly 237,000, plays the role of socio-economic hub in a region that includes four more regional county municipalities: Gatineau Valley, the Ottawa Hills, Papineau and Pontiac. While Gatineau may stand out as the Francophone core of the national capital region, 63% of its inhabitants speak both official languages, making it the most bilingual city in Canada.
---
OTHER INFORMATION OF INTEREST
In the CSSS de Gatineau:

● approximately 12,400 admissions
● 1,220 set-up beds
● approximately 2,600 births
● approximately 67,400 emergency room visits
● 15,300 surgeries
 The CSSS de Gatineau uses 45 installations and 1,220 beds
● 1 FMU
● 1 birthing house
● 1 day hospital (Montée Paiement)
● 2 general and specialized care hospitals: 500 beds
● 1 psychiatric hospital: 95 beds
● 3 administrative centres (Laurier, Bellehumeur, Robert-Wright)
 
● 4 CHSLD : 625 beds
Résidence La Pietà
Maison bon séjour
Centre Renaissance
Résidence Foyer du Bonheur
● 8 CLSC's
        
CLSC de Gatineau – de la Gappe
CLSC de Gatineau – avenue Gatineau
CLSC de Gatineau – Saint-Rédempteur
CLSC de Gatineau – du Mont-Bleu
CLSC de Gatineau – Saint-Raymond
CLSC de Gatineau – Le Guerrier
CLSC de Gatineau – Maison Bruyère
CLSC de Gatineau – Alexandre-Taché
● 9 mental health facilities
● 15 lodgings for trainees
---
Undergraduate Teaching
The integrated clerkship program at the Outaouais Health Campus
The integrated clerkship program provides longitudinal exposure from the third year of medical training. Students in the integrated clerkship program benefit from seven electives during clerkship II since they have already done the three mandatory courses during the integrated clerkship: geriatrics, emergency medicine, and specialized surgery (usually performed during the fourth year of medical school).
Regional Internships
Students from all faculties of medicine may apply for internships at the CSSS de Gatineau or in the region through the regional office for the coordination of internships or directly from the internship office in the faculty of medicine region.
Postgraduate Teaching
---
CAPACITY
• 34 residents (17 R1s and 17 R2s)
---
PROGRAM
• Horizontal  
To learn more about the residency program, click here
---
PARTICULARITY OF THIS SITE
A region...not too far
Located 2 hours from Montreal but 10 minutes from Ottawa, the national capital , the CSSS de Gatineau FMU offers an exceptional living environment. An enchanting setting for outdoor activities in the city center, leading schools and sporting facilities, and a lively cultural life.
A financial assistance program
Residents enrolled in the CSSS Gatineau FMU also benefit from allocations budgeted to the Decentralized Medical Education Program of the Ministry of Health and Social Services.
The CSSS de Gatineau continues its mission of education and training for various health care professionals who may work in a Centre for Health and Social Services. In this context, it maintains college and university affiliations, including with McGill University, the University of Montreal, University of Quebec in Outaouais, University of Ottawa and the Collège de l'Outaouais. In the coming years, the CSSS de Gatineau will work closely to develop the Outaouais Health Campus project where our training environments will be sought by a larger number of students and specialty residents. In 2012, the CSSS de Gatineau ensured the establishment of a Direction de l'Enseignement Médical en Outaouais, the DEMO.
The CSSS de Gatineau has a variety of specialists who are interested in teaching. The majority of these specialists have taught in other environments and are involved by interest. Given the limited number of residents, they can benefit from more individualized instruction tailored to the needs of a family doctor.
During training, residents follow their own patients at the FMU. They must return to the FMU a minimum of 2 days per week (one half-day for their patients and one half-day for classroom instruction on Wednesday afternoon). Residents each have a primary supervisor who discusses the direction of their residency, their evaluations, etc.. There are 5 main family medicine supervisors and 10 part-time supervisors.
A psychologist and two nurses are part of the team and participate in case discussions on Wednesday afternoons. A structured education program on the psychosocial aspects in family medicine is an integral part of the residency.
This program responds in particular to the very practical needs of the family doctor in this area because again, psychologists are already working together with family physicians and know their needs.
Contact us
Address
CSSS Gatineau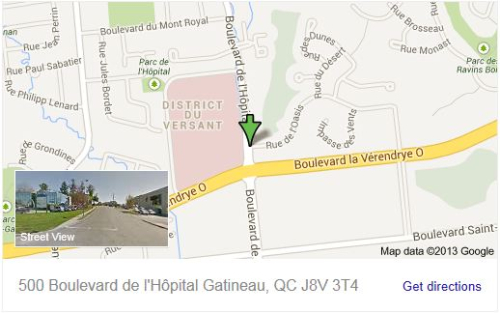 Civic Adress
Postal Address
500 boul. de l'hôpital, suite 100
Gatineau, Quebec

500 boul. de l'hôpital, suite 100
Gatineau, QC J8V 2P5
Website: The Family Medicine Unit
Telephone:
819-966-6171
Fax:
819-966-6389
For any questions regarding curriculum, contact:
Undergraduate Program Administrative Coordinator

undergrad.fammed

[at]

mcgill.ca

(Jennifer Simoneau)

Postgraduate Program Administrator

julie.lane

[at]

mcgill.ca

(Julie Lane)