Student Ambassadors/Buddy Program, 2022-23
Anisha Rodrigues
I am Anisha Rodrigues, a 1st year PhD student at the Faculty of Dental Medicine and Oral Health Sciences, under the supervision of Dr. Elham Emami. I come from the coastal city of Mangalore, India. I completed my Bachelors in Dentistry and Masters in Prosthodontics in India. I have also done a Fellowship from the Manipal University-FAIMER Institute in Leadership in Interprofessional Practice and Education. I was working as a faculty member in a dental institute in Mangalore and had my own clinical practice. I always had passion for research and an ambition to pursue a PhD, which brought me to this beautiful city of Montreal. I consider myself really fortunate to be studying here at McGill. Apart from my academic interests, I love travelling and exploring places, trekking and reading books, especially historical fiction. I also like meeting people and making new friends. So reach out to me if you have any questions or if you would like to have a friendly chat!
Ayushi Naik
I was born and brought up in India. My hobbies include being around people, cooking, traveling, and hosting parties. I am passionate about conveying myself and my thoughts in creative forms and have developed a hobby of creating graphic novels and writing poetries. Talking about my academic journey, ever since I was a child, I always wanted to experience the joy of healing and making people's lives better. I wanted to take part in a health profession, where I would closely work hands-on with patients from the first to the last step of their care, and with this parameter, dentistry was a clear choice. During my undergraduate education in dentistry in India, my knack for science drew my attention to the slow advancing research in dentistry. I knew I wanted to contribute more to the field than just being a clinician. Being a clinician, researcher and academic professional became my unwavering dream. At first, I was overwhelmed with the process, and it seem nearly impossible to achieve with very little experience in research but giving up was not a choice. With rigorously internet surfing and contacting and connecting with a few people, I made my way to McGill, and it brought me closer to my dream. My message to everyone is finding the correct path is the key to accomplishing dreams. I would be happy to share my experience and help you make your way to your dreams. Feel free to reach out with any questions and concerns.
Language(s): English, Hindi, Gujarati, French (Basic)
Hometown: Gujarat, India
Education: Bachelor of Dental Surgery (Gujarat University, 2019); M.Sc. Dental Science (Thesis-track) (McGill University, 2021)
Babatunde Alli
Hi! I am a PhD student at the faculty where I study oral HPV and prevention of head and neck cancers under the supervision of Dr. Belinda Nicolau and Dr. Simon Tran. I came to McGill in 2018 for my master's which I completed in 2020. But before coming to Montreal, I lived and worked as a dentist in the largest city in Africa: Lagos, Nigeria. I am passionate about grad student advocacy and representations at all levels. I served as a Post-Graduate Student Society (PGSS) Councillor in 2019. I also served as the PGSS External Affairs Officer from 2020 to May 2022 where I advocated for the inclusion of international students in the Quebec Health Insurance Plan (RAMQ) at the provincial level. Please feel free to reach out to me for help and tips on how to navigate grad student life at McGill and Montreal.
Languages: English, Yoruba
Hometown: Lagos, Nigeria
Education: Bachelor of Dental Surgery (University of Lagos, 2016), Master's in Dental Sciences (McGill University, 2020)
Clay Smith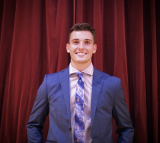 Bonjour fellow graduates! My name is Clay Smith! I am a passionate graduate student in the non-thesis program from Fredericton, New Brunswick, who is enjoying the big city and still brushing up my French 🦷🪥 Now entering the last leg of my MSc, I hope to be more involved in the McGill Dentistry community. That said, I also want to be more connected with all of you. I love meeting new people and learning from my peers! I love meeting new people and learning from my peers! A little more about me: I love being active, volunteering, and trying new hobbies! Also, I'm a big Montreal Canadiens Hockey fan 🏒 🥅 I am happy to chat, so please feel free to reach out anytime! 😊 I hope to hear from you soon, and welcome to McGill University!!
Language(s): English, French (intermediate)
Hometown: Fredericton, New Brunswick
Education: B.Sc Biology-Chemistry with a concentration in analytical chemistry (University of New Brunswick 2020); M.Sc Dental Sciences (McGill, 2023)
Dana Jafarpour
Born and raised in Shiraz, Iran, I obtained my DDS degree from Shiraz Dental School in 2018. Upon graduation from dental school, I worked as a research assistant at Shiraz School of Dentistry before joining the McGill community. I immigrated to Canada to start my doctoral studies at McGill at 27. Although it was extremely hard for me to adapt to the new life at first, it became easier as I found buddies at McGill and got more and more involved in the community. I was extremely grateful to receive support from mentors who encouraged me to accomplish my goal of working towards becoming a clinician-scientist in the field of Oral Health Science. The support I received from my mentors along the way has always inspired me to help others and give back to the community. As an international student, I am well aware of the needs of this cohort and I hope I can be able to give guidance to students, just as I received, to help them achieve their goals. My passion to display the qualities of a leader in the realm of health research has led me to take on teaching assistant positions, the PGSS representative of MDGSS role, and the vice-presidency of CADR-NCOHR national student research group. Apart from academics, I enjoy spending time with friends, playing piano, and going to the gym. I also love learning new skills, travelling places, and exploring new adventures. Please feel free to reach out to me for any queries. I will be very glad to help you!
Languages: English, Persian, French (beginner)
Hometown: Shiraz, Iran
Education: Doctor of Dental Surgery (Shiraz University of Medical Sciences); PhD in Oral Health Sciences (McGill University)
Janaki Iyer
Bonjour/ Hello/ Namaste! Born and raised in Mumbai, India, with a passion for continuing in academia, I flew overseas to pursue my PhD at the Faculty of Dental Medicine and Oral Health Sciences under the supervision of Dr. Simon Tran. Montreal comes with a mix of vibrant culture, diverse cuisines, and its gorgeous neighbourhoods. Moving countries, amid the pandemic was indeed a challenging task but was also an enriching and heart-warming experience, thanks to my fellow students and senior mentors at McGill. I had the benefit of meeting people of different nationalities and communities and learnt immensely by listening to their stories and perspectives on life. These interactions inspired me to actively contribute towards student clubs; I hold a post of an executive member (Finance Officer) with the Graduate Students' Forum, a well-known interactive platform to exchange research ideas and network with peer and faculty alike. I also serve as the VP Academics with the MDGSS team, that encourages faculty and students to pursue innovative curricular and leisure activities! By nature, I have always enjoyed 'people' activities, and establishing friendships and constructive relationships have always been dear to me. I have been raised to consider that 'If I benefit, all around me, should too, without personal gain!'. So be it queries on academic course work, or the hunt for the cutest café around; accommodation concerns or planning potluck gatherings at the parc, let us work together! Look forward to meeting you soon!! Feel free to drop in a "Hello" at janaki.iyer [at] mail.mcgill.ca.
Language(s): English, Hindi, Tamil, Gujarati
Hometown: Mumbai, India
Education: Bachelor in Dentistry (Mumbai, 2007), Masters in Dentistry (Mumbai, 2015), PhD in Oral Health Sciences (McGill University – Fall 2020 onwards)
Jax Norman
I am a second year MSc student studying chronic pain in Etienne Vachon-Presseau's lab. I'm originally from the United States but came to Montreal five years ago to do my undergraduate degree in Psychology at McGill. My research interests include chronic pain, chronic stress and how social determinants of health like ethnicity and gender relate to the development or experience of these conditions. When I'm not in the lab, I like playing pinball, gardening and going to happy hour at the Thomson House.
Languages: English, basic French and basic Spanish
Hometown: Philadelphia, United States
Education: BA in Psychology with a minor in Computer Science (McGill University, 2021).
Kawkab Tahboub
I was born and raised in Jordan where I completed my bachelor's degree in general dentistry. Being a member of a big family of 11 has polished the social part of my personality and armed me with endless support and excitement to fulfill my ambitions. Dentistry was a passion more than a career for me, I have always admired the distinct relation that develops between patients and dentists and extends beyond "only" removing pain. Hence, I have decided to be more involved in improving patients' quality of life by joining the Prosthodontics master's program at JUST. Then, my passion grew even further, and I wanted to take part in development of biomaterials that will be "game changer" for both of health practitioners and patients. Therefore, I was honored to join the PhD program at McGill. During my short journey, I was appointed as a teaching assistant for several undergraduate courses, there, I discovered how much I adore teaching and simplifying complex concepts to students. Seeing that in their eyes, always brings joy to my life. Today, I am a wife, mother of 3 wonderful kids, new Canadian permanent resident, and a dedicated postgraduate student. Although maintaining balance between family-research and personal lives is challenging, the spiritual and practical rewards that accompany each achievement drives me for more and more!
Language(s): English, French (casual) and Arabic
Hometown: Jordan
Education: BCs in Dentistry and dental surgery (Jordan University of science and technology (JUST), 2010), MClinDent in Prosthodontics (JUST, 2017)
Logan D. Davari
I am a second-generation immigrant, born and raised in Toronto with my parents, brother and relatives. As an Iranian-Canadian I grew up in a household filled with tons of laughter, family gatherings, great music and food. I've always enjoyed giving back to the community throughout my life, by volunteering with the National Ballet of Canada and dancing for Share the Magic, at Sunnybrook Hospital and KinKids, just to name a few! During my free time, you can always find me exploring the city (especially new food joints and restaurants; I'm a big foodie!), attending art exhibitions, hiking, playing sports and exercising (I love to stay active!), and hanging out with friends! I pursued a degree in Kinesiology and Health Sciences as I was always fascinated about learning and understanding the complexities of the human body. Throughout my studies, I realized the critical role that our oral cavity plays in our body's overall health, which had essentially increased my interest in the field of dentistry! In my Kinesiology program, I was also a student ambassador with the HealthAid Network, where I supported and mentored students in the program while creating an environment with a strong sense of community to welcome all students. My previous experiences as a student ambassador, has equipped me with the skills necessary to help and guide the new incoming class and to ensure a smooth transition for students in this graduate program. As a student mentor I plan to help students in any way I can from stress management to a quick pep talk, or even academically! I was drawn to the Master of Dental Sciences program as I am specifically interested in the branches of research related to dental public health, global health, pain management, the oral-gut connection, as well as how they are all interconnected. My passion for research was ignited during my time at York University, where I had the privilege to conduct experiments in muscle physiology and nutrition. Through this program, I have also had the opportunity to pursue research in the field of dentistry! As a graduate student at McGill University, I enjoy and appreciate how diverse and welcoming the program is, both with my peers and professors. I cannot wait to welcome the upcoming class of graduate students and to lead them toward their future goals and aspirations! Feel free to contact me anytime if you have any questions, I would be happy to help!
Language(s): English, French (casual) and Farsi (conversational)
Hometown: Toronto, Ontario
Education: B.Sc Kinesiology and Health Sciences with a Specialized honours (York University, 2020); M.Sc Dental Sciences (McGill, 2023)
Praveen Bhoopathi
Hello everyone! This is Praveen, a first year PhD student associated with the Faculty of Dental Medicine and Oral Health Sciences. I am a dental professional and pursued a master's degree in the field of Dental Public Health from accredited dental schools in India.At the outset, I felt enthusiastic to be one among the student ambassadors, tasked to address queries of incoming graduate students within our faculty. Armed with ample administrative and teaching experience for close to a decade, I feel confident to take on this responsibility. As an International student myself, I am very sensitized to the needs of students and will certainly play an impactful role in helping them to integrate in Montreal. And lastly, Congratulations to all students for securing an admission at McGill. Welcome on-board !
Srimathi Iyer
I am Srimathi Iyer, a second-year Masters' student under the supervision of Dr. Paul Allison in the field of Population Oral Health. I completed my Bachelor of Dental Surgery in India (2020), where I realized the importance of evidence-based dentistry and developed a passion for research. Currently, I am working on COVID-19-associated anxiety among dental students, staff, and faculty across all 10 Canadian dental schools. With my clinical background as a dentist and the public health training here at McGill, I strive to impact global oral health positively. Apart from my academic interests, I enjoy spending time outdoors, taking long walks with friends while sipping coffee, and exploring beautiful places in Montreal. From a clinical and non-clinical perspective, I believe in extending warmth and a helping hand to make anyone comfortable. I am happy to be one of your Graduate Students Ambassadors for the 2022-23 term. Please feel free to reach out to me at srimathi.iyer [at] mail.mcgill.ca for any queries. I am always happy to help!
Language(s): English, Hindi, Gujarati, Tamil
Hometown: Gujarat, India
Education: Bachelor of Dental Surgery (SDM College of Dental Sciences and Hospital, 2020); MSc Dental Sciences Thesis (McGill University, 2021)
Uyen Cao
I am a first-year Ph.D. student in Oral Health Sciences in Dr. Simon Tran's lab. I was born and raised in southern Vietnam for nearly 30 years before I moved to Montreal to start my program. I graduated from a Vietnamese dental school in 2017, then finished my Master's degree, majoring in Orthodontics in 2020. When I first came to Canada in August 2021, it was quite hard for me to adapt to my life in such a new country. Owing to great support from beloved friends and faculty members, I gradually adjusted to the new environment and now I enjoy my life here. For my project, I am currently working on developing soy-based hydrogel for salivary gland regeneration. I love my work, but it is still a long journey ahead and I must try hard for it. After courses and lab work, I participated in numerous activities from the community and volunteered at a dental clinic. I also love walking around the city with friends, enjoying the beauty of Montreal and sharing unforgettable moments together. Please reach out to me if you have any questions. Hope we can be good friends in the future.
Language: Vietnamese, English and French (basic)
Hometown: Ho Chi Minh city, Vietnam
Education: Degree of Dental Surgery (2017) and Master in Odonto-Stomatology (2020) (University of Medicine and Pharmacy, Ho Chi Minh City)
Veeresh Pavate
I live in the City of Sherbrooke located in the beautiful Eastern Townships region of the province since 1990 where my family moved from India because my father was invited by University of Sherbrooke. After working in the private & public sector as an IT professional and teaching computer science at the CÉGEP level, I returned to school full-time for my graduate studies (master's and doctoral studies). In this faculty, I am part of Dr. Richard Hovey's "Hermes Lab" since 2018. My doctoral study is in the field of Qualitative Health Research using the research approach of Applied Philosophical Hermeneutics, specifically in Health Education and Health Communication with an emphasis on Chronic Health Conditions in general and specifically in Thalassemia. I've always enjoyed mentoring students at all levels with my knowledge in the education sector at Champlain College, Bishop's University, University of Sherbrooke, and since 2018 at McGill. Please feel free to connect with me to use my experience in education sector, be it about the Faculty of Dentistry, McGill University, or about Québec and Canada at large!
Languages(s): English, Hindi, and French (Intermediate).
Hometown: Sherbrooke, Québec
Education: DÉC in Computer Information Systems (Champlain College: Sherbrooke, Québec), Bachelor's in Computer Science & Business Administration and Master's in Education (Bishop's University: Sherbrooke, Québec), PhD Program (McGill University: Montréal, Québec: 2018-present).
Yuli Zhang
I am Yuli Zhang, a second-year PhD student in Dr. Simon Tran's lab. My research interest is to develop a 3D ex vivo human salivary gland (hSG) model, which can serve as a tool for drug target discovery or even be a substitute for the damaged hSG. In addition to my research, I love skating, cooking, playing badminton, and making friends!
Language(s): English, Mandarin
Hometown: Guangdong/Hunan, China
Education: B.Sc in Biomedical Engineering (Hunan University, 2019)