► Complete your online application form and pay the application fee.
► Click here for an application checklist 
► All applications must be submitted electronically.
There is a 160.12 (CDN) non-refundable application fee.
| | |
| --- | --- |
| September 1 | Application period starts |
| November 1 (11:59 pm – EST) | Application deadline |
| November 3 (11:59 pm – EST) | Deadline to submit all required documents (transcripts, academic history workbook, CASPer Test and DAT Results, personal statement, CV, list of verifiers, proof of Quebec residency (if applicable), proof of English proficiency (if applicable)) |
| To be determined | Target date for invitation to Multiple Mini-Interviews (MMI) |
| February 20th, 2020 | Interview Date |
* Please note that not all applicants will be invited for an interview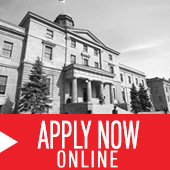 If you are new to McGill, you must create an account using the McGill web-based application system (the "Web-App" system) to build and submit your application to the University.  A step-by-step guide is found here.  If you require assistance, use the Help function found at the top right of each page or contact Enrolment Services at 514-398-7878.
If you already have a Minerva account, log into the Minerva system and use the Applicant menu to create your application.  Ensure that your contact information is up-to-date before completing the application.
Application Confirmation:  A confirmation of your application, including a 9-digit McGill identification (ID) number, will be sent via e-mail after the Web-App system runs its cycle (after 9 p.m.).  This means that applications submitted after 9 p.m. will not be processed until the next cycle.  This McGill ID number will grant you access to the University's Minerva system, required for the subsequent steps of your application.  To learn more about McGill's Minerva system, you can review the information at Minerva for Guests or read the IT knowledge base article.
N.B. ► The language of instruction is English. Applicants may submit an application in French or English.
Preparing your Application
1.     Confirm your applicant category 
2.     Ensure that you meet all the requirements
3.     Organise all of your supporting documents 
4.     Become familiar with the selection process 
5.     Plan according to application deadlines
Applying
1.     Create your application or sign on to Minerva
2.     Complete application forms
3.     Pay the application fee
4.     Upload supporting documents
Claiming Extenuating Circumstances 
If you have experienced any serious medical or personal difficulties that had a significant impact on your academic performance, you may claim 'Extenuating Circumstances (EXTC)' in your application. You must check the appropriate box in your application and submit the required documentation (see below for full details).
After Applying
1.     Making changes or cancelling your application
2.     Tracking the status of your application 
3.     Being invited to an interview 
IMPORTANT ► Decisions rendered by the Admissions Committee are final and not subject to appeal. Reconsideration is only granted in exceptional cases (e.g. clerical error)
Candidates who have experienced any serious medical or personal difficulty(ies) that had a significant impact on their academic performance may claim 'Extenuating Circumstances (EXTC)' on their application. Candidates who have reduced their course load during one or two semesters and were considered part-time will need to claim Extenuating Circumstances and provide the required documentation. For more information on our requirements: https://mcgill.ca/dentistry/4-year-dmd-program/requirements. 
The extenuating circumstances letter should be no more than one page in length. The letter should explain clearly what happened, why it happened, what the outcomes were, and, if applicable, what precautions or measures the candidate has taken or will take to ensure that the issue will have no further impact on the his or her academic performance. The letter should also provide information on what the candidate would like the Admissions Committee to take into consideration when reviewing the application.
Any official or objective documentation such as medical notes, accident reports, etc. to help validate the circumstances should be provided along with the letter.
The letter and any supporting documents must be submitted in one PDF file and uploaded via Minerva to the appropriate checklist item (EXTC).