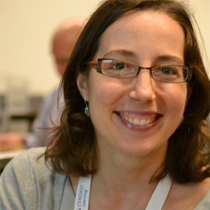 Tara [dot] Mawhinney

[at]

mcgill [dot] ca
514-398-4764
Macdonald-Stewart Library Building
809 Sherbrooke Street West
Montreal, Quebec H3A 0C1
---
Subjects
Atmospheric & Oceanic Sciences
Civil Engineering & Applied Mechanics
Manufacturing Management
Mechanical Engineering
Liaison librarian
Responsible for providing information services and collections to support the Departments of Atmospheric and Oceanic Sciences, Civil Engineering and Applied Mechanics, and Mechanical Engineering.  
Education
Master of Library and Information Studies, McGill University, 2005
Bachelor of Arts, English and French Literature, University of British Columbia, 1999
Areas of interest
Information literacy competencies in science and engineering
Collection development
Discovery search tools
Services for international students
Professional activities
Selected publications
Zhao, J. & Mawhinney, T. Identifying Challenges Faced by Chinese Undergraduate Engineering Students in Acquiring Information Literacy Skills – A Report on Survey Findings. American Society for Engineering Education Conference, Indianapolis, IN, June 15-18, 2014 (Forthcoming).
Barsky, E., Dooley, S., Mawhinney, T., Peterson, Z. & Spence, M. Influence of Discovery Search Tools on Science and Engineering E-book Usage. American Society for Engineering Education Conference, Atlanta, GA, June 23-26, 2013.
Spence, M., Mawhinney, T., & Barsky, E. (2012). How Much is Enough? Examining Computer Science and Civil Engineering Data to Inform Collection Development and Retention Decisions in Three Large Canadian University Libraries. Issues in Science and Technology Librarianship 71.
Mawhinney, T. Social Network Sites for Engineers: A Necessary Distraction? Canadian Engineering Education Association Conference, Kingston, ON, June 7-9, 2010.
Links