Welcome to McGill's Graduate and Postdoctoral Studies (GPS) website. Whether you're a current graduate student, a postdoctoral researcher, or a member of the University's faculty or staff and involved in graduate studies and postdoctoral scholarship, our goal is to ensure that you have all the tools and info you need to make your experience an unbridled success.
Explore this site to find details about thesis guidelines, funding opportunities, supervision, and much more.
Haven't applied yet or just received your offer? Check out the links below for the info you're looking for.
With more than 400 graduate programs to choose from, you're sure to find the one that's right for you.
Interested in studying at McGill? Visit Future Graduate Students for instructions on how to apply and the reasons we think you should.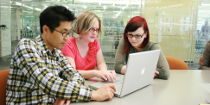 Just received your offer from McGill? Congratulations! Check out Grad Welcome for everything you need to get started.