Above: Twenty-six law students from Université de Montréal and McGill University spent the 2017 winter term writing the text of the (new) Canadian Constitution 2017 in a course taught by Professors Johanne Poirier (McGill) and Daniel Turp (UdeM). The class ended with a simulation of a Constituent Assembly in Ottawa.
Chair news & events
Constitution of Canada, 2017: Reinventing the fundamental law of a plurinational State
November 22, 2017, starting at 5:30 PM, in the Maxwell Cohen Moot Court
Join us for a Constitutional Moment talk with Professor Johanne Poirier (McGill U) and Professor Daniel Turp (UdeM), and their students. Find out more!
Chair news!
The Faculty of Law's annual alumni magazine, Focus Law | droit, featured an article about the Chair's activities this year regarding Canada's 150.
Download the excerpt:
150 ans en mouvement
---
About the Chair
The Peter MacKell Chair in Federalism aims to reflect on the foundations, potential, risks and concrete incarnations of the "federal phenomenon" understood broadly.
The inaugural holder of the Peter MacKell Chair is Professor Johanne Poirier.
The Peter MacKell Chair in Federalism was created at the Faculty of Law thanks to a generous bequest from Peter R.D. MacKell.
Media mentions
"Une Chaire sur le fédéralisme voit le jour", entrevue avec Pierre Vallée, Le Devoir, 14 nov 2015.
"Regards neufs sur la Constitution", interview with the MacKell Chair, Law Focus online, McGill's Faculty of Law monthly electronic magazine.
About Peter R.D. MacKell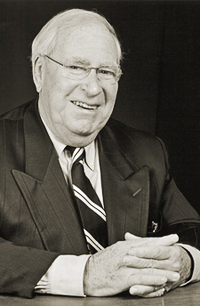 Peter R.D. MacKell, QC, BCL'51 (1927-2011) was a well known Montreal business lawyer. Born in Ottawa, the son of Air Commander David Edward MacKell, CBE, and of Margaret Eileen Kehoe, Peter MacKell was educated at the Royal Canadian Naval College at Royal Roads, and at McGill University.
Admitted to the bar in 1951, he began his career with Duquet MacKay, later moving to Martineau Walker, today known as Fasken Martineau. He led the firm as Chairman for several years, before retiring in 1995.
Peter MacKell handled many significant litigation and commercial briefs in the course of his career, representing major Canadian and foreign clients. He was also a highly sought-after corporate director, and a member of the board of Goodfellow inc. for many years, as well as a director of the Régie de l'assurance-dépôts du Québec.