Regular members
Michel Biron
Michel Biron is James McGill Professor in Québec Literature and specialist in the literary history of Québec, with a particular interest in modern poetry and the novel. His publications include, amongst others: Le Roman québécois (Boréal, coll. « Boréal express », 2012), La Conscience du désert. Essais sur la littérature au Québec et ailleurs (Boréal, coll. « Papiers collés », 2010), L'absence du maître: Saint-Denys Garneau, Ferron, Ducharme (Montréal, Presses de l'Université de Montréal, coll. « Socius », 2000). He is co-author, with Jacques Dubois, Jean-Pierre Bertrand, and Jeannine Paque, of Le roman célibataire. D'À rebours(1884) à Paludes(1895) (Paris, José Corti, 1996). He has also published a major biography of the poet Hector de Saint-Denys Garneau: De Saint-Denys Garneau (2015), as well as the complete edition of his Lettres (2020).
michel.biron [at] mcgill.ca (Email) | Webpage
Katerine Gosselin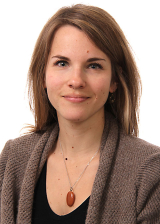 Katerine Gosselin is Professor of Literature at the Université du Québec à Rimouski. She is a specialist in the work of Claude Simon. Her research focuses on modes of representing memory, and, more specifically, on the memory of literature in the novels of the twentieth and twenty-first centuries. Her articles on Claude Simon, on Aragon, on the Nouveau roman, and on the contemporary novel have been published in several journals (@nalyses, Études littéraires, Tangence, Europe) and collected editions (Claude Simon : situations, ENS Éditions, 2011; La Mémoire du roman, PUM, 2013). She has co-edited, with Olivier Parenteau, a 2014 issue of Études littéraires entitled Aragon théoricien/praticien du roman, with Martine Créac'h, a 2015 issue of Littérature entitled Écrire en contrepoint, and, with Christophe Pradeau, a 2019 issue of Tangence entitled Le devenir souvenir du roman.
katerine_gosselin [at] uqar.ca (Email) | Webpage
Allan Hepburn
Allan Hepburn is James McGill Professor of Twentieth-Century Literature. His publications include the books Intrigue: Espionage and Culture (2005), Enchanted Objects: Visual Art in Contemporary Fiction (2010), and A Grain of Faith: Religion in Mid-Century British Literature (2018). He has edited four volumes of material by the Irish novelist Elizabeth Bowen: The Bazaar and Other Stories (2008), People, Places, Things: Essays by Elizabeth Bowen (2008), Listening In: Broadcasts, Speeches, and Interviews by Elizabeth Bowen (2010), and The Weight of a World of Feeling: Review and Essays by Elizabeth Bowen (2017). He has also edited three collections of essays: Troubled Legacies: Narrative and Inheritance (2007), Around 1945: Literature, Citizenship, Rights (2016), and Diplomacy and the Modern Novel: France, Britain, and the Mission of Literature (with Isabelle Daunais, 2020). He has published articles on James Joyce, Edith Wharton, F. Scott Fitzgerald, Elizabeth Bowen, Joseph Conrad, Louis Begley, Thomas Wharton, and other twentieth-century novelists.
allan.hepburn [at] mcgill.ca (Email) | Webpage
Collaborator
Cecilia Benaglia
Cecilia Benaglia is Lecturer in French at the School of Modern Languages and Applied Linguistics, University of Limerick. She obtained her PhD in French and Italian Literature from Johns Hopkins University. She also holds a BA from Università Ca' Foscari in Venice and Masters' degrees from Université Paris III and Université Paris VIII. Her research interests include 20th-century French and Italian literature, the relation between politics and literary production during the 1950s and 1960s, sociology of literature, and translation studies. Focusing on the figure of the writer as a "cultural mediator," her research combines the study of the history of publishing and of the emergence of a European literary field with detailed analysis of writers' activities as translators and as publishers. Her first book, Engagements de la forme. Une sociolecture des oeuvres de Carlo Emilio Godda et Claude Simon was published with Classiques Garnier in 2020.
cecilia.benaglia [at] ul.ie (Email)
Research assistants (2021-2022)
2021-2022:
Marianne Ducharme (Ph.D. thesis: Métatexte et autoréflexivité chez Gabrielle Roy)
Julie Larivière, UQAR (M.A. thesis: Entre nature et Histoire: transformations du personnage contemporain dans Du bon usage des étoiles, Les larmes de saint Laurent et La porte du ciel de Dominique Fortier )
Joanie Lemieux, UQAR (M.A. thesis: L'horloger, roman, suivi de Réinventer sa place : fictions de la filiation et possibles de l'identité dans le roman contemporain )
Guillaume Ménard (Ph.D. thesis: Pierre Michon, «fils de l'autre siècle». Poétique et imaginaire d'une conscience historique dix-neuviémiste )
Xavier Phaneuf-Jolicoeur (Ph.D. thesis: Faire le mort. Fictions et renversements du pire dans le roman français d'après-guerre )
Étienne Poirier (Ph.D. thesis: La conjoncture historique chez Hugo, Flaubert et Zola)
Julien Simard-Farout (M.A. thesis on Louis-Ferdinand Céline)
Madeleine Têtu (M.A. thesis: Personnages et objets chez Flaubert et Albert Cohen)
Timothée Tramblay (M.A. thesis: Décadentisme et pratiques de l'artifice dans À rebours de Joris-Karl Huysmans)