Allan Hepburn
Position:
James McGill Professor of Twentieth-Century Literature
Degree(s):
B.A., M.A. (Western Ontario); Ph.D. (Princeton); Professor
Area(s):
Modernism
Twentieth Century
Contemporary
Teaching areas:
modernism; contemporary fiction; British and American novel; Irish literature; Canadian fiction; Elizabeth Bowen; mid-century fiction; Ivy Compton-Burnett; Muriel Spark; Graham Greene; James Joyce; Edith Wharton; John Le Carré; ideas of the future; faith and fiction; material culture; opera and literature; narrative theory; spy fiction; visual culture; objects and things; collectors and collections; aesthetics; history of the novel.
Current research:
A book on Elizabeth Bowen: Citizenship, Nation, and Modernism.
Selected publications: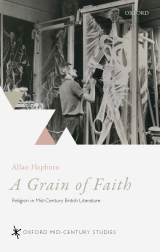 Books:
A Grain of Faith: Religion in Mid-Century British Literature, Oxford University Press, 2018.
Enchanted Objects: Visual Art and Contemporary Fiction. University of Toronto Press, 2010.
Intrigue: Espionage and Culture. Yale University Press, 2005.
Edited Books:
Diplomacy and the Modern Novel: France, Britain, and the Mission of Literature. Co-edited with Isabelle Daunais. Toronto: U of Toronto P, 2020.
The Weight of a World of Feeling: Reviews and Essays by Elizabeth Bowen. Northwestern UP, 2017.
Around 1945: Literature, Citizenship, Rights. McGill-Queen's University Press, 2016.
Listening In: Broadcasts, Speeches, and Interviews by Elizabeth Bowen. Edinburgh University Press, 2010.
The Bazaar and Other Stories by Elizabeth Bowen. Edinburgh University Press, 2008.
People, Places, Things: Essays by Elizabeth Bowen. Edinburgh University Press, 2008.
Troubled Legacies: Narrative and Inheritance. University of Toronto Press, 2007.
Selected Articles:
"Vanishing Worlds: Epic Disappearance in Manhattan Beach." PMLA 134.2 (2019): 384-390.
"The Future and the End: Imagining Catastrophe in Mid-Century Fiction." British Literature in Transition, 1940-1960. Ed. Gill Plain. Cambridge: Cambridge UP, 2018. 369-384.
"Memento Mori and Gerontography." Textual Practice 32.9 (2018): 1495-1511.
"Facing the Future: Children in Postwar British Fiction." Long Shadows: The Second World War in British Literature and Film, 1943 to the Present. Ed. Petra Rau. Northwestern UP, 2016. 103-127.
"The Irish Way of Dying: Ulysses and Funeral Processions." Canadian Journal of Irish Studies 38.1-2 (2015): 184-207.
"Righting Queer Rights: Angus Wilson and the Jurisdiction of the Novel." Critical Quarterly 56.4 (2014): 83-96.
"A Young Writer Grown Old: Elizabeth Bowen's Autobiographies." Modern Autobiographies. Eds. Emily Wittman and Maria DiBattista. Cambridge: Cambridge UP, 2014. 98-112.
"Architectural London: Elizabeth Bowen in Regent's Park." Irish Writing London: Revival to the Second World War. Vol. 1. Ed. Tom Herron. London: Bloomsbury, 2013. 112-126.
"Acoustic Modernism: BBC Radio and The Little Girls." Textual Practice 26.1 (2013): 143-162.
"Thrillers." Cambridge History of the English Novel. Ed. Robert Caserio and Clement Hawes. Cambridge: Cambridge UP, 2012. 693-708.
"Imposture in The Great Gatsby." Modernism and Celebrity. Ed. Aaron Jaffe and Jonathan Friedman. Burlington: Ashgate, 2010. 55-70.
"The State of the Art: Novelists Thinking the Novel." Co-authored with Isabelle Daunais. University of Toronto Quarterly 79.4 (2010):
1005-1012.
"French Translations: Elizabeth Bowen and the Idea of Character." University of Toronto Quarterly 79.4 (2010): 1054-1063.
"Trials and Errors: The Heat of the Day and Postwar Culpability." Intermodernism: Literary Culture in Interwar and Wartime Britain. Ed. Kristin Bluemel. Edinburgh: Edinburgh UP, 2009. 131-149.
"A Portrait of the Artist as a Young Man and Poverty." James Joyce Quarterly 42-43.1-4 (2006): 197-218.
"Piano Miniatures: An Essay on Brevity.[.pdf]" Gettysburg Review. 19.1 (Spring 2006): 89-105. (Click title to download PDF version, 3.4MB)
"Peter Grimes and the Rumour of Homosexuality." University of Toronto Quarterly 74.2 (Spring 2005): 648-656.
"Tender is the Night: Thirteen Propositions on the Nature of Boredom." Journal X 7.2 (Spring 2003): 205-27.
"Monstrous Bodies: Freakish Forms and Strange Conceptions in McCormack's First Blast of the Trumpet Against the Monstrous Regiment of Women." Ariel 33.3-4 (July-October 2002): 133-157.
"'Enough of a Wonder': Landscape and Tourism in Thomas Wharton's Icefields," in Essays in Canadian Writing 73 (Summer 2001): 72-92.
"Ulysses, Opera, Loss," in James Joyce Quarterly 38.1-2 (Fall 2000/Winter 2001).
"The Historical Novel," in The Literary Review of Canada 8.0 (January 2001): 11-14.
"Noise, Music, Voice, Dubliners," in Siren Songs: The Music of Joyce, ed. Sebastian Knowles (New York: Garland Press, 1999): 189-212.
"Playing Schumann," in Descant 107 (Winter 1999): 37-61.
"The Fate of the Modern Mistress: Nancy Mitford and the Comedy of Marriage," in Modern Fiction Studies 44.2 (Spring 1999): 340-368.
"A Passion for Things: Collectors, Cicerones and Taste in Edith Wharton's Fiction," in Arizona Quarterly 54.4 (Winter 1998): 25-52.
"Driving: Fifteen Lessons in Destiny and Despair," in Journal X 3.1 (Fall 1998): 34-48.
"Perfectly Normal: Queer Opera in Canada," in Canadian Theatre Review 96 (Fall 1998): 34-38.
"True Confessions: Opera, Literature, History," co-authored with Caryl Clark, in University of Toronto Quarterly 67.4 (Fall 1998): 739-43.
"Lost Time: Trauma and Belatedness in The Man Who Was Late," in Contemporary Literature 39.3 (Fall 1998): 380-404.
"The Maid of Orleans," in Journal X 2.1 (Autumn 1997): 112-131.
Awards, honours, and fellowships:
SSHRC Insight Grant, 2015-19
SSHRC Standard Research Grant, 2011-14
Carrie M. Derick Award for Graduate Teaching and Supervision, McGill University, 2009
SSHRC Standard Research Grant, 2007-10
SSHRC Standard Research Grant, 2002-05
University of Toronto Teaching Award, 1998
SSHRC Post-Doctoral Fellowship, 1990-92