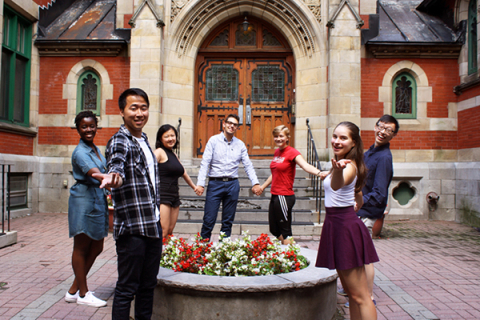 Why Choose McGill Residences
Discover why so many students choose to live in McGill residences in their first year.
Which Residence is right for you?
---
Top Benefits to Living On-Campus
Academic Success
Access to student space and studying with peers are believed to be key factors.
Friends for Life
The time spent living in residences produces rich friendships and a sense of shared values that lasts throughout the years spent at McGill.
---
Residence Life Support
The Residence Life Staff build strong, inclusive communities in each hall. They offer support and guidance and facilitate the first -year transition to university.
Leadership Opportunities
Students are encouraged to engage with the residence community or even be a hall representative on one of the residence councils.
---
Safety And Security
The safety and security of our residents is of utmost importance to us. This is reflected through 24/7 front desk staff and night porters who monitor each residence.
Fresh & Healthy Food
Our meal plans allow students to concentrate on studying and socializing-the things that student should be doing in the first year of university.
Proximity to the Campus
Living on campus means classrooms are accessible within walking distance and eliminates transportation needs.