Schull Yang International Experience Awards have been offered to McGill Science students since 2015 to support international experience related to their fields of study. Here are recipients from 2017 and 2018.
Summer 2018
Gautier Courbon
Gautier is an Honours Biochemisty student who will be interning at the Institute of Molecular Biology and Biophysics at ETH Zurich. During his stay, he will be using electron cryotomography, a revolutionary method allowing for the visualization of untouched macromolecular complexes in three dimensions. This will intersect with Gautier's passions for engineering, biology, and physics, as he will study one of nature's most elegant molecular machines: the bacterial multi-barrel speargun. Ultimately, he wishes to specialize in structural biology, since he naively believes, as his favourite bongo-playing physicist once put it, that biology is simple - you just look at the thing!
---
Morgan Gold
Morgan is a U3 student studying Honors Microbiology & Immunology. He will be conducting research with the department of Human Microbiology & Immunology at Tel Aviv University in Tel Aviv, Israel. He will be researching the copper resistance pathway of Aspergillus fumigatus, in hopes to discover a way to prevent the fungus from becoming resistant to anti-fungal drugs. This internship will be extremely valuable to him as it will provide him with experience that will be extremely helpful for his honors project.
---
Jennifer Harb
Jennifer is a third-year student at McGill studying Cognitive Science. She will intern in New York City with Dr. Margeret Bull Kovera at John Jay's Criminal College. She will work on projects to study the accuracy of eye witness testimony in legal and criminal settings. Her dedication to forensic psychology is fueled by her passion for solving puzzles and helping others. Her friends, whom she considers like family, say she is adventurous, curious and compassionate. In her free time, she also partakes in karate and yoga.
---
Kelly Panichnantakul
Kelly is a U2 Anatomy and Cell Biology student. She will be doing an internship at the Walter and Eliza Hall Institute of Medical Research in Parkville Victoria, Australia, where she will use 3rd generation sequencing technology to analyze human genetic polymorphisms that affect anti-malarial treatment. This experience will allow her to take her knowledge of cell/molecular biology beyond the classroom, apply it in a practical setting, and further develop her skills as a scientist. She also hopes to learn more about international opportunities for graduate studies.
---
Jia Yin Xiao
Jia Yin Xiao is a rising U3 student, Hon. Pharmacology, Min. Biotechnology at McGill University. Her first research experience was being a volunteer in the McGill AIDS research center. In 2017, she started her independent research project in Hanadi Sleiman's lab, studying DNA nanotechnology. With the support of a Schull Yang International Experience Award, she joins Ya-Chieh Hsu's lab in the Harvard Stem Cell Institute as a summer intern. Her current research focuses on the molecular pathways involved in skin stem cell regulation. Building on her strong interest in immunology, her project also investigates immunological factors in skin stem cell development.
Apart from her research, Jia Yin is devoted to Guyanese welfare as a volunteer in the Guyana Foundation. Guyana has the third highest suicide rate in the world, and faces great challenges to public health from increasing rates of HIV, DENV and ZIKV infections as well as cancer. She aspires to use her academic training to investigate and improve health outcomes in Guyana.
---
Summer 2017
Jonathan Boretsky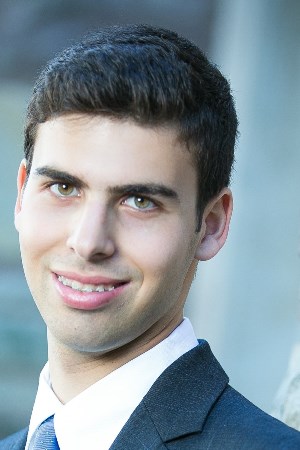 Jonathan is a first year student at McGill. He will intern in Washington, DC, working closely with a professor at Georgetown University to study the properties of quantum systems. This project will combine his passion for mathematics and physics into a single project which could yield new and meaningful information about an outstanding problem in quantum physics. Being in the capital of the United States, Jonathan will also have the chance to learn about science policy and how scientists influence the government from right up close, including a visit to the capitol and discussions with government officials.
Project report
I could have done research at McGill for the entire summer, but what distinguished the idea of an international experience for me, and an important factor in my decision to apply for the Schull Yang International Experience Award, was my desire to spend a summer on my own in a new city. As a Montreal native who now goes to McGill, I have never had the chance to live independently. When I learned that this award could provide me an opportunity to experience that independence while doing something that interests me as a potential career, namely academic research, this summer experience seemed too good to pass up. I was also excited to have the opportunity to explore the wealth of museums, monuments and government offices housed in Washington, DC.
I spent my summer doing research at Georgetown University, which is a private research university in DC, situated by the Potomac River. I worked with Professor James Freericks on a theoretical problem in quantum physics. What this means in practice is that I solved a number of increasingly difficult and complex mathematics problems whose solutions have real-world implications for how we understand electrons and their motion in materials. Additionally, Georgetown University offered me and the other summer undergraduate physics researchers extra activities and workshops outside of normal working hours. These took place weekly with an external mentor whose job was to provide support and guidance when we needed it and to teach us how to summarize and present our work effectively. There was a special and, in my opinion, a particularly valuable emphasis placed on not only being prepared to talk about our work in front of physicists, but also being able to share our progress with people who have no scientific background.
My learning objectives fell into 3 blocks, each representing roughly a third of my summer. To begin with, I had to learn a lot of the basic quantum physics and linear algebra techniques I needed for my project. I spent the first few weeks reading books and lecture notes as well as working through sample problems suggested by the professor I worked with. The next few weeks were the meat of my work at Georgetown, wherein I obtained new and exciting results. This time was spent working on the solutions to two problems relating to the properties of electrons in a crystal. For the final few weeks, my goal was to learn how best to communicate my work. I prepared a video briefly explaining my work, started to put together a paper for a journal, made figures and graphics to explain my work and designed a poster which I then presented at a poster session for summer researchers at Georgetown.
For me, the research process itself was a highlight of my summer. However, I would like to also focus on some of the external activities that Georgetown prepared for us. Specifically, they were very excited to take advantage of their location in DC in order to introduce us to the role that science plays in policy making. After a number of fascinating talks and panels with experts from the field, we culminated our introduction to science policy with a tour of the Capitol building, which included a discussion with some of the staffers for the Senate committee on energy and natural resources. I found this to be an interesting insight into the interplay between science and society.
My work consisted almost entirely of pure mathematics, applied to a physical problem. I feel that my first year studying math and physics at McGill prepared me exceptionally for this opportunity and gave me the tools I needed to succeed in my work. Going into this summer, I certainly believed that academic research was a career I would enjoy. I am thrilled that this opportunity to see research in action in an academic setting confirmed that belief.
The funds I received this summer not only paid for my food, transportation and other basic necessities, but they also gave me the liberty to enrich my experience and learn about American history and politics by exploring DC and travelling to nearby areas, such as the Arlington Cemetery and Mount Vernon. These activities provided another wonderful layer to my summer experience.
---
Miles Cranmer
Miles is an Honours Physics U2 student, with interests in software engineering and astronomy. He is a research assistant at the Harvard-Smithsonian CfA, in Cambridge, MA, working on a compressive sampling algorithm applied to radio data. Miles' mother tells him that he spends too much time programming, but Miles doesn't think so. Sometimes Miles also likes to jog up Mount Royal.
Project report
My name is Miles Cranmer and I am an undergraduate physics student (U3 BSc Honours).
I have an unromantic origin story with physics and astronomy. In fact, I was apathetic about looking through a telescope as a child—the eyepiece hurt my nose, and I didn't really "get" the significance of it. My father, a general practitioner, had always wanted me to go to medical school, and I was very happy to abide by this wish.
Grade 9 hits. I build a computer for fun, finally (!!) get permission to put it on the desk in my room rather than the corner of the basement, and my life changes forever. I take a programming course and love it. I let my father know that I no longer want to be a doctor—he is unhappy.
In grade 10, I take physics, and it is the greatest class I have ever taken. I enjoyed the lectures, and actually loved writing the exam! In consultations with my high school posse, we decide from our shared ivory tower (through exhaustive risk analysis) that the best way to choose a career is by the high school course one "likes the best." So I apply to physics programs for undergrad.
Now I am in senior year physics (honours!), with no regrets.
In observing myself as a typical angsty adolescence, I now feel that my family is some part of the reason that I am now pursuing this discipline (in the completely opposite way). However, I should note that they are now very happy that I have found something I can both enjoy thoroughly and be successful at.
To add, ever since grade 10 in high school, people have been asking me: "why aren't you [applying to/studying] computer science?" I can say that at least 80% of graduate students, postdocs, and professors assume that I am a CS student. I recognize the surface of reasoning for this, but I note strongly: I love programming, but programming without an astronomical or physics purpose is butter without bread (there's no nutrition!). I must advance physics—it is an inescapable drive. I would rather write code for physics research from a WiFi-enabled shipping container than absorb a six-figure salary as an image compression engineer at some aimless startup. My desire to advance physics is too overwhelming.
To specify my interests, I love the intersection between astronomy, physics, and computer science. My hope is that, during my career, I will be able to help automate more and more of astronomy and physics data analysis, so we can speed up the rate of innovation. I want to see unprecedentedly-large advances in physics and astronomy during my lifetime, regardless of my role, big or small: I just want to make them happen! So, given the relatively low saturation of front-of-the-line computer science research applied to astronomy, I feel this is the best way I can contribute. This is the gap I can fill.
This is summer, I worked in Dr. Lincoln Greenhill's research group again, but my work was split between the US (Harvard), and Australia (CSIRO). Australia was the farthest I've ever gone from home (I went to an antipode!), and also the longest I've traveled outside of North America. It turns out I am easily stricken with jet lag—I think that my circadian rhythm never got adjusted during the month-long visit. For example, it felt natural for me to go to bed at 4 AM in Sydney, and when I got back, I woke-up normally at sunrise as if I had never left. (The postdoc who I traveled with did not adjust as well as me on the return journey!)
Sydney, and especially the research institute I visited, was an excellent experience overall—almost surreal—and I could definitely see myself working in the future at the CSIRO. In fact, many of my supervisor's postdocs have ended up working there. I made many connections in Sydney—people whose papers I have ingested and whose emails I have read over. Their faces came to life. It is an interesting feeling to finally see someone face-to-face and converse with them: someone who you have communicated with hundreds of times, but have never known the face of. This happened multiple times to me this summer.
I think the greatest highlight of the summer was actually yesterday at 12:00 PM, PDT. I gave a talk at a Caltech conference to an "academically-stacked" crowd on the research I have been working on. I think it wasn't so much the fact that the talk went well that I now feel I have completely destroyed my all-time social adversary: public speaking. I have been purposefully attempting to improve my ability at this since the gore of grade 7 improv class. I have been getting better, but I now feel (as of 12:00 PM yesterday), that I have entirely changed as a person in this regard. Once the shyest in the class, I now feel confident to speak in front of a hundred people whom I regard highly (people who have the power to determine my future).
My project this summer is entitled: "GPU implementation of compressive sampling for low-frequency radio imaging to help constrain the HI spatial fluctuations of the Cosmic Dawn." To disassemble this, I like to say that my project is to "speedup new statistical techniques so we can take better pictures of the universe when it was baby."
To relate this, "compressive sensing" is a bit like the opposite of compression. Certain natural signals are, in some sense, "compressed" when we see them, so by exploiting certain statistical properties of our world, we can actually decompress measurements. My job this summer was to create a compressive sampling algorithm on the "GPU" - the same part of your computer that deals with graphics - to effectively make it faster. This algorithm will power an experiment to detect the first stars of the universe, and will increase the fidelity of the data used.
In addition to this, I recently submitted the results of my last summer to a journal article—my very first first-author publication. The paper can be found at: https://arxiv.org/abs/1708.00720, and is in some sense, a parallel effort to my work this summer. The support from Joseph Schull and Anna Yang was mentioned alongside some prestigious NSF grants supporting the telescope development, because I believe this award really made all of this possible.
In 2015 in the US, only about 9% of Science Ph.D. found postdoctoral positions. A fraction of those found faculty positions. It takes an immense amount of effort to survive in academia. Having an experience this summer which has offered the opportunities to build connections internationally, to improve myself as a researcher, and better my application for graduate school, and has provided me with a much stronger base for my future goal of pursuing an academic career.
I am endlessly grateful to Joseph Schull and Anna Yang for their overwhelmingly-generous contributions to my career and education.
---
Susan Ping
Susan will be interning at the Max Planck Institute for Terrestrial Microbiology in Marburg, Germany. She will be working on a project to study how salt stress affect the genes and functions of soil microbial communities. Susan is majoring in Microbiology & Immunology at McGill. This internship will be a valuable experience for her to learn new techniques and gain scientific communication skills. Susan hopes to improve her research skills through conducting her own experiments, and also gain some insight on international graduate studies as she hopes to continue research after graduation.
Project report
The Schull Yang International Experience Awards supported me greatly in doing a summer internship in Germany.
I am a third year student studying Honours Immunology at McGill. In my fourth year, I will be doing a research project, and this summer I wanted to gain more experience in conducting my own project. I was an intern at the Max Planck Institute for Terrestrial Microbiology in Germany for three months. My lab focused on studying the soil microbial communities and how different environmental conditions can change their functions. My project focused on how salt stress effected the soil microbial communities molecularly, as salinity has become a serious problem for rice cultivation and crop growth with the rise in sea levels, my project aims to study how salinity changes the microorganisms in the soil. In the lab, I was responsible for doing all the experiments, collecting the data and analyzing the data. My work in the lab included setting up the experimental treatments, taking different measurements, extracting RNA for molecular analysis and comparing all the data I collected to see the overall picture of my experiments. My main learning objectives were to be able to follow the project directions given by my supervisor but also to plan and carry out day to day experiments by myself and learn how to troubleshoot when my experiments didn't work. Through this internship, I also learned how to analyze data efficiently and accurately, as well as extracting information from other research papers. Some of the highlights of my internship include when I got some very interesting data and I was able to present it to another group; it was frustrating when my experiments weren't giving me any results at one point, but it was very rewarding when I worked on changing different conditions and it worked. It was also great to see the progress of my project each week. I also really enjoyed spending time outside the lab with my lab members and traveling to other cities on the weekends. This internship really helped me continue in my path of doing scientific research and showing me what graduate school is like as I worked closely with a PhD student.
In the future, I hope to continue doing research and go into grad school. This internship gave me the opportunity to experience the responsibilities and rewarding moments of a researcher, it also showed me how international Germany is and the many opportunities there are for studying abroad in the future. Before this opportunity, I have never considered studying outside of Canada after I graduate, however, I am now considering the possibility of studying in Europe after graduation. I hope to be able to continue research and focus in a specific field in the future. This summer, the Schull Yang Awards helped me significantly in covering the cost of expenses abroad and allowed me to live and work for a summer in Germany and to have learned so much from it. It was an enriching and wonderful experience.
---
Jennifer Siu
Jennifer is a U1 Chemistry student. Jennifer will intern at Uniklinik RWTH Aachen, the university hospital in Aachen, Germany. She will look at the effects of transcranial direct current stimulation (tDCS) to the right dorsolateral prefrontal cortex on working memory as determined by the n-back task. Despite her Major in Chemistry, she hopes to pursue graduate studies in Neuroscience. This internship allows her to explore her interest in memory, while learning about the German research environment.
Project report
With the support of the Schull-Yang International Experience Award, I travelled to Germany to pursue an academic internship at RWTH Aachen University, where I conducted a research project on the effects of transcranial direct current stimulation (tDCS) to the right dorsolateral prefrontal cortex on working memory. I wanted to gain international experience because I believed that it would be a wonderful opportunity to grow and learn, as I would be exposed to a new environment for an extended period of time. Furthermore, I had always been interested in memory research and the internship allowed me to work on an independent project.
I participated in the UROP International program, which allowed 60 university students from North America to conduct research projects offered by the university. My supervisor, Ms. Carmen Weidler, attempted to determine the relationship between tDCS and aggression, in hopes that the technique could be used to decrease aggression. Since the DLPFC was associated with working memory, my task was to see if the technique could be used to improve working memory. At the beginning, I learned statistics and reviewed literature. As I was not fluent in German, I could not interact with participants, but instead analyzed the data and summarized the results in a report. I presented my findings to the working group in a 5-10 minute presentation. Of my experiences at McGill University, my physical chemistry laboratory helped me the most with this experience because I was required to write full-length reports, which I had not done in my previous research positions or classes.
Despite choosing the program because of my interest in the research project, my experience was further enhanced by the amazing people I was exposed to. Upon my arrival in Aachen, Germany, I was greeted by my buddy, a medicine student that had been assigned to help me with adjusting to the city. Afterwards, I was introduced to my dorm mates, some of which came from a diverse range of countries. Not only was I able to connect with my fellow North Americans, but I was exposed to other international students and a lot of Germans.
Ever since I started university I had known that I was passionate about research. Since I would need a PhD and Post-Doc to continue a career in research, my current goal is to find a principal investigator that I wish to work with and a project that truly interests me. My experiences thus far have been rather diverse because I have had a difficult time deciding which field or topic I wish to dedicate the rest of my academic career to. While conducting this project, I was reminded about my initial interest in memory. I may pursue this field as this project has been my favourite research experience thus far. Furthermore, I have learned the differences between pursuing a PhD in Germany compared to one in Canada, so I have more information to use when considering where I wish to conduct my PhD project.
The Schull-Yang International Experience Award helped me a lot in terms of my experience. Unlike some American cities, Germany is very far from Canada so the plane ticket was very expensive. In terms of the city I stayed at, the living expenses were not too bad because it was a small city. Ultimately, I did not want the experience to cost my parents too much money because they already work very hard to pay for my tuition and living expenses in Montreal. Since the award covered all my expenses, I was not concerned with financing the trip and knew that it would not burden my parents.
In conclusion, conducting an internship abroad is a very enlightening experience and I am very thankful that I was given this opportunity. Not only was I able to complete my own research project, but I learned a lot from the friends that I made in Aachen. The experience has also rekindled my interest in memory, a field that I may pursue for my PhD.