Li Peng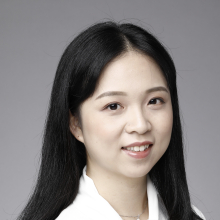 Biography:
Li Peng is originally from Guangdong, a populous and multicultural province in South China, adjacent to Hong Kong and Macau. Growing up in a multidialectal region and a family with cultures of Cantonese, Hakka, and Hunan heritage, she has been translanguaging since she was young. She can speak fluent standard Cantonese, Shiqi dialect (Cantonese variant), Nanxiong Hakka (a Hakka dialect), Mandarin, and a little bit of Hunan dialect.
Li pursued her studies in English (Teaching Chinese as a Foreign Language) and Applied Linguistics at Sun Yat-sen University. During this period, she continued learning English and began to learn German and Japanese. The learning experiences of diverse dialects and languages have attracted her interest in plurilingualism, particularly in the use of languages and/or dialects' variations. She also has extensive experience in teaching, and she pays close attention to minority ethnic groups and students of different ages. She has taught at a middle school in Tibet, at a vocational college in Guangzhou, as well as Chinese to speakers of other languages including the second-generation Chinese in Canada and abroad.
Li is currently a Master's student majoring in Second Language Education (SLE) in the Department of Integrated Studies in Education (DISE) at McGill University under the supervision of Dr. Angelica Galante. Her research investigates teachers' perceptions of a plurilingual approach to language teaching.
Biography in Chinese:
彭莉来自广东省,该省人口稠密、文化多元、毗邻港澳。她的家庭文化丰富,家庭成员来自于广府地区、客家地区和湖南,同时,广东也是一个方言丰富的地区,这样的成长环境使得她从小就能熟练地切换语码。她能讲标准粤语、石岐话(粤语广府片香山小片)、南雄客家话(客家方言粤北片南雄小片)、普通话和一些湖南方言(湘乡片)。
进入大学后,彭莉先后就读于中山大学的英语(对外汉语)和应用语言学专业,期间她学习了英语、德语和日语。丰富的方言和外语学习经历让她对多语使用现象产生了兴趣,尤其关注语言/方言变体的使用。彭莉还有丰富的教学经历,她关注少数族裔群体和各年龄段的学生。她曾在西藏林芝的一所中学任志愿教师一年,在高职院校教授大专学生英语两年,并有教授加拿大及全球其他地区华裔儿童的经验。
目前,彭莉就读于麦吉尔大学DISE学院的第二语言教育专业,研究生导师为Angelica Galante,她的硕士研究方向拟为语言教师对语言多元理论的态度与教学实践。
Position:
Research Assistant (PI: Angelica Galante) & Plurilingual Lab Speaker Series Chat Moderator