MIMM Graduate Student Seminars
Seminars are held on Thursdays from 10:00 AM to 12:30 PM in the DUFF Amphitheater. MIMM student seminar guidelines are described in detail in our Departmental Handbooks. For MIMM Graduate Students:
Attendance at the MIMM Graduate Student Seminars continues to be compulsory for students enrolled in the M.Sc., Fast-Track, and Ph.D programs during both the Fall and Winter terms.
Students are permitted to miss only one (1) seminar day per term.
Students must complete an online attendance form to confirm their presence at each seminar.
To access this form, students will receive a QR code from the seminar facilitator after the final presentation of the day at each seminar.
The form also contains a section where students must provide a brief summary of the main insights gained from attending the seminar.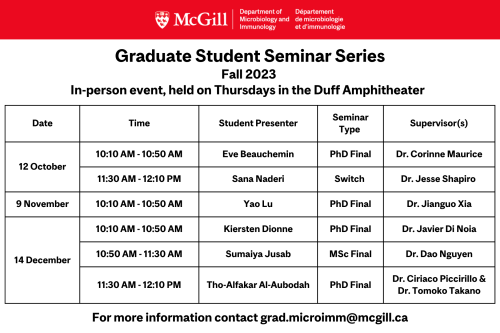 *Please be aware that the schedule is a working document and may undergo revisions. Students and faculty will be informed of any schedule changes as soon as they become available.