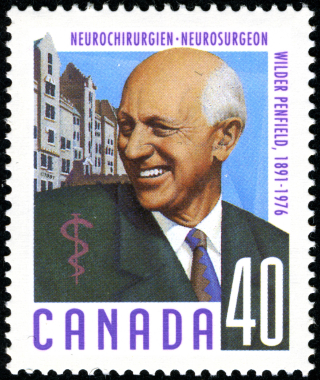 Date of issue: March 15, 1991
Printer: Ashton-Potter
Series: Canadian Doctors
Design: René Milot
Wilder Penfield
Wilder Penfield was born in 1891 in Spokane, Washington. Following study at Princeton and Oxford, he went to Johns Hopkins where he graduated with a medical degree in 1918. He then obtained a position at the Neurological Institute of New York, where he performed some of the first operations to treat epilepsy. In 1928, he moved to Montreal to join McGill University and the Royal Victoria Hospital. Six years later, with Rockefeller Foundation funding and the collaboration of fellow neurosurgeon William Cone, Penfield established the Montreal Neurological Institute and Hospital at McGill.
Penfield and his colleagues also developed a revolutionary surgical method to treat epilepsy – the Montreal procedure. With a patient under local anesthetic, this consisted of direct stimulation of the brain and monitoring of the patient's response while the surgeon was operating. This allowed him to precisely identify and excise a region of the brain producing a seizure while preserving other regions with important functions. Penfield died in Montreal in 1976.
The Stamp
A smiling Penfield is depicted with the façade of the Montreal Neurological Institute in the background (also seen in the upper left of the first-day cover collage). A stylized Aesculapian staff is seen in the postmark.