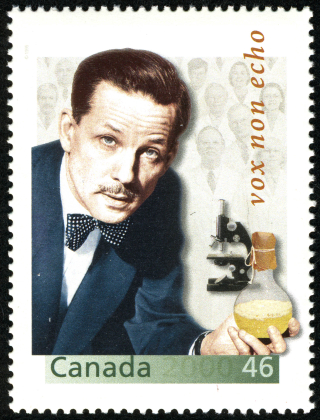 Date of issue: January 17, 2000
Printer: Ashton-Potter Canada
Series: The Millennium Collection, Medical Innovators
Design: Louise Delisle and Jean-Claude Guénette; based on photographs by François Brunelle and Federal Newsphotos of Canada
Armand Frappier
Armand Frappier was born in Salaberry-de-Valleyfield, Quebec in 1904. He graduated with a medical degree from the University of Montreal in 1930. He then spent two years studying at the Institut Pasteur in Paris with the developers of the Bacille Calmette-Guérin (BCG) tuberculosis vaccine. His interest in tuberculosis was related at least in part to personal experience, his mother having died of the disease in 1923.
Frappier was a driving force behind anti-tuberculosis vaccination in Quebec and was a significant figure in public health and research in infectious disease. In 1938, he created l'Institut de Microbiologie et d'Hygiène de Montréal, the first Francophone school of public health in Canada. He was its Director for the next 38 years. The Institute became part of the international network of Pasteur Institutes in 2004. Frappier died in Montréal in 1991.
The Stamp
The stamp shows Dr. Frappier holding a laboratory flask with a microscope behind, indicating his involvement in microbiology research. The upper background shows black and white images of individuals at Frappier's Institute. In the top right are inscribed the words vox non echo – the voice not the echo – a purpose by which Frappier lived.