More than Medicine:
Maude Abbott, Florence Nightingale,
and Teachings on the History of Nursing
Lecture: Richard Fraser - Olivia Vincelli
Strathcona Anatomy and Dentistry Building
3640 University Street
Auditorium 2/36 (2nd floor)
Thursday, May 9 2019   16:00 - 17:00
Visit Maude Abbott Medical Museum after lecture
---
De Musei Fabrica: Cloth and Stitch Inspired by the Maude Abbott Medical Museum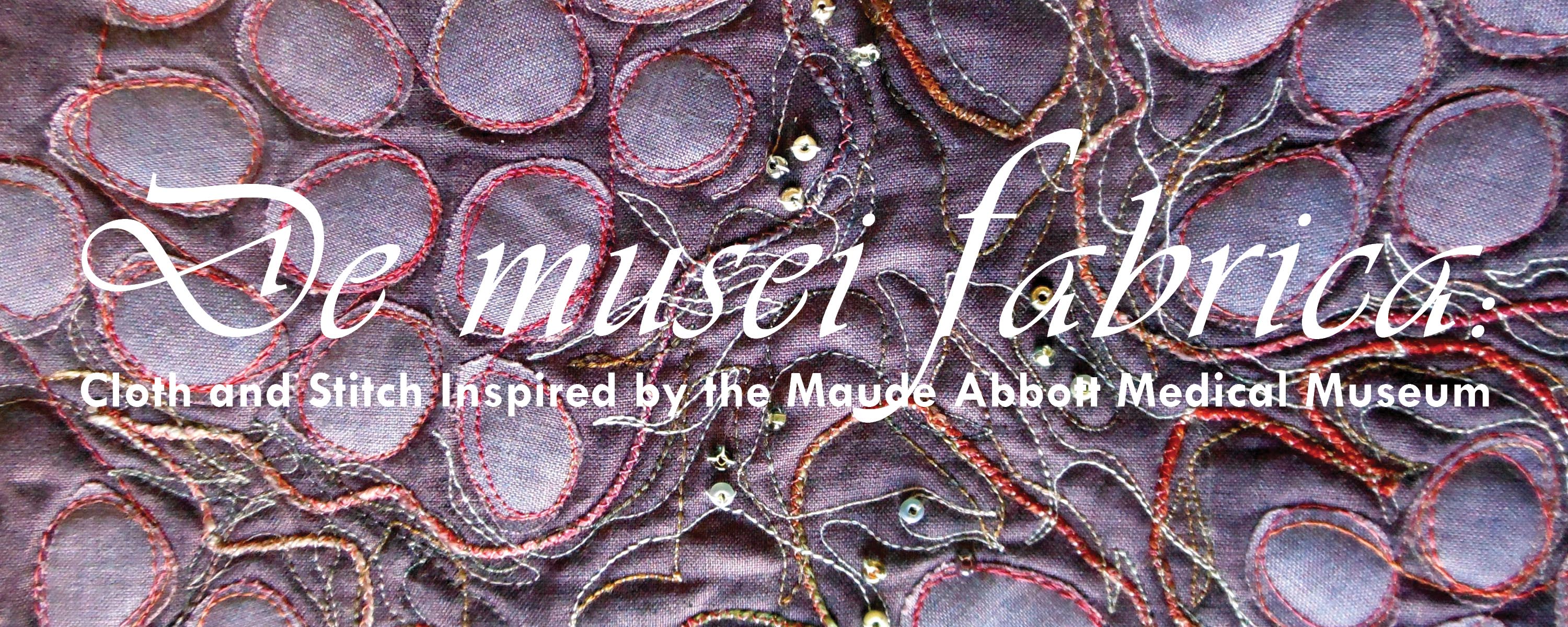 Artifacts from the Maude Abbott Medical Museum provided inspiration for Text'art, a group of six Montreal fibre artists to create new works of art, on view at the Osler Library History of Medicine beginning May 17. Each artist had her own method for selecting a piece from the Museum collection. To enhance the exhibit and illustrate the creations, the artifacts themselves, as well as other material and books from the Museum and the Osler Library, are on display.The exhibit places textile practice in the larger context of scientific visualisation and communication.
Exhibit dates: 17 May - 20 August 2018
All are invited to attend a vernissage to celebrate the opening of our newest exhibition, De Musei Fabrica: Cloth and Stitch Inspired by the Maude Abbott Medical Museum, 
Thursday, May 17, 2018 at 5:30pm.
TO RSVP, please email medicalmuseum.med [at] mcgill.ca
---
Science on Stage: BENEFICENT TORNADO @ Redpath Museum
Redpath Museum Auditorium, 859 rue Sherbrooke Ouest, Montreal, QC, H3A 0C4, CA
Price: Suggested contribution: $5 GENERAL ADMISSION, at the door
Redpath Museum and Science on Stage presents a BENEFICENT TORNADO (a tale of Maude Abbott) and TERRIBLY THEATRICAL (a pop-up staged reading). Developed and created by Colleen Curran, this theatrical experiment features the Acting Company of MARY BURNS, COLLEEN CURRAN, PEGGY CURRAN, SYLVIA CYMBALISTA, DEBRA HALE, CHARLES ROBURN, CHAD TYLER, PATSY TYLER.
In English. EVERYONE WELCOME. No reservations necessary but if you want to call please do: 514-398-4094.
---
The Heart in Science and in Fiction / Le cœur humain: science et fiction
Saturday, May 13 2017
10:00 to 3:00
Maude Abbott Medical Museum
The event will explore the heart as a medical/anatomical organ and as a subject of literature. Museum specimens illustrating cardiac muscle death, infection and aging will be displayed and some current treatments will be shown.
Anatomic dissections by a pathologist illustrating normal animal heart anatomy will be performed at:
11:00 and 13:00 (English)
12:00 (noon) and 14:00 (French).
The contrasting concept of the heart as a spiritual/vital organ in literature - including poetry, novels and biography - will also be illustrated.
      
---
JAMES McGILL SOCIETY
One-Hundred and Seventy-Seventh Meeting
Monday, April 24, 2017
Strathcona Anatomy and Dentistry Building
3640 University Street
Room 2/36
RECEPTION: 5:00 pm
PRESENTATION: 5:30 pm
All are welcome!
The James McGill Society presents "The Maude Abbott Medical Museum: 1822 – 2017" by Rick Fraser BSc'69, MDCM'76, FRCP(C), Professor of Pathology, Curator of the Maude Abbott Medical Museum. Dr. Fraser is the recipient of the F. K. Mostofi Distinguished Service Award of the International Academy of Pathology.
With objects dating from 1822, the Maude Abbott Medical Museum has collected thousands of specimens and taught countless McGill students. The talk reviews the history of the museum, key individuals associated with it, and important changes introduced in recent years.
---
Exhibit Rural Medicine in 20th Century Quebec
Osler Library of the History of Medicine
October 12, 2016 to January 15, 2017
"There are country practitioners among my friends with whom I would rather change places than with any in our ranks, men whose stability of character and devotion to duty make one proud of the profession."
William Osler, 1905
Osler's words to the graduating medical school classes of McGill and Philadelphia, published in 1905 as an essay titled The Student Life, exemplify the respect he had for country based family practice. The exhibit Rural Medicine in 20th Century Quebec: Stories and Devices is based on the life of one such practitioner, Dr. Georges Lefebvre, who graduated from McGill in 1944 (MDCM) and practiced in Huntingdon, Quebec, for over 40 years. It includes a number of medical instruments used or collected by him during this time, which he donated to the Maude Abbott Medical Museum, as well as a number of books from the Osler Library of the History of Medicine related to medical practice in a rural setting.
---
Exhibit Sparks and Waves
From September 2016
Maude Abbott Medical Museum
Whether natural - such as lightning and thunder - or produced by human inventions - such as batteries and ultrasound machines - electricity, light and sound have had close associations with human illness and its treatment since ancient times. This exhibit displays several instruments previously housed at McGill's School of Physical and Occupational Therapy during the mid 20th century and explains briefly the principles and rationales behind their use.
---
POPULAR HOME REMEDIES IN EARLY 1900 GATINEAU 
From October 2016
Harold Geggie was born in 1886 in Beauport, Quebec, and served as a family practitioner in the Gatineau region for over 50 years. He took his medical training at McGill (MD CM 1911) and joined the practice of Dr Hans Stevenson in Wakefield soon after graduation. The stories of his medical experiences, as documented in his journal, provide an elegant account of early 20th century rural medicine in Quebec. One topic he discusses is the use of popular remedies in the cure and prevention of disease. A few of those, some based on the use of local herbs and seeds, are shown in the exhibit.
Andrew Holmes was born in 1797 and came to Quebec with his family four years later. After receiving a degree in medicine at the University of Edinburgh in 1819, he returned to Montreal where he became a founding member of the medical staff of the Montreal General Hospital and the Montreal Medical Institute, which later became the McGill Medical Faculty. Holmes was also a founder of the Montreal Natural History Society and actively collected wild plants in the Montreal region. Many of these he donated to the McGill Herbarium when it was created in 1856. Reproductions of some of the specimens referred to by Geggie and which are currently in the Herbarium are shown in the exhibit.
---
Saturday, May 7, 2016
The Pathology of Emergency Medicine/La Patholgie de la Médecine d'Urgence
          
The exhibit displays a number of specimens illustrating the pathology of disease or injury which may be seen in an emergency setting. Some of these diseases are rarely found in Québec today, because of advances in therapy and public health. However, they provide a vivid example of the types of conditions which might have been encountered by individuals involved in emergency medical care in the early part of the 20th century. While modern emergency medicine has as its immediate catalyst the economic, scientific and societal changes of the past 50 years, its origin begins with the history of caring for the injured and dates back to antiquity.
L'exposition expose de nombreux spécimens de pathologies ou de blessures telles que rencontrées dans un contexte d'urgence. Dans le Québec contemporain, à la suite des avancées dans les soins aux malades et dans les politiques de santé publique, certains cas ne sont plus rencontrés. Néanmoins, ils s'avèrent des exemples éloquents de ce qu'ont dû avoir à faire face les médecins d'urgence du début du XXe siècle. Les changements économiques, scientifiques et sociaux des 50 dernières années ont eu un impact considérable sur le développement de la médecine d'urgence. Néanmoins, ses origines remontent à l'antiquité, avec le début des soins aux blessés.
24 Hrs de Science 2016 Poster