On the left hand side, you can review news, exciting activities and developments at the IASL from previous years.
IASL graduate students, professors, and the Dean of Law stopped for a photo in 2015. Thank you to all who braved the brisk weather!
---
 McGill Centre for Research in Air and Space Law International Expert Roundtable, 2015
---

Participants in the 11th Space Security Index Workshop convened by the Institute of Air and Space Law, on 1-2 May 2015.
---
---
Five IASL students represent their countries at the Model ICAO council session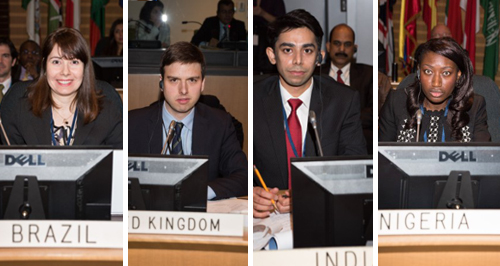 Great day for the annual graduate students photo
This year, we gathered on the steps of the Gelber Law Library for the annual graduate students and profs photograph.
---
Back from the Manfred Lachs Moot!
---
Space Security Index Working Group meeting in April 2013
---
---

The 2012 Manfred Lachs Space Law Moot team from McGill was in Washington, DC, March 2012, at the Georgetown University Law Center – L to R: Maxime Puteaux, Joyeeta Chatterjee and Christopher Paul Roberts.
---
June 2012 Stockholm meeting a great success!
---