Below are news items from 2012-2015:
---
21 October 2015: nice day for a photo!
IASL graduate students, professors, and the Dean of Law stopped for a photo. Thank you to all who braved the brisk weather!
---
September 10-2, 2015 - McGill Centre for Research in Air and Space Law International Expert Roundtable
Given the increase in the number of nations and non-State actors becoming active in space, and the increased reliance militaries have on space technologies, concerns have grown in recent years that there may be a risk of conflict taking place in space.
There is an urgent need to clarify the rules of international law applicable, especially the prohibition on the use of force and international humanitarian law. Given that no specific international legal instrument exists that effectively deals with this, McGill gathered scholars, government and space operations experts from seven different countries, including Europe, North America and the Asia-Pacific region, and members of the International Committee of the Red Cross.
There was a clear consensus on the urgent need to develop a Manual on international law applicable to security activities in outer space, in order to reduce the risk of conflict and constrain State behaviour in the case of a conflict.
Such an international Manual might be developed, under the leadership of  the CRASL,  by scholars and international experts in their individual capacity, free from official State positions, in order to ensure international participation, neutrality and legal objectivity. State engagement would be a part of the process at a later stage; however, clarification on international law cannot be dependent upon the politics of any given moment.
Hosting this Expert Roundtable, and working towards an international Manual on international law applicable to security activities in outer space, are in line with the commitment the McGill Institute of Air and Space Law has to uphold the core principles of the outer space treaty: that all outer space activities must occur in accordance with international law (including the UN Charter),  in the interests of international peace and security and for the benefit of all countries.
We look forward to the unfolding of this important project which will have global impact – and beyond.
---
International Conference on New Challenges in Space Law
August 28-29, 2015 - Athens, Greece
This conference's main topics were: Rationale and scope of the space treaties • Challenges to the rescue agreement and the liability convention • Challenges to the registration convention • Challenges to the space treaties resulting from new activities • The space treaties and environmental issues • Space exploration and exploitation # 1: the moon and the other celestial bodies • Space exploration and exploitation # 2: the interaction with other legal regimes • Where and how should international space law be made.
Left to right: Dr. Tare Brisibe, Prof. Paul Dempsey, Prof. Ram Jakhu, Dr. George Kyriakopoulos, and Prof. Steven Freeland at the last session, which dealt with Considerations for de lege ferenda.
We thank all the participants for coming!
---

Participants in the 11th Space Security Index Workshop convened by the Institute of Air and Space Law, on 1-2 May 2015.
---
News from the Manfred Lachs Space Moot
Pictured are the proud team members Matthew King, John Goehring, Kerianne Wilson with their coach Maria Manoli (first from left). Their second coach, Dr. Jinyuan Su was absent, but just as proud of the final result. The North American regional rounds of the Manfred Lachs Space Law Moot Competition was held in Washington D.C. on March 20 and 21, 2015, and 12 teams from around the Americas competed at a very high level. The McGill team won Best Brief, and made it to the Quarter Finals of the oral rounds where they were beaten by a small margin by the University of Mississippi, who went on to win the regional rounds. After months of hard work, the team members have become experts on questions of State responsibility for intercepting near-earth objects or for damage caused to commercial space assets, and issues surrounding the mining of asteroids, all of which are at the cutting edge of space law today. Heartfelt congratulations.
---
Five IASL students represent their countries at the Model ICAO council session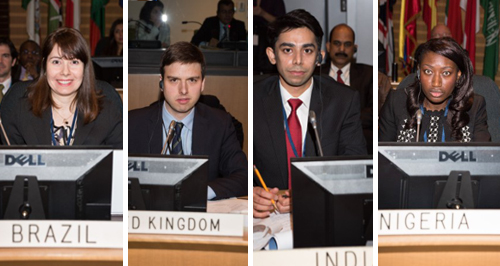 ICAO celebrated the 70th Anniversary of the signing of the Chicago Convention last December and as part of this celebration, ICAO hosted an invitation-only Model ICAO Council Session for university-level students on the morning of December 5, 2014.
Each Sitting Council State had to select an Next Generation Aviation Professional (NGAP) from their country for the Council Session. Each selected NGAP Representative had to draft a Model Council  working paper in English focussing on NGAP issues. Thereafter, the NGAP Representatives had to participate in a simulated Council Session to discuss NGAP-related issues.
Five students from the IASL represented their respective countries at the United Nations International Civil Aviation Organization:
Dayan Hochman - The United States of America (on right)
Juliana Macedo Scavuzzi – Brazil
Mathieu Vaugeois – The United Kingdom
Prithviraj Sharma – India
Timiebi Aganaba-Jeanty – Nigeria
The students gained a lot from this experience of international diplomacy and consensus building at ICAO. The lessons they learnt at the IASL in their Public International Air Law classes i.e., the complexity of international decision making and the need to reach consensus were reconfirmed.
---
Law Forum in Celebrating 70th anniversary of the Chicago Convention and 100th anniversary of World Commercial Aviation - Shanghai International Aviation Court of Arbitration, December 18-19, 2014
More than 70 experts, scholars, aviation enterprise delegations and representatives of institutions in foreign and domestic aviation industry attended the forum. Professor Paul S. Dempsey, Director of the Institute of Air and Space Law of McGill University, was among the invited keynote speakers, and he made a speech on "Challenges of International Aviation in the 21st Century."
The Forum was jointly hosted by Northwest University of Politics and Law (Xi'an, China) and McGill University's Institute of Air & Space Law, Canada.
---
Blumenkron succeeds Keenan
John T. Keenan, BCL'67, LLM'69, outgoing President of the Institute of Air and Space Association, passed on the torch to Jimena Blumenkron, LLM'09, (on left) at the IASLA Holiday Cocktail on December 3, 2014. Ms Blumenkron has now taken on the role and duties of President of the IASLA. The Institute is grateful to them for their unfailing support and loyalty!
Photo credit: Ari Munisami.
---
October 27-31, 2014 - Strategic Space Law Program
We had many participants to our first Strategic Space Law Program, which was an intensive, interdisciplinary, interactive week-long workshop. Thank you all!
The aim of the program was to provide a unique opportunity for lawyers and other professionals in the defence services, international relations, government, international organisations, law firms, consulting firms and industry around the world to study space law in a strategic context. 
---
Great day for the annual graduate students photo
This year, we gathered on the steps of the Gelber Law Library for the annual graduate students and profs photograph.
---
The IASL visits the International Astronautical Congress in Toronto
The 65th International Astronautical Congress 2014, the world's premier space event, took place this year in Toronto, from September 29 to October 3, 2014. The Institute had a booth there and we were delighted to have many visitors, alumni and friends drop in on us!
L to R: Mario Seretis (doctoral candidate, IASL, McGill); Murat Yasar Bayrak (Director General, Dept of External Relations and Legal Affairs, APSCO, Turkey); Prof. Haifeng Zhao (Harbin Institute of Technology, China); Madam Justice Xue Hanqin (Int'l Court of Justice); and Hodjat Khadjavi (LLM, IASL, McGill).
---
Biennial meeting of European Alumni in Switzerland - 25-27 September 2014
Three of our Swiss Alumni – Philip Chrystal, Laurent Chassot and Julien Subilia – arranged a wonderful meeting in Switzerland. The program included, as usual, both aviation related visits and recreational activities. Participants shared their time between the shores of Lake Geneva, enjoying its beautiful sights and vineyards, and the Aeropole of Payerne, originally an air force base which is now opening up to civil aviation and various aerospace activities. There were workshops, visits of Payerne outfits, walking tours, and even some vineyard visits.
---
Professor Ram Jakhu on WSJ
India's Mangalyaan satellite reached Mars orbit on September 24, 2014, becoming the first Asian country to reach the red planet. Professor Ram Jakhu from the Institute of Air and Space Law was invited by The Wall Street Journal to comment on this achievement!
---

Inaugural IBA Air Finance Opportunities Conference
11-13 June 2014, at the Intercontinental Hotel, Montreal, Canada
The Institute was proud to support the Air Finance Oportunities Conference. The first of its kind, this event was a must attend for all lawyers within the aviation industry, banking lawyers involved in aviation financing, risk advisors, lenders and aviation finance executives and will cover all of the latest developments and hot topics in aircraft financing today, including:
The state of the aircraft finance industry
Regional challenges - aircraft financing in diverse markets
Aircraft financing tools
Risk management in aircraft financing
The Cape Town convention
Enforcement of rights and security interests
In addition to the substantive programme [.pdf], the conference also delivered opportunities to network with international peers during the event social programme, opening with a reception at the InterContinental Hotel. Delegates wre also invited to attend a conference dinner taking place at the University Club Montreal, a venue established in 1906 by the academic elite of Montreal and housed in a beautiful historic building, and a fantastic setting to discuss the day's events in more depth.
---

May 29-31, 2014- Manfred Lachs International Conference on Global Space Governance
Faculty of Law, McGill University, Montreal
This second conference covered comprehensive deliberations on all aspects of the space regime.
Please see our Lachs Conference section to see the program and see the presentation papers!
---
May 7-9, 2014 - Melbourne, Australia
McGill Workshop on Emerging Issues in Space Law, and 33rd ALAANZ Annual Air Law Conference
The 2014 ALAANZ Conference will be held with the support of McGill's Institute of Air & Space Law at McGill University. Current plans are that the Director of the Institute, Dr Paul Dempsey and other staff from the Institute will be speakers at the conference and McGill University will be also conducting a Space Law Workshop on Wednesday 7 May 2014 in Melbourne.
Download the IASL workshop program [.pdf] (updated March 24, 2014) and the registration form for the IASL workshop [.doc].
Please visit the www.alaanz.org  to see ALAANZ program and to register to that conference too.
---
The IASL at the International Conference on Air Law - Montreal, March 26-April 4, 2014
This month, the Institute enjoyed observer status at the International Conference on Air Law to amend the Tokyo Convention at the headquarters of the International Civil Aviation Organization in Montreal.
The Institute's students and graduates served on many national delegations, including Argentina, Canada, Greece, India, Indonesia, Japan, the Republic of Korea, Saudi Arabia and the United Arab Emirates, as well as the International Air Transport Association.
---
Sixth Annual McGill/PEOPIL Conference on International Aviation Liability & Insurance
April 10-11, 2014 – The Law Society, 113 Chancery Lane, London, UK
This event (Program [.docx]) brought together world-leading aviation liability and insurance experts to address the following topics:
Recent Developments  in Aviation Liability and Insurance
Comparative Jurisprudence on the Montreal Convention of 1999 
Air Carrier Liability under Antitrust and Competition Laws
Criminal Liability and Accident Investigations
Consumer Protection Regulation
Jurisdiction and Forum Non Conveniens Dismissals of Jurisdiction
---
Back from the Manfred Lachs Moot!
On March 28-29, Paul Dawson, Philippine Dumoulin, Brian Green, and their coach, Andrea DiPaolo, represented the McGill Institute of Air and Space Law at the Manfred Lachs Space Law Moot Court Competition in Washington, DC.
The fourteen participating teams were divided into two divisions for the competition. Each team was given the opportunity to argue twice in the preliminary rounds on the 28th, once as respondent and once as applicant. These scores were averaged and added to each team's written memorial scores. Based on these composite scores, the McGill team ranked first, both in their division and across the competition.
On the 29th, the eight qualifying teams progressed to the tournament-style rounds, beginning with the quarterfinal, where McGill faced Michigan. McGill progressed to face Georgetown in the semifinals, and successfully moved to the final argument against Florida State. Florida State won the final argument and will progress to the international competition in Toronto this fall, while McGill won the Second Place award. Heartiest congratulations to the team for their outstanding performance!
---
25-26 October 2013 - Hilton Montreal Bonaventure
Fifth annual McGill Conference on International Aviation Liability & Insurance
The Fifth annual McGill Conference on International Aviation Liability & Insurance provided a review of contemporary laws, jurisprudence and developments in International Air Law and Liability Insurance from the perspective of airlines, airports, ANSPs, insurers, manufacturers and lessors.
See https://www.mcgill.ca/iasl-events
This event gathered some of the world's leading experts to address the following topics:
Recent Developments in Aviation Liability and Insurance
Unruly Passengers and Liability for Acts of Unlawful Interference
Jurisdiction & Forum Non Conveniens
Liability of Manufacturers and Lessors of Aircraft, Engines & Component Parts
Comparative Interpretations of the Montreal Convention of 1999 and their Impact on Airlines, Manufacturers, Insurers & Claimants
Two simulations were also held:
Moot Court Appellate Argument
Insurance Negotiations
In addition, the conference held luncheons and receptions to facilitate networking between attorneys, insurers, air carriers, manufacturers and governmental representatives.
This event was accredited by the Barreau du Québec for 13.25 hours of continuing legal education for jurists. No. certification: 10068643.
---
The IASL 1966-67 class held a reunion in Montreal on June 12-16 and dropped in for a visit to the Institute. Top row (L to R): Lu Mays (USA), Ian Archer (Barbados), Francois de Curraize (France), Howard Cluver (USA), and Prof. Ram Jakhu (IASL); and Hans Martin (Germany). Seated: Mostafa Forootan (Iran), Maria D'Amico (IASL), Monique Regnoux-Culver (France), and Roman Karpishka (Canada and Class President).
It was lovely to see everyone!
---
Manfred Lachs Conference on the Regulation of Emerging Modes of Aerospace Transportation - 24-25 May 2013, Centre Mont-Royal
Thank you to all our participants and speakers. To access the papers, visit the conference page.
---

21-22 September 2013 - ICAO/McGill University Pre-Assembly Symposium - ICAO Headquarters, Montreal, Canada
On Facilitating Air Transport-Passengers, Cargo, Technology and Profitability
ICAO and McGill University, Institute of Air & Space Law again cooperated for the Fourth ICAO/McGill University Pre-Assembly Symposium, from 21 to 22 September 2013, at ICAO Headquarters in Montréal. This Symposium addressed key issues identified by ICAO and McGill University in the air transport economics and navigation fields on operational, management and policy levels. The principal objective of the Symposium was to provide a preparatory forum for State delegates and stakeholders attending and/or interested in the issues proposed for the 38th Session of the ICAO Assembly on 24 September 2013.
This event featured top-level speakers engaged in interactive panel discussions. With the newest technologies and profitability as important guideposts, the event focused on many questions including:
How are air passengers and freight impacted by impediments to operational efficiency?
What impact do taxes, fees and charges, regulation, security & facilitation have on air carriers and the public?
How do we balance aviation security and facilitation?
How do we enhance seamless connectivity between air transport and transport modes?
How to secure the billion dollars needed to finance infrastructure and air navigation systems?
How do we ensure that the inherent advantages of air transport (i.e., time) are not eroded by regulatory, technological, procedural and structural impediments to efficiency?
How well does existing and future technology facilitate the flow of passengers, air freight and air traffic management?
Cargo security, e-passports, e-visas and other documentation-- How well do they deal with emergent threats to security?
What are the opportunities, efficiencies and challenges of passenger profiling?
Do security, safety and consumer protection laws and regulations serve the public well?
What are the tools, policies and best practices that will foster regulatory harmonization across boundaries?
How can ICAO improve cooperation at a global level?
For more information: ICAOMcGill_Symposium [at] icao.int
Web: www.icao.int/Meetings/ICAO-McGill2013
---
6th IAASS International Space Safety Conference: Safety Is Not An Option
21-23 May 2013, McGill Faculty of Law
Organized by the IASL and the International Association for the Advancement of Space Safety (IAASS), the conference was an opportunity to reflect on a number of topics in space safety and sustainability, and to promote mutual understanding, trust, and the widest possible professional international cooperation in such matters.
Visit the IAASS conference website for the programme, registration information, and full details.
---
Space Security Index Working Group meeting in April 2013
The Space Security Index project partners were proud to host the 10th annual Space Security Working Group workshop at McGill University's Faculty of Law on April 12-13, 2013.
The Space Security Index is a joint research project of the Institute of Air and Space Law at McGill University, Secure World Foundation, Project Ploughshares and The Simons Foundation, in cooperation with the Space Policy Institute at George Washington University and the Department of Foreign Affairs and International Trade Canada.
The purpose of this Working Group meeting was to seek feedback on relevant developments in 2012 through a review of the draft research and a debate of their implications for the security of outer space, based on open discussion held under the Chatham House rule. The discussion will inform the development of the Space Security Index 2013 report, to be released in the summer of 2013.
See the SSWG 2013 Program [.pdf]
---
IASL class of 2012-2013
Students, faculty and staff of the IASL photographed on a snowy November day in front of Old Chancellor Day Hall.
---
24-25 January 2013, in London, UK
Commercialisation of Space: Opportunities and Challenges
The Dhawan Chair in the Department of War Studies, King's College London, and McGill's Institute of Air & Space Law held a two-day Conference at King's College where several invited experts from different countries with developed space programmes and related commercial activities discussed the civil uses and commercialisation of space activities.
See the preliminary programme [.doc] and the background paper [.doc].
For more information
Contact: Bhupendra Jasani
Organization: King's London College
Office Phone: 44 (0)20 7848 2311
---
Friday, October 5, 2012 –
Emissions Trading & International Civil Aviation Symposium: Making the Links & Lessons Learned
Time: from 8:00 to 16:30
Place: Room 312, New Chancellor Day Hall
Faculty of Law, McGill University, 3644 Peel Street, Montreal (Quebec)
McGill's Institute of Air & Space Law, Centre for International Sustainable Development Law, the International Emissions Trading Association and the German Embassy organized a one-day symposium on emissions trading developments and international aviation sector emissions issues.
Symposium participants heard from industry & academic experts about a range of increasingly inter-connected issues, implementation/legal challenges, and future policy pathways related to emissions trading developments and tackling international aviation sector emissions.
See the Emissions Trading & Aviation Symposium - Flyer & Program [.pdf] (updated 4 Oct 2012)
For backgrounder information on EU ETS and aviation, please review IETA's 2012 briefing memo [.pdf].
Key questions that symposium speakers & panelists covered include:
What is the state of Quebec's carbon market? How do various market participants perceive the design & operationalization of Quebec's carbon market?
What are the prospects & timelines for Quebec's linkage to California's market...and beyond?
What are projected supply-demand dynamics & price projections for Quebec's market?
What is the state of play in the EU Emissions Trading Scheme (EU ETS)? How is the EU planning to treat the aviation sector? What policy is guiding Canadian airlines?
What role do registries play in carbon market operation & oversight? What lessons can be learned from the EU experience? Where might registries fit into aviation sector proposals?
What role do exchanges play in market development & price discovery? What lessons can be learned from the EU experience? Where might exchanges fit into aviation sector proposals?
What regional/international legal issues arise in tackling aviation sector emissions, and how might future scenarios play out in Canada and abroad?
How does Quebec treat aviation under its cap-and-trade system? Is there any potential role for its tradable units in connection with aviation and the EU ETS?
---
APRIL 25-29, 2012
Workshop and International Conference on Law & Regulation of Air Transport & Law Of Space Applications
National Law University, New Delhi, India
Organised by the IASL, with the National Law University, New Delhi, India, and the International Foundation for Aviation, Aerospace & Development, (India Chapter), the event aimed to introduce the participants to the basic principles of air transportation, aviation law and regulation of space activities. It was designed for lawyers and law students with no prior knowledge in the discipline, as well as airline and airport managers and government officials.
For more information, see the Workshop & International Conference on Law & Regulation of Air Transport [.pdf].
---
APRIL 19-21, 2012
McGill University/PEOPIL CONFERENCE ON AVIATION LAW & INSURANCE

Held in London, UK, this conference brought together world-leading aviation liability and insurance experts who addressed the following topics:
Recent developments in aviation liability and insurance
Jurisdiction & forum non conveniens
Comparative interpretations of the Montreal Convention of 1999 from Europe and the US
Air carrier liability under the antitrust and competition laws
Criminal liability and accident investigations
Consumer protection regulation
Forum non conveniens dismissals of jurisdiction and how the cases are handled in European Courts
See the programme: liability-conf-london-april2012.pdf
---
APRIL 16-17, 2012
Aviation Law Seminar for Judges of the Nigerian Federal High Court
Sheraton Lagos Hotel, Lagos, Nigeria.
For more information on the program, download aviation-seminar-lagos-april2012.pdf
 
---

The 2012 Manfred Lachs Space Law Moot team from McGill was in Washington, DC, March 2012, at the Georgetown University Law Center – L to R: Maxime Puteaux, Joyeeta Chatterjee and Christopher Paul Roberts.
---
June 2012 Stockholm meeting a great success!
It was wonderful to visit our grads in Stockholm this June for the 13th biennial meeting of the European Alumnae and Alumni. IASL Director Paul Dempsey joined the participants for the various workshops, along with visits to the Swedish Space Corporation, Bromma Airport and VASA Museum, and various functions and short trips. About 30 people attended. Many thanks to Stephan Eriksson, Urban Olson and Fredrik Brandel for organizing this meeting!
Update: some photos and videos of the meet-up have been uploaded to Facebook.
---