News from our IASL Alumni
Also see our Press room for many more pictures and events that our alums have attended.
---
Passing of Langhorne Bond (1937 - 2022)
It is with great sadness that we learned about the loss of our graduate, Langhorne Bond (class of 1963 at the McGill Institute of Air and Space Law), who died on 29 January 2022 at the age of 84. Bond led an impressive life-long career in aviation, significantly contributing to the advancement of safety in the field. Born in 1937 in Shanghai to a family active in aviation, with his father, William Langhorne Bond, being operations manager at China National Aviation Corporation and the subject of Gregory Crouch's book China's Wings, he served as administrator and head of the Federal Aviation Administration (FAA), appointed by President Carter in 1977. During his career with FAA, significant events took place, such as the grounding of the McDonnell Douglas DC-10 shortly after take-off, killing all 258 passengers, 13 crew members, and 2 people on the ground, which led to his mission to improve safety in all aspects of aviation, ranging from safer protective gear to back-up positioning systems, often working pro bono. Realizing that the existing Global Positioning System was designed as a military technology and thus could be jammed or turned off, he led the creation of Loran (Long Range Navigation), a system that could be used for global positioning by using low signals from ground stations.
His career also marked the beginning of air traffic control systems' computerization, which later led to the NextGen network and he also prepared FAA for the air traffic controllers' strike shortly after Ronald Reagan's presidency began.
Furthermore, Bond held other significant positions, having served as special assistant to the US undersecretary of commerce for transportation for the state of Illinois and as special assistant to the first transportation secretary, Alan Boyd. He also served as chief executive of Shorts Aircraft USA, as board member with Embraer Aircraft in the US, and as senior partner and of counsel for the firm of Santarelli, Smith and Carroccio in Washington. He was also assistant administrator of the urban Mass Transportation Administration and the executive director of the National Transportation Center in Pennsylvania in 1969.
After an accident involving his daughter, an equestrian, he was inspired to also contribute to the safety of riding helmets, realizing that they did not provide sufficient protection and he ensured that dozens of safer helmets and other equipment, including vests, were distributed to steeplechase riders.
Nandasiri Jasentuliyana
Paul Larsen
Francis Lyall
Steve Doyle
IASL Class of 1963-1964
---
New publication by alumna Dr. Martha Mejía-Kaiser
IASL alumna Dr. Martha Mejía-Kaiser (IASL 88-89) is proud to announce the publication of her book "The Geostationary Ring – Practice and Law". The book is part of the series Studies in Space Law of Brill/Nijhoff edited by Prof. Dr. Frans von der Dunk. For more information, please visit the page of the publisher.
---
Update from the Netherlands
IASL alumn and former Vice-President of the Court of Appeals of The Netherlands Mr. Gerrit de Boer (class of 1968-1969) shared with us a picture of a recent visit to the Dutch village of Volendam. In an email to his classmates, with whom he has remained lifelong friends for over five decades, he again recounts how Montreal and the Institute created the special bonds for life. These kind words and accounts of social interactions that we all long for in a time of despair are extremely valuable.
By the time we get to September I can't help but thinking back of the wonderful time we have spent in Montreal. Not all of us are capable of expressing the feelings we are overwhelmed with when the memories of that period of our lifes flood back. It is for that very reason that I just feel like reminiscing not to say wacking lyric the times when we were young and aspiring full of drive and energy to conquer the world. Montreal was the difined area to accomodate those aspirations. I was thriving in that environment although it must be said that at the tender age of 28 I was pretty much put out of my comfort zone. The memory of all this has cottoned on to me that our lives wouldn't have been the same without that experience that bonds us together forever even in old age. I am so pleased we managed to touch base with one another being old friends as we found out. Our reunion was testament to that. I am salivated at the idea to meet up again. I mustn't get carried away too much though but at times the emotions get the better of me when flashbacks of the old times appear in my dreams. I can't quite believe that it made such an indelible impression on me. It must have something to do with the fact that all of us were away from home. We had no other choice but to make the most of it. Montreal was preeminent to be the place to enjoy our stay to the full. It is with a profound sense of gratitude to memorize that I was given the opportunity to have this experience. I suppose it won't be any different to you.

With love,

Gerrit
Mr. de Boer recently published a book titled Parels in de coronabunker (in Dutch, "Pearls in the coronabunker"), which is a collection of short stories, reflections on life and musings. The book was written during a three month period at the height of the coronavirus pandemic he spent hunkered down at home, which had been transformed into an impregnable bunker.
---
Message of hope from The Hague
In light of the coronavirus, Mr. Gerrit de Boer (class of 1968-1969; former Vice-President of the Court of Appeals of The Netherlands) wrote a heartfelt to his IASL classmates. Earlier this year, they held a reunion to mark the fiftieth anniversary of the class.
Mr. de Boer's beautiful message below underlines how the special bonds of friendship and memories of Montreal bring us all much needed warmth and hope in these difficult times.
Dear IASL classmates (class 1968/1969),

It is with a sense of nostalgia that in these difficult times my thoughts go back to our reunion at the Wolseley in London. The five of us have since then turned into the 'magnificent five' bonded for ever albeit for the time being more than two meters apart for obvious reasons. Waxing lyrical about this great get-together is very much on our minds these days. It makes me feel seeing you soon again in the flesh but I am afraid this is something that is beyond our reach given the circumstances.

It's hard to predict how long it will last. It's for that very reason that I feel like connecting with you in this way from my quarantine bunker where I am biding my time of self isolation. It's a time for some reflection. What better way than to revive our time in good old Montreal when we were so young and full of aspiration for our future. Who would have imagined that a time would ever come that the world would virtually be grinding to a halt due to an invisible enemy like one coming from outer space.

We lived a life of happiness and prepared ourselves for our careers that lay ahead, the opportunity for that having been given by the Institute, for which we are still deeply grateful. All of us are by and large retired by now and were looking forward to spend more time venturing out catching up with friends having a drink in the pub. It is exactly that what the virus stops us from doing. Not meeting people outside the household is a tall order for all of us. Instead we are going through the photoalbums once more indulging the pictures of the days gone by reminding us of the good old days in Montreal we shared and seem so remotely away. Let's all pull together and find some consolation in the thought that sooner or later we will meet again wherever it is either in good old Montreal or the Hague for a repeat performance of our terrific reunion in London. With stoicism and some good humour we will certainly pull through.

Best wishes,

Gerrit de Boer, The Hague, the Netherlands
---
Reunion of the Class of 1968/1969 in London
On 5 October 2019, the IASL class of 1968/1969 held a reunion in London on the occasion of the fiftieth anniversary of the class.
Several graduates from that class gathered at The Wolseley in Mayfair, London, and reminisced about the beautiful memories and experiences they shared in Montreal five decades ago.
IASL graduate Mr. Gerrit de Boer (1968-1969; former Vice-President of the Court of Appeals of The Netherlands) captured wonderful sentiments of the reunion and recounted stories and memories in a speech he made to his fellow graduates.
---
A Word from the President
In November 2013, the Council of ICAO elected by acclamation Dr. Olumuyiwa Benard Aliu (Nigeria) as its President. The tenure of Dr. Aliu commenced on 1 January 2014 and will continue until 31 December 2016. He was re-elected by acclamation on 21 November 2016 for another three year term.
Prior to his election, Dr. Aliu served as the Representative of Nigeria on the Council from 1 January 2005 to 31 December 2013.
A graduate of the McGill Institute of Air & Space Law, Dr. Olumuyiwa Benard Aliu, Gr CT 2009, has shared with Professor Dempsey that "Some people know of McGill only because of the Institute of Air & Space Law."
---
Here comes the judge
IASL Alumni Martin Pelletier (LLM 2010) has recently been appointed by the Canadian Government to the position of Military Judge.
He will be attached to the Office of the Chief Military Judge at the National Defence Headquarters in Ottawa. Prior to his appointment, Commander Pelletier served as the Assistant Director with the Director of Military Prosecutions, and joined the Canadian Military Prosecution Service in 2001.
Congratulations to His Honour Judge Pelletier!
---
We meet again!
In his "unending quest," as he says "to fully and completely document all IASL-related activities worldwide," the irrepressible Peter van Fenema sent in this picture of a Matte Fund related luncheon, which was held in July 2012 in the quiet town of Blaricum, Netherlands. The attendees happily shared stories about Ivan Vlasic, Sheila McBraine, Bradley and other Institute 'characters' of the time.
From left to right: Kees Veenstra, class of 1964, former Deputy Secretary-General, Association of European Airlines, Brussels. Peter van Fenema, class of 1971, former vice – president foreign relations, KLM and adjunct professor of law, IASL. Gerrit de Boer, class of 1968, former judge, Court of Appeals, the Hague; Yola Veenstra, wife of Kees Veenstra.
These three alumni have also in common that, after completing their studies at the Institute, they started  their carreer at KLM's Foreign Relations Bureau, then headed by the formidable Henri Wassenbergh, later professor of air and space law at Leiden University and, until the mid-90s, a regular guest lecturer at McGill's Institute of Air & Space Law.
---
McGill IASL grads organize Seminar on Aviation Safety and Airport Security in Indonesia
Sponsored by the Canadian Alumni in Indonesia, several IASL graduates were instrumental in putting together a Civil Aviation Seminar on Aviation Safety and Airport Security in Jakarta, Indonesia, on May 27, 2010.
These included McGill graduates Wayhuni Bahar (1990), Adi Cahyo (1984), Prof. Dr. H.K. Martono (1978), and Edward Silooy (1982). Speakers at the Seminar included Prof. Paul Stephen Dempsey (1986) and Prof. Ludwig Weber (1975). The Seminar was held in cooperation with the Indonesian Ministry of Transportation and the Embassy of Canada.
---
Successful International Aviation Conference in Singapore in May 2010
In partnership with the Singapore Aviation Academy and the National University of Singapore, the McGill University Institute of Air & Space Law concluded its International Conference on Air Transport, Air Law and Regulation in Singapore, on 24-26 May 2010.
Some 130 registrants from 38 States and six continents attended the Conference. Eighteen of the speakers had a McGill affiliation. These included, from left to right above, Juan Carlos Salazar (Colombia), Jiri Hornik (Czech Republic), Paul Stephen Dempsey (United States), Rachel Pachoud (France), Yaw Nyampong (Ghana), Paul Fitzgerald (Canada), Eric Lippe (Canada), Ludwig Weber (Germany), Stefan Kaiser (Germany), Chen Kuan-Wei (Taiwan), Kevin Bartlett (Australia), Lee Jae Woon (South Korea), Mark Glynn (United Kingdom), Alejandro Jose Piera Valdes (Paraguay), and Urban Olson (Sweden), standing outside the Singapore Aviation Academy, where the three-day Conference was held. Not pictured were the following McGill Alumni who attended or delivered a paper at the Conference: Wahyuni Bahar (Indonesia), and Mickey Shan (Taiwan).
This event follows a series of annual "offshore" workshops, seminars and conferences offered by the IASL in recent years in such venues as Abu Dhabi, New Delhi, Macau, and Dubai, as well as the major annual fall conferences the IASL sponsors in Montreal.
---
IASL current & former students organize Romanian Air Law Conference
Sorana Pop and Adrian Cioranu were instrumental in the organization of the Bucharest Air Law Conference: New Threats and Challenges in Civil Aviation.
Held in Bucharest, Romania, on May 2-4, 2010, the Conference addressed issues involving both Public and Private International and National Air Law, including the Chicago Convention in the New Century, national legislation, aviation business law, European law, liberalization, security and liability.
In addition to Ms. Pop (currently an LLM candidate) and Mr. Cioranu (LLM'03), IASL speakers included Jiefang Huang (LLM'83, far left) and Paul Stephen Dempsey (DCL'85, fourth from left).
---
12th Biennial Meeting of IASL European Alums — 22–24 April 2010 in Prague
Over 20 European graduates of the IASL gathered in Prague, at a meeting arranged by President-Elect Jiri Hornik, LLM'02, and by Professor Paul Dempsey.
See more pictures
CSA/ABS Jets/Tower Simulator
Canadian Ambassador Residence
or read the Report of the 12th Meeting of European Alums in Prague by Stefanie Fröhling [.pdf]

Download the Invitation to the Prague reunion [.pdf] and the Prague Reunion Programme [.pdf].
---
IASL Graduates and Guests Attend 2010 Graduation Dinner
Fifty graduates and guests attended the annual Institute of Air & Space Law graduation and alumni dinner at the McGill University Faculty Club on April 14, 2010. George Petsikas, General Counsel of Air Transat and President of the National Airline Council of Canada, delivered the keynote address.
Pictured (L-R) are John Saba, Secretary General of the IASL Alumni Association, Paul Dempsey, Director of the IASL, and Ghislaine Richard, President of the IASL Alumni Association.
---
Current legal issues for satellite Earth observation - 8-9 April, Vienna
DCL candidate Catherine Doldirina participated earlier in April in a conference organised by the European Space Policy Institute. Catherine spoke on "What is 'Privacy'? Perceptions around the world."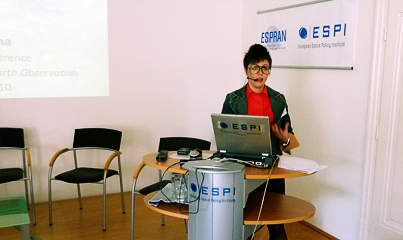 At the conference, participants discussed the legal issues associated with earth observation activities and the use of earth observation data. They included topics like utilisation of earth observation data for treaty verification and law enforcement purposes, for the Google Maps application, as well as the use of earth observation data and the protection of privacy. All the presentations of the speakers are available online, and the report of written contributions will be published in the end of May.
---
We'll always have Paris
On September 7, 2009, an extraordinary reunion was held in Paris. It was attended by Jean Ritchie from London, England, John & Ann Keenan from Montreal, Canada and Gerrit de Boer from the Hague, the Netherlands.
They celebrated that it was 40 years since they were awarded their LLM degrees at the McGill Institute of Air and Space Law.
Jean Ritchie was a London-based barrister and head of her chambers, while Gerrit de Boer was Vice-President of the Court of Appeal at the Hague. They are both now retired. John Keenan is still active as an attorney in Montreal.
Over the years, they have been in touch with one another occasionally and this special occasion brought them together once more. Many dear memories were remembered of their time at what they called their Institute during the McGill academic year 1968/1969.
---
Graduation Dinner 2009
Held on April 1, 2009 at the University Club, the dinner was a congenial event where we honoured Dr. Ruwantissa Abeyratne, DCL'96, who worked tirelessly and with much dedication as President of the IASL Alumni(ae) Association from 2003 to 2009, and we welcomed Ms. Ghislaine Richard, LLM'81, as new President of the Association. Bravo to both!

At this year's Annual IASL Graduation Dinner, Prof. Paul Dempsey presents Dr. Tissa Abeyratne with a plaque in appreciation for his loyal and dedicated service as President of the IASL Alumni(ae) Association, 2003 – 2009.
Tissa Abeyratne, John Saba, and Paul Dempsey with Ms. Ghislaine Richard, new President of the IASL Alumni(ae) Association, who was presented at the 2009 Annual Graduation Dinner.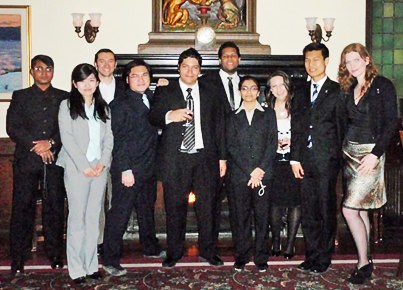 Some of this year's students pose at the IASL Annual Graduation Dinner held on Wednesday, April 1, 2009 at the University Club of Montreal
---
The Institute is proud to have a strong and dedicated Alumni base. The Alumni not only have excelled and distinguished themselves in their respective field of expertise but also made their presence well felt and appreciated by way of extending unconditional help to the Institute and its students.
They have also contributed to the faculty through their research, acumen and well documented LL.M. theses and D.C.L. theses theses , the collection of which is available in the Nahum Gelber Law Library
See Alumni class lists and class photos.
---
Note: We are updating the listings. maria.damico [at] mcgill.ca (Please let us know) if your name is not there in any of the class lists or your thesis has not been included in the theses collection.