Passenger Rights
- Have the courts overstepped their jurisdiction in interpreting passenger rights regulation around the globe and does this ultimately benefit passengers as intended?
- What are the future prospects for passenger rights legislation in Europe and elsewhere?
- What is the legal exposure of air navigation service providers and airports as a result of flight delays, cancellations and denied boarding?
- What are the US regulatory rules on airline advertising of services and fares and where are they applicable?
Chair: George Leloudas
(Gates And Partners, London)
Speakers:
Simon Evans
(UK CAA, London)
Michael Gill
(Iata, Geneva)
Francis Schubert
(Skyguide Swiss Air Navigation Services Ltd., Geneva)
Thomas J. Whalen
(Eckert Seamans Cherin & Mellott Llc, Washington, DC)
---
Pictures (click here)
---
George Leloudas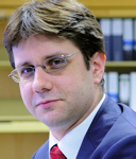 George Leloudas is a solicitor at the London office of Gates and Partners. George advises on aviation disaster management and airline regulatory issues. His book "Risk and Liability in Air Law" was published by Informa in 2009.
George has a Doctorate Degree from Cambridge University and a Masters Degree from the institute of air and space law of Mcgill University. He obtained his BCL degree from the university of Athens, Greece.
Simon Evans
For eighteen years until March this year, Simon Evans worked in the Air Transport Users Council (AUC), which was the UK CAA-sponsored consumer body for air passengers. The CAA closed down the AUC in March as part of a wider organisational review, which will see the CAA itself taking greater account of consumer interests in its regulatory activities.
One of the roles of the AUC was to provide advice and assistance to air passengers; work that included taking up passengers' complaints with airlines to try to broker a resolution. This function has been subsumed into the newly-formed Regulatory Policy Group of the CAA, and Simon is continuing to lead this function pending completion of the organisational review.
Simon started at the AUC as a policy adviser in 1992. He was chief executive from June 2001. As well as handling complaints, the AUC was an advocacy body for air passengers. It was particularly active in Europe during the 1990s and 2000s, a period during which the EU aviation legislation was put in place – including its consumer protection legislation.
Pre-AUC, Simon worked in the UK's Diplomatic Service, with overseas postings in Abu Dhabi and Bangkok. Between leaving the Service and joining the AUC he did an MSc in Air Transport Management at Cranfield University in the UK.
Michael Gill
Michael Gill joined the Legal Department of IATA in May 2007 and is based in Geneva. Prior to joining IATA, he practised as an Avocat at the Paris Bar specialising in aviation law, acting for airlines and their insurers.
He is qualified as a Solicitor (England & Wales) and as a French Avocat. He graduated LL.B from King's College, London and Maîtrise en droit from the Sorbonne in Paris and also obtained an LL.M in Private International Law from the University of Edinburgh.
Within the Legal Department of IATA, Michael is responsible for a range of regulatory matters, international aviation law developments and airline liability issues. He was a member of the IATA delegation to the ICAO Diplomatic Conferences on the Third Party Surface Damage Conventions in 2009 and the Aviation Security Conventions in 2010.
He was recently appointed as a contributing editor of Shawcross & Beaumont on Air Law.
Francis Schubert
Dr. Francis Schubert is Chief Corporate Officer and Deputy CEO for Skyguide, Swiss Air Navigation Services Ltd., in Geneva, Switzerland.
Dr Schubert is also Adjunct Professor at the Institute of Air & Space Law, McGill University, in Montreal, Canada and lecturer at the Faculty of Law of the University of Lausanne, in Switzerland.
Dr. Schubert started his career as an air traffic controller, and moved to other positions after several years of Air Traffic Control practical experience.
His current responsibilities include international relations, corporate strategy and legal affairs for skyguide.
Dr. Schubert holds a Ph.D. in international aviation law from the University of Geneva and a Diploma in Higher Studies in International Relations from the Graduate Institute for International Studies in Geneva. He has published a number of articles dealing with legal aspects of Air Navigation Services (ANS). Dr. Schubert has lectured on ANS matters at various universities (IASL, McGill University and JMSB, Concordia, in Canada, and Leiden University, Netherlands). He has contributed to various legal studies undertaken by specialized international organizations and research institutions (EUROCONTROL, ICAO, European Commission, ECAC, CANSO, etc.). He presently serves as Chairman of the CANSO Legal and Policy Committee and Chairman of the FABEC Institutional, Regulatory & Legal Standing Committee. He is past President of the Swiss Air & Space Law Association.
Thomas J. Whalen
Tom Whalen focuses his practice on aviation law, representing airline liability insurers and foreign airlines in litigation and administrative proceedings before U.S. government regulatory agencies such as the Department of Transportation, the Federal Aviation Administration and the Department of Homeland Security. Prior to joining private practice, he served as law secretary to the Hon. Gerald McLaughlin of the U.S. Court of Appeals for the Third Circuit and was in military service with the U.S. Army.
Representative Matters
- Offers corporate and regulatory advice to foreign airlines operating in the United States;
- Documents and handles the sale, financing and leasing of aircraft and aircraft engines;
- Practices corporate and general litigation including the defense of airlines in aircraft accident cases as well as airline passenger and cargo claims;
- Handles the arbitration of international and U.S. domestic disputes;
- Defends the foreign governments under the Foreign Sovereign Immunities Act;
- Advises airlines and pilot associations in airline accident investigations and advises airlines on family assistance;
- Offers trade advice on the application of U.S. economic sanctions regulations and other export control restrictions;
- Has had extensive litigation experience at both the trial and appellate level (argued Stencel Aero Engineering Corp v. The United States, 431 US 666 (1977) and the landmark jurisdiction case of Helicopteros Nacionales de Colombia, SA (Helicol) v. Hall, 466 US 498 (1984) before the United States Supreme Court and argued several precedent-setting Appeals Court cases: Jifry v. Federal Aviation Administration, 370 F. 3d 174 (D.C. Cir. 2004) (issue of national security and pilot certification); Lunsford v. United States government for negligence in supervising cloud-seeding contract); Laker Airways Ltd. v. Sabena, Belgium World Airlines, 731 F. 2d 909 (D.C. Cir. 1984) (issue of extraterritorial application of U.S. antitrust laws); and South African Airways v. Dole, 817 F. 2d 1195 (D.C. Dir 1987) (issue involved the termination of South African Airways' operating authority to the United States because of an Act of Congress).
Special Recognition
Selected for inclusion in Who's Who Legal in aviation law, Law Business Research Ltd.
Selected for inclusion in the Expert Guides to the World's Leading Lawyers – Best of the Best for aviation
Member of the Drafting Committee of the Cape Town Convention and Aviation Protocol that entered into force in 2006 governing the recognition and enforcement of security interests in aircraft and engines.
Frequent lecturer on aviation law at McGill Air & Space Institute, Montreal, Canada.
---
Click on the thumbnail to view a larger version of the pictures.