In an increasingly connected world, it may seem easier than ever to communicate with people and brands across the globe, but it is still difficult for startups to scale internationally.
So, how can startup companies get a head start on what has become a central aspect of their strategy: globalization? How can they acquire the knowledge necessary to navigate different cultural ecosystems? How can they meet and learn from their peers in each ecosystem? How do they tap into the local industries and network with potential investors? The McGill Startup Tour helps to answer these questions and the international expansion of McGill entrepreneurship and startups. What better way than to prepare entrepreneurs than to take them to the battlefield?
To say that the past few months have been a whirlwind of activities for the McGill Dobson Centre for Entrepreneurship would be an understatement. For a six-week period, I had the pleasure of taking the X-1 2019 cohort and some high-performing startups from 2018 to Boston, NYC, San Francisco, Toronto, and London—with some of our founders travelling to Los Angeles as well for a few promising meetings. Throughout the tour, we held private roundtable discussions with top industry experts, McGill alumni, CEOs of some of the biggest companies, top university incubators, and disruptive networks of entrepreneurs.
The tight-knit program was centered on three elements
Mentorship and networking: engaging with McGill alumni and friends of McGill worldwide
Business development: Pitching their startups to industry leaders and potential investors
Intercultural skill development: understanding the realities of each markets
Within the six-week period, and on top of the Demo Day events and the pre-arranged meetings, our founders collectively organized and attended 50+ meetings and workshops with potential partners and investors … all while running their businesses and operations in their downtime.
In this article, I will share an overview of the tour, as well as key takeaways. You can also look forward to a few in-depth conversations with key players of our trip. This incredible journey would have not been possible without the precious support of alumni, the faculty, LOJIQ, WeWork, Montreal International, the Quebec Foreign offices, as well as the Canadian Trade Commission Service.
---
Montreal
Kicking off on home turf is always amazing: on Tuesday, September 10, we officially commenced the McGill Startup Tour in Montreal. Following the completion of this year's McGill X-1 Accelerator, the Montreal Demo Day event took place at Club Soda in downtown Montreal, filling the venue with over 600 people. We are grateful to the 100+ mentors who were involved with the McGill X-1 Accelerator program and the McGill Dobson Centre for Entrepreneurship over this past summer. After opening remarks from Associate Director Renjie Butalid and myself, it was our pleasure to introduce our new Executive Director, Marie-Josee Lamothe, who shared a few words on the importance of our founders-first approach.
---
New York City
For our first stop on the 2019 Startup Tour, we headed to NYC where we were hosted by McGill alumnus Mergen Davaapil at the Third Bridge Group Limited offices in Midtown Manhattan for the third year in a row. Deputy Consul General at Canadian Consulate General Khawar Nassim, also a McGill alumnus, came to show his support and deliver speaking notes to attendees. During our stay in the city, we met with alumni and friends of McGill from Tech:NYC, Newsweek, the Canadian Technology Accelerator NYC, Entrepreneurs Roundtable Accelerator NYC, New3+, and more.
Key takeaways from our NYC conversations
The key to selling is to be liked.
Keep ownership of your business: maintain company equity as long as possible.
Transparency is crucial: always be 100% upfront about the strengths and weaknesses of your service or product.
Special thanks to Bryan Lozano, James Green, Emily King, Jeremy Harper, and Sabine Landolt for generously sharing their resources and knowledge.
---
Boston
Thanks to our McGill alumni network, we always get a warm welcome in Boston, which is the fifth best city in the world for technology startups according to research group and accelerator Startup Genome. This year, McGill alumni Patrick Cote and Valerie La Traverse generously hosted and sponsored the Boston Demo Day at the Canadian Consulate, in collaboration with the Canadian Entrepreneurs in New England. The timing was more than perfect as our visit coincided with Boston Startup Week. Thanks to Audrey Hasegawa and Bruce Hetch from the Cambridge Innovation Center, our founders were able to attend 14 workshops and learn from peers and mentors directly at the source.
Special thanks to Scott Yaphe at Schooner Capital for his continuous support, and willingness to mentor and guide our startups.
Key takeaways from Boston
Your key goal for the first meeting is to secure a second meeting.
For startups, the biggest asset is usually the team, so your goal should be to build the best.
Be on time when you have a meeting with an investor.
---
Toronto
More than 100 people attended our Toronto Demo Day event, graciously hosted by Steve Uster at Fundthrough. While visiting Canada's largest city, we had the opportunity to meet with many alumni and friends of McGill from TechToronto, RedCloud Securities, Panache Ventures, MaRS Discovery District, Ryerson DMZ, and Nudge.ai.
Special thanks to Alex Norman, Prashant Matta, Chad Williams, Prakash Surapaneni, Rob Maken, and Jaxson Khan for sharing their experience and resources with our founders.
Key takeaways from our Toronto conversations
There are three important questions to answer when talking to an investor: why they should choose you, why now, and why people will care.
Pivots are good as long as they have a history of growth. Show progress and challenges and keep investors updated – at least every three months.
Document everything, all the time.
Bonus: There's money out there for financing but choose your investors wisely, because it's not only about the money. It's about your story.
---
San Francisco
We met with a number of McGill alumni and friends of the university during our stay in the Bay Area, including Deutsche Telekom Capital Partners, Wilson Sonsini Goodrich & Rosati, AppDirect, & Y Combinator. Our Demo Day event was held at Sonder's headquarters in San Francisco.
Special thanks to Jack Young, Cristian Turlica, Lance Berkeley, Elton Satusky, Dan Saks, and Kat Mañalac.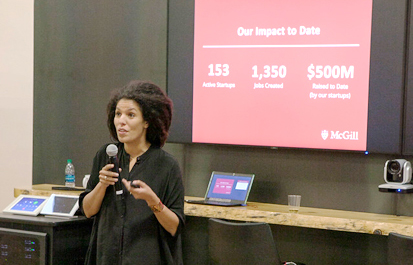 Key takeaways from our San Francisco conversations
Focus on getting your first customer.
Fix legal problems now while they are small and don't let them snowball.
The valuation of a company is influenced by the business, the team, the market, and the competition, so it is essential to have clarity in all the direct and indirect areas that you are in.
Bonus: Hiring the best comes from within your network.
---
London
October 23rd marked an important milestone in the history of the Dobson Centre: our very first Demo Day outside of the Americas. Our tour concluded in London in the UK, and was generously hosted by Seedrs CEO & McGill alumnus Jeff Kelisky. The London startup scene is unlike anything we've encountered in the other cities. Sachin Dev Duggal, Founder at Engineer.ai said: "London tech is scrappy, driven, and becoming a major part of an already pulsing globally minded, international capital.", which is ideal for entry in a global market place. Cities like London are always a great reminder to dream a little bigger, bring it back to Montreal, and build world-class companies.
Key takeaways from our London conversations
The best salesperson is the one who talks the least: learning to sell is an essential part of the entrepreneur's journey, not only by selling in itself but also by learning to listen and understand the other person's needs.
Find your narrative, define what you do that others can't, and build the need for your product.
There are three types of people: analytical, friendly and black and white. You must decide which one you want to persuade.
We already look forward to next year's McGill Dobson Startup Tour!
---
Below are the teams that were part of the journey
---
---
---
---
---